Reliable Car Insurance
Quick Online Quotes
Comprehensive Options
In-page navigation
---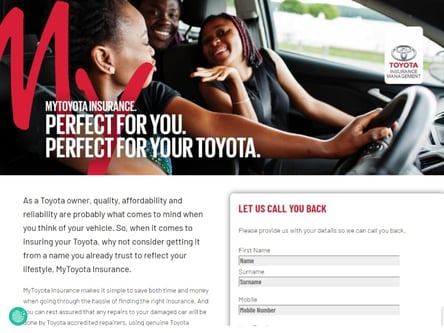 Author MyToyota Insurance . Screenshot of MyToyota Insurance website.


[Accessed August 8, 2023]
About MyToyota Insurance
As a proud Toyota owner in South Africa, you value quality, affordability, and reliability.
Your Toyota is not just a vehicle; it's a reflection of your lifestyle and South African culture. That's why when it comes to insuring your beloved car, why not choose a name you already trust?
MyToyota Insurance is built on trust, quality and a deep understanding of the needs of Toyota owners in South Africa.
From its humble beginnings to becoming a leading insurance provider, they prioritise its customers and their vehicles' protection.
The beginnings: A bond between Toyota and insurance
They were born out of the natural bond between Toyota and the need for comprehensive insurance coverage tailored specifically for Toyota owners.
This union aimed to provide a seamless and dependable insurance experience, backed by the reputation and ethos of the Toyota brand.
Values and ethos: Putting customers first
Their core values revolve around putting customers first and delivering exceptional service.
The key values and ethos that define MyToyota Insurance:
They understand that trust and reliability matter when it comes to protecting your valuable Toyota vehicle. They prioritise building long-lasting relationships based on these values giving you peace of mind on the road.
They're committed to upholding the highest standards of quality and excellence in all aspects of their services. From the insurance products they offer to the repair and claims processes, quality remains at the forefront.
They take pride in their customer-centric approach, focusing on and addressing the unique needs of Toyota owners. Their insurance products are designed with the customer in mind, providing comprehensive coverage and exceptional service specifically for Toyota vehicles.
One of the key differences between them and other insurance providers is their association with Toyota-accredited repairers.
This accreditation ensures that any repairs or maintenance carried out on your Toyota vehicle are done by skilled technicians using genuine Toyota replacement parts, maintaining the vehicle's legendary reliability.
Simplicity and convenience:
They believe in simplifying the insurance process. They strive to make insurance more accessible, providing straightforward application procedures, efficient claims handling and clear policy documents.
MyToyota Insurance is more than just an insurance provider; it's a trusted partner for Toyota owners in South Africa.
Trust in the legacy of MyToyota Insurance and embark on a journey of unmatched protection and support for your Toyota vehicle.
MyToyota Insurance Services
When it comes to insuring your beloved Toyota in South Africa, MyToyota Insurance has got your back!
With their range of insurance products designed specifically for Toyota owners, they make it easy to protect your wheels with comprehensive coverage and unbeatable service. So, put your worries aside and hit the road with confidence.
MyToyota Insurance plans
Guard:
Choose from options such as 3rd party Only, 3rd party fire & theft, or comprehensive coverage.
Enjoy market value insured coverage and benefit from R2.5 million third-party liability coverage.
3rd party and 3rd party fire & theft coverage are exclusively available in the Guard package.
Protect:
Opt for Comprehensive or Advensure coverage.
Enjoy retail value insured coverage and benefit from R5 million third-party liability coverage.
Advensure cover is exclusively available in the Protect package.
Protect plus:
Experience extensive coverage with Comprehensive or Advensure options.
Benefit from BetterCar value-insured coverage and enjoy R10 million third-party liability coverage.
Advensure cover is exclusively available in the Protect Plus package.
The insured value can be adjusted without changing the package, and the third-party liability cover can be customised from R2.5 million, R5 million, or R10 million without changing the package. Additionally, car hire options are specific to each package and changes to car hire will result in modifying your package.
Additional information and excess structure
Going beyond insurance: Additional services and support
MyToyota Insurance goes the extra mile to support Toyota owners beyond insurance coverage. They understand that owning a Toyota involves more than just insuring it. Therefore, they offer additional services and support to enhance the overall ownership experience.
Some of these services include:
They work closely with Toyota dealerships across South Africa, providing convenient access to insurance services alongside your vehicle purchase or service appointments.
Approved motor body repairers:
They maintain a list of approved motor body repairers. These repairers meet stringent criteria and use genuine Toyota replacement parts, ensuring the highest standards of quality and maintaining the vehicle's value.
They provide dedicated claims support, guiding customers through the claims process and striving for a fair and efficient resolution.
MyToyota Insurance is dedicated to providing South African Toyota owners with reliable and comprehensive coverage. They understand the unique qualities of your vehicle and strive to reflect them in their insurance services. With them, you can enjoy peace of mind, knowing that your Toyota is protected by a name you already trust.
MyToyota Insurance – Car Insurance
Product

Car Insurance
Comprehensive coverage

Protecting against damage to your vehicle from accidents, theft, and natural disasters.

Personal injury protection

Ensuring medical expenses are covered for you and your passengers.

Roadside assistance

Roadside assistance for emergencies such as flat tires or breakdowns.
Benefits of MyToyota Insurance
Their insurance covers theft, accidental damage, and third-party liability.

They also provide additional benefits such as emergency roadside assistance and access to a network of authorized repair centers.

Toyota's car insurance aims to provide peace of mind and reliable protection for your vehicle.
---
Simplify your insurance application and claims process with MyToyota car insurance
Applying for car insurance and making claims can often be a complex and daunting process. However, with MyToyota Insurance, the application process is straightforward, and the claims procedure is hassle-free.
Applying for MyToyota Insurance
Applying for car insurance through them is the first step in safeguarding your vehicle.
Before starting your application, ensure you have the following documents ready:
Valid South African driver's license
Vehicle registration papers
Proof of address (e.g., utility bill or bank statement)
South African identification document (ID)
Toyota vehicle details, including the make, model, and year
Step-by-step application process
Follow these simple steps to apply for car insurance through MyToyota:
Get in touch: Contact them by calling or visiting your nearest Toyota dealer.
Provide information: Share your personal details, vehicle information, and desired coverage options with the MyToyota representative.
Receive a quote: A representative will assess your requirements and provide you with a customised insurance quote tailored to your needs and budget.
Review and accept: Take the time to review the quote thoroughly. If it meets your expectations, accept the offer and proceed with the application process.
Submit required documents: Provide the necessary documents listed above to complete your application. Ensure all documents are accurate and up to date.
Finalise your policy: Once your application and documents have been submitted and reviewed, they'll finalise your car insurance policy. You'll receive the policy documents outlining your coverage details.
Payment and confirmation: Make the necessary premium payment as per the agreed terms. Once the payment is processed, you'll receive confirmation of your policy activation.
Making a claim - Streamlined and hassle-free
In the unfortunate event of an incident or accident, claiming with MyToyota is a straightforward process.
Here's what you need to do:
Contact MyToyota: Notify them immediately after the incident. Call the claims helpline to report the claim and seek guidance from a claims representative.
Provide information: Share accurate and detailed information about the incident, including the date, time, location, and any relevant details or documents.
Document the incident: Take photographs of the damages, if possible, as they may be required as evidence during the claims process.
Claim assessment: They'll assign a claims assessor to evaluate the damages or loss. The assessor will guide you through the necessary steps and requirements.
Repair process: If repairs are necessary, they'll direct you to one of their trusted Toyota-accredited repairers, ensuring the use of genuine Toyota replacement parts to maintain your vehicle's reliability.
Claim settlement: Once the claim is assessed and all necessary information is provided, they'll work towards a fair settlement and keep you informed throughout the process.
Claim payment: If your claim is approved, they'll arrange for the payment of the settlement as per the terms of your policy.
MyToyota Insurance aims to provide South African Toyota owners with a seamless and convenient insurance experience. Applying for car insurance is a breeze, thanks to the straightforward application process. In the unfortunate event of a claim, they ensure that the process is hassle-free and efficient, guiding you every step of the way.

MyToyota Insurance is a trusted & reliable provider of car insurance
In our review, we found MyToyota Insurance to be a company licensed to provide car insurance products and services, and is regulated under the Financial Sector Conduct Authority.
✅ MyToyota Insurance is a registered and licensed insurance provider in South Africa: FSP 51394
Customer Reviews & Testimonials
No reviews for this business.
MyToyota Insurance Contact
Contact Number
E-Mail
Website