Easy online insurance application
Affordable premiums
Get cash back
In-page navigation
---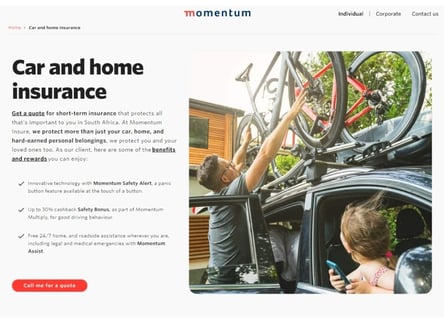 Author Momentum Car Insurance. Screenshot of Momentum Car Insurance website.


[Accessed February 7, 2023]
About Momentum Car Insurance
Momentum started in 1966 and quickly became one of South Africa's biggest and trusted insurers for everything from life, home, building, car insurance, and also being able to manage your investments.
Momentum has one of the most comprehensive car insurance plans available with a variety of benefits for everyday driving to off-road and cross country driving.
Best Car insurance in South Africa
With Momentum car insurance your car will be insured in many ways. Making it some of the best car insurance in South Africa. Momentum has stated that they will be able to cover your vehicle for any necessary damage that will occur on your car. This will include the option of hail damage, an accident, tyre, or rim damage too. But those are just the simple benefits that come with all car covers. They do offer some of the best car insurance in South Africa.
Car Insurance with a difference
Safe Dayz, Momentum's smartphone app, will help in tracking and noting your driving behaviour. This behaviour will allow you to earn points. The points system Momentum has in place with Momentum App is called Safe Dayz which offers Safety Rewards.
It works simply. As long as your GPS is activated on your Momentum App it can track your vehicle movements. Movements on every driving journey you take that are deemed "safe", according to Momentums guidelines, get you a score. If you earn more than 60% on each day this will be deemed as sufficient to earn one "Safe Day", you can even earn Safe Days on the days you do not leave your homes, as long as the GPS is active on your Momentum App.
Another way to earn Safe Days is by being a passenger in a car, if a driver's behaviour is scored well you earn the points. By using the Gautrain you will automatically be scored 100% for that day.
These Safe Dayz allow a member to receive up to 30% of their premiums back in cash. You can calculate your reward via the Multiply website. This is just one of the few benefits of having car insurance with Momentum.
Momentum Car Insurance Services
As part of their car and home insurance, Momentum offers Momentum Assist.
For drivers that just want car insurance and receiving the benefits of Momentums roadside assistance, you will be able to receive help in the following cases:
Any mechanical or electrical issue or breakdown
Flat tyres
Flat car battery
The locking of your keys inside of the car
Accidentally running out of fuel
And if your car cannot be taken to a repairer immediately they can help with the safe storage of your vehicle
Momentum will be able to assist you with:
Towing your vehicle to safety. The initial towing cost will be covered but if there are additional tows you will be charged
Momentum will arrange to have a spare tyre put on for you, with the limits being placed on 1 hour of labour and the call-out fee
If the car can be jump-started they will assist in that way and also arrange with locksmiths to help retrieve your keys inside the vehicle. With a limit also on being 1 hour of labour and a call-out fee
Momentum will also be able to send for fuel to be delivered to you, with a limit of 20 litres available per annum
Momentum will also arrange and pay for the storage of your vehicle if it cannot be taken to a mechanic immediately
Momentum HomeDrive
One of the most convenient benefits that can be added to your current insurance policy with momentum will be HomeDrive. HomeDrive, simply put, is a service that allows you to be chauffeured by a Momentum Driver and your vehicle was driven home for you by another Momentum driver.
How it works is that it will firstly be limited to your specified vehicle. You have to book a ride with Momentum in advance through the HomeDrive contact centre. When making a booking you can specify whether you will need a backup driver to drive your car home too.
Momentum Car Insurance – Car Insurance
Product

Car Insurance
Comprehensive car insurance

Momentum offers comprehensive car insurance for accidents, theft and third party.

Safety Alert

The Momentum app has a panic button that you can press to keep yourself or your loved ones safe.

Safety Bonus

Earn Multiply Rewards when you drive safely.

24Hour Road side assist

Momentum offers 24/7 assistance to its customers
Benefits of Momentum Car Insurance
Online quotes make it quick and easy to get covered. If you would like some additional advise from the industry leaders you can simply request a call back.
Momentum App allows you to view all Momentum products from your phone. You are able to keep track of your Multiply points and you can submit claims via the app.
Life cover - Momentum offers comprehensive life cover for you to add to your portfolio. They also offer disability and critical illness cover.
Multiply Rewards offer you the opportunity to earn discounts and cashbacks for living your everyday life and doing all the things you would usually do.
---
Get car insurance now
Another optional benefit that you can add to your car insurance policy with Momentum is tyre cover.
If in the case that your tyres are damaged on a South African road due to hard braking, any cuts from potholes or malice, tyre bursts or generally damaged and are irreparable, Momentum will be able to reimburse you.
If the tyre is fairly new and has less than 2000km driven on it within 30 days of purchase, Momentum can fully reimburse you. The cover is limited to 2 events per year and not more than 2 tyres per incident.
The main driver will have the responsibility of driving you and the backup driver will have the responsibility of getting your car home safely. When booking you can specify a location and you will be able to get in touch with the drivers that will assist you in the case of any changes to where you would like to be picked up. Cancellation without any charge is allowed within 2 hours before driving your selected pick-up time.
With HomeDrive your benefits are limited to a pick-up within 50km of the pick-up point per trip and you will be limited to 6 free HomeDrive trips per year. If you have run out of free trips you are allowed to book extra trips that will be paid for, but at a discounted rate for members.
How to apply for Car insurance
Applying for car insurance with Momentum is fairly simple. All you are required to do is
Visit their car insurance section on their website - Momentum Car & Home Insurance
Scroll down till you see the "Call me for a Quote" option and click on that
You will then supply the website with your details and a consultant will call you back immediately
If you do not wish to be contacted all you can do to apply for your own car insurance or enquire about any car insurance quotes is call their sales on 0860 006 784 to speak directly to a sales representative.
How to claim Car insurance
If your car has been damaged in an accident, broken into, stolen, or hijacked the process of claiming for damages is simple and as follows:
Report the claim - reporting the claim is as easy as going onto your Momentum app and initiating a claim, otherwise, you can do this telephonically too. Each claim must be reported within 30 days of any incident.
When calling the following must be given to Momentum insurance:

The details of the incident must be provided
the details of the third party
SAPS case number ( this must be done within 48 hours of the incident)
Details on the license of the driver involved in the incident

Momentum will get in touch with you on how to proceed and for any other additional requirements
Additional requirements can be anything from photos and sketches descriptions of the incident
Multiply rewards - Receive cashback
By joining Multiply as part of Momentum insurance you can receive the benefits of cashback even if you claim. You also receive discounts from Multiple partners such as Tiger Wheel & Tyre discounts and Garmin discounts depending on your Multiple membership levels.
Customer Reviews & Testimonials
"
August 2020
What I love most is that their car insurance also come with tracking so if stolen you have bigger chance of getting it back. And its very important especially where I stay!
Janga F
— Johannesburg —
June 2021
Momentum's home drive have saved my life many times best service ever.
Corey D
— Plettenberg —
September 2021
As a woman I've never changed a tire luckily they were ready to come help me changed it when I was in need thank you Momentum.
Milinda G
— Knysna —
Momentum Car Insurance Contact
Contact Number
E-Mail
Website
Physical Address
268 West Avenue, Centurion,

Johannesburg

Gauteng

0157

South Africa