Quick insurance quotes
Affordable car insurance
Add home insurance to save
In-page navigation
---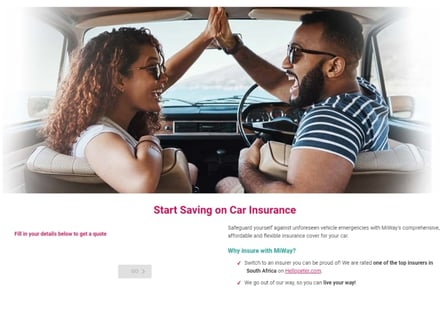 Author MiWay. Screenshot of MiWay website.


[Accessed February 7, 2023]
About MiWay
MiWay is one of South Africa's most popular and innovative direct insurance providers.
Get your car insurance from a very well-known insurer throughout the country at a competitive premium.
Value for money Car insurance
MiWay offers value for money, a fast turnaround time in regards to applications and claims, and provides a complete solution that is tailored to suit your specific needs. They offer a range of options to choose from, making their services flexible, diverse, and transparent in every aspect.
Cheap Car insurance & experienced staff
MiWay staff is equipped with the knowledge they need to provide their clients with the information they need to secure the choice of insurance they want.
Get affordable Car insurance
MiWay will provide you with a cover that suits your needs and your budget, to make sure your auto insurance cover is easily paid on time each month, with minimal impact on your bank account. What makes MiWay different is its ability to process all its services online, through innovative and integrated platforms on the web.
MiWay Services
MiWay allows clients the opportunity to save while they are covered.
With so many firms offering insurance that covers this and another that covers that, MyWay has simply come up with car insurance that covers all of that.
Comprehensive Car insurance
MiWay has comprehensive all-inclusive car insurance, which covers all your car insurance needs. What is even more unique are their unbelievable premiums and their simple online processes which speed up claims faster than ever.
MiWay's unique and affordable car insurance offers:
Affordable premiums which are debited off your bank account each month
A low excess structure that is transparent
Superior service delivery to their clients you can manage your own policy and profile online
Fast claim processes – available through their online platform or your mobile app
You have the flexibility to decrease your premiums by adding to your excess
MiWay – Car Insurance
Product

Car Insurance
Affordable Insurance

Insurance premiums that suit your budget

Easy Claim options

Submit your claim anytime via the App or online

Roadside assist

24 hour roadside emergency assistance and the use of WeDrive (MiWay's take home service)
Benefits of MiWay
Level of car Insurance - you can choose your level of insurance. You can insure for third party, third party, fire and theft, comprehensive or total loss insurance.
Home Contents Insurance - you can get home contents insurance with affordable premiums and flat rate excess. If you apply online you also stand in line to receive one month's premium paid back.
Business insurance from MiWay offers comprehensive solutions for your business. They have a dedicated team to discuss your needs and give you the best cover.
---
MyWay car insurance reaches the needs of their clients
MiWay has a car insurance option that will suit your needs, they will customize your policy the way you like it.
MyWay provides the very best Car insurance in South Africa
MiWay gives clients access to the world of insurance at their fingertips through their web-based internet program. This provides all you need for car insurance or any other insurance policy.
Offering expertise and experience
MiWay has years of experience in the insurance industry. They have built on their knowledge throughout their encounters with their clients, to always update, upgrade, and perfect MiWay service options, delivery of policies, and the way their clients interact with them.
Get a Car insurance quote
This means, with each new client, and lessons learned, they continue to grow on improving their services along the way. Clients can simply get a car insurance quote option of their choice through their easy-to-understand and complete quote form online, complete your details and submit.
One of MiWay's highly experienced consultants can contact you. You can also contact MiWay directly on the telephone number provided. They are all about efficiency. So, the quicker they get the ball rolling on your online insurance quote, the quicker you can be insured and have the peace of mind you deserve.
Making Car insurance premiums via debit order
With them, you can rest assured that there will be no defaults hampering your insurance if you need to claim, as they make it easy for you by organizing your premiums to be deducted straight from your banking account via debit order each month. You have the option of a comprehensive cover, which gives you the most cover should anything happen to your car and you can get an insurance quote online for this in just minutes.
Value for money Car insurance
Enjoy various added benefits with them at a very competitive price. This cover can assist in the event of stolen vehicles, hijacking, accident damages, fire or explosion, and natural disasters like rain, hail, snow, and floods.
Clients often ask MiWay if the age of their car matters. Well, they do also cover older vehicles with MiWay car insurance. If the car model or year isn't in their system, they will provide an estimated cover amount.
What happens after an accident
Should you be involved in an accident, or if any damage occurs to your vehicle, MiWay will arrange for a vehicle inspection with one of their suppliers, to get an estimated value for the damage caused.
If your car is stolen or you were hijacked, a settlement amount will be reached depending on the value of your car.
Customer Reviews & Testimonials
"
April 2021
A company you can truly rely on with your life, they payout fast and are always ready to assist you with whatever you need.
Jaco. W
— Pretoria —
June 2021
Affordable prices and great benefits on their policies, I have been a very happy client for more than 5 years.
Jabu. R
— Johannesburg —
September 2021
Thanks to them my car got repaired in no time and my excess was not even that high, in less than a week I had my car back and it was as good as new.
Juan-Marie. B
— Cape Town —
MiWay Contact
Contact Number
E-Mail
Website
Physical Address
48 Sterling Rd, Kosmosdal

Centurion

Gauteng

0159

South Africa
---
Postal Address
PostNet Suite #382, Private Bag X121, Halfway House, 1685, South Africa
Opening Hours
Monday

08:00 – 18:00

Tuesday

08:00 – 18:00

Wednesday

08:00 – 18:00

Thursday

08:00 – 18:00

Friday

08:00 – 18:00

Saturday

08:00 – 13:00

Sunday

– Closed