Insurance cover for all
Fixed monthly premiums
Flexible claims process
In-page navigation
---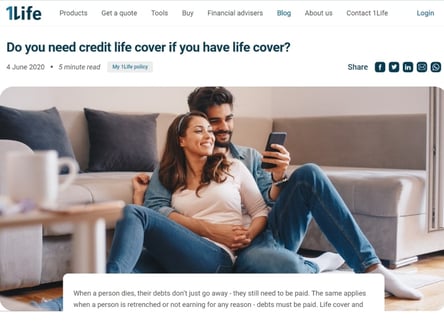 Author 1Life. Screenshot of 1Life website.


[Accessed February 7, 2023]
About 1Life
With life's unexpected changes, being able to protect what you have, needs to be a high priority.
At 1Life they understand this. Established in 2006. 1Life has changed the way South Africans insure what is important in a simple, affordable, and convenient way.
Since 1Life launched in 2006, they have been focused on creating simpler and better ways of giving you the cover you deserve. With a few new things to the industry, they were the first to sell life insurance directly to you, the consumer with an online option as well as a mobile site.
1Life was also the first life company to bring their customers an innovative HIV test with saliva instead of blood tests. With their automated claims processing, around 75% of their funeral cover is processed, approved, and paid out within the same day that the claim was lodged.
They keep their promises
1Life's working hard to bring every South African the opportunity of ensuring what they can. They even offer a 1Life prepaid funeral cover for customers without a bank account. By choosing to insure today you secure the future for your children and possibly their children.
With that kind of insurance being just a phone call away, there is no reason not to get insured. The skilled advisors at 1Life will help and guide you every step of the way, finding the best option to suit your needs and budget. With friendly and knowledgeable consultants always ready to assist.
Having the cover you need is not only easy but also affordable with 1Life. Knowing that you have them in your corner when life throws you a curveball, gives you the time and peace of mind to focus on the things that need your time.
1Life Services
Whether it's paying off the house or getting the kids through school, nobody knows what life will throw at you.
Being insured when you lose your job, 1Life knows insurance is important. Ever think about what would happen when the unforeseen strikes and you are left without income due to temporary disability because of an accident or illness? Now, with a 1Life expense protector, you can take the wonder and turn it into security.
By paying out a lump sum or monthly instalments in the event of you not being able to work, you know that your financial responsibilities are well taken care of, leaving you to focus on what's important, recovery. We all rely on a monthly income for things like a bond, school fees, and groceries, among others, and with 1Life's expense protector, you can have just that.
Based on your specific risk profile and how much cover is needed, 1Life calculates your premium. Taking into account your age, gender, occupation, and health, as well as the amount of protection you need is based on your monthly income and expenses.
Receive a claim in one of two ways:
As a lump sum
You can also choose to receive a percentage of your amount in a lump sum and a percentage in monthly instalments.
With 1Life's credit life insurance, you know that you don't lose the income you depend on due to unforeseen circumstances. You will be able to still meet your daily and monthly obligations while you cannot work.
1Life – Credit Life Insurance
Product

Credit Life Insurance
They Keep It Simple

At 1life they don't confuse you with all unneeded information they keep our premiums easy to understand and they give you full clarity of the product or service you are buying by them.

You have Options

With their credit life insurance cover you have plenty of options to choose from to suite your budget and preferences. They also have the options of monthly installments or one large installment when you claim.

Do You Need Life Cover Or Credit Cover?

Both these premiums help you in cases when you are unable to work, illness or death. But in cases when the life cover isn't enough to pay all your debt of is when you need an additional credit cover.
Benefits of 1Life
Planning A Funeral - Let 1life funeral cover take care of that for you all you need to do is provide them with the necessary paper work and how you would like the funeral to be for the loved one that has passed away. All you need is to get one of their affordable funeral covers to cover you and your family. Stressful burials is a thing of the past when you are insured with us.
Woman And Children First - At 1life they make women our first priority that they even have customized premiums for women only. They understand that this beautiful creatures sometimes need some extra assurance and that is what they give to them. The idea of having insurance just for women is very empowering for them knowing that their children will be taken care of in any event of loss or death.
No Exams To Be Passed - They have made insurance by them very simple and time efficient. You no longer have to go pass your medical exams to apply for insurance by them just go online and click on apply now, its really as simple as that.
---
Get 1Life life insurance cover today
Getting covered with 1Life is simple and convenient.
Keep the following information on hand:
South African ID document
Proof of income
All relevant requested documentation
Steps to apply
By going online you apply directly on the website by clicking on the get an online insurance quote button. This will take you to the first part where you will need to complete your personal information.
You will now be asked to choose your cover and then you will select the calculate my premium button. Your premium will then be calculated according to your cover option and you will have the option of requesting an emailed quotation.
You will now receive an SMS to tell you that they look forward to helping you put together the best cover for your situation with a one-on-one phone call. You can now expect a call from one of their well-informed and highly experienced consultants.
Benefits of choosing expense protector cover:
Know that you are covered immediately
The choice is to increase your benefit payout by 5% at the start of your policy or when you claim
Flexible payouts so you choose how the amount is managed
With fixed premiums, you are sure that your payments won't increase for 12 months
You choose the cover amount and the method of payout
With no medical exams except for an HIV saliva swab
Dread disease cover
With 1Life dread disease cover, you will receive a tax-free lump sum payout when you get diagnosed with a dread disease like cancer or heart disease. Enjoy cover from the first day with no medical exams, only an HIV test.
Customer Reviews & Testimonials
"
June 2021
With everything 1Life has to offer, you will be hard-pressed to find a more suitable and affordable cover elsewhere.
Ritter P.
— Willowmore —
February 2021
Since a friend told me about the Expense Protector cover from 1Life, I have never been more at ease. Getting myself insured was a breeze.
Stander M.
— Athlone —
September 2021
I highly recommend this cover to every working South African. Protecting what is important when life hits you unexpectedly is a must.
Williams S.
— Sandton —
1Life Contact
Contact Number
E-Mail
Website
Physical Address
Auto and General Park 1 Telesure Lane Riverglen Dainfern

Johannesburg

Gauteng

2191

South Africa
---
Postal Address
PO Box 11250, Johannesburg , 2000, South Africa