Fast insurance quotes
Flexible payment terms
Get cash back OutBonus
In-page navigation
---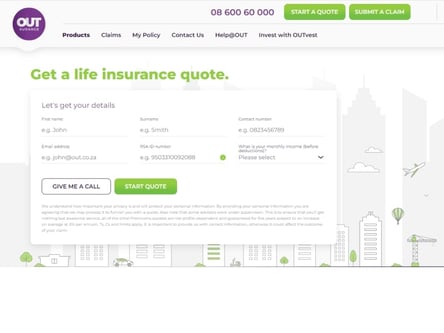 Author OUTsurance. Screenshot of OUTsurance website.


[Accessed February 7, 2023]
About OUTsurance
OUTsurance in South Africa was established in 1998.
They have built their services around helping people find the right insurance solution to meet their lifestyles and their preferred needs.
Rewards and incentives
OUTsurance offers rewards in the form of OUT bonuses for clients who always pay their premiums on time every month. OUTsurance is the pioneer of this kind of reward scheme, which encourages its clients to get out what they put in.
Credit life insurance you can trust
OUTsurance believes all customers deserve to be covered with the most cost-effective and valuable services that benefit them and their family's long term. They provide a range of options that will fit your needs perfectly.
OUTsurance Services
Credit life insurance with OUTsurance provides clients with a security umbrella.
Value-added services with Credit life insurance
With each credit life insurance option comes its own list of benefits and value-added services. Should you be unable to provide an income to cover the bills and payment of your accounts, OUTsurance has the best credit life insurance that will help you through these tough times.
Get covered the OUTsurance way
They have over 90 000 clients who are insuring their lives differently through OUTsurance. OUTsurance credit life insurance and life insurance are affordable and very reliable to their clients throughout South Africa and will cover your debts in the event of death. This will ensure that your spouse or family are not left with the financial obligations to pay for your monthly installments.
OUTsurance – Credit Life Insurance
Product

Credit Life Insurance
They Are Here For The Long Run

They are here to help and think about your family in the long run for when things start to get hard and unexpected changes come into your life like life threatening illnesses, dread disease or even death. Your family gets paid out an amount to help them pay the expenses of their everyday life and also pay off your credit loans.

Funeral Cover Option

With credit life insurance you also get funeral cover, which takes all the hassles of arranging your funeral. They give you the funeral you deserve in a dignifying way.

Get The On-Demand Cover

They offer a premium which allows you to claim and get paid out for death or injuries instantly there is no waiting period for this premium.
Benefits of OUTsurance
Out-Bonus Is Still Going Strong - Outsurance is probably best known for its amazing out-bonus deal. You get so much out after not claiming for 5 years that you can buy you that car you want or you can take your family out on vacation or what about treating your woman to a second honeymoon. The options is endless what you can do. Their out-bonus no claim deal have been around for years helping their clients enjoy life a little bit more.
Short-Term Is Also In The Options - They don't only have long term options they also take care of the smaller things that needs cover in your everyday life. When it comes to these premiums they only give you what you need, no hidden cost or paying for unnecessary premiums you are never going to use or need in your life.
Flexible And Easy Premiums Today - They give you online access to all your accounts and also the freedom to adjust your premium to your liking.
---
OUTsurance always delivers on promises
OUTsurance credit life insurance offers accessible, easy, and affordable options for clients who need cover or security against their salary or their outstanding debt balances.
Credit life insurance falls into place should you undergo retrenchment and be unable to provide a salary to pay back your debts, become seriously ill, and unable to work or in the event of death.
Apply online for the insurance you need
To get the credit life insurance cover you need, you can apply online through OUTsurance's easy and fast application section on its website. OUTsurance is known for its innovative technology platforms which allow fast turnaround times and efficient processes for its clients.
Let them call you back
OUTsurance can also offer you a callback. Send them a message through their online link, and one of their experienced consultants will call you back to discuss which options would best suit you. You can also apply for an online insurance quote.
They guarantee premiums on whichever option you choose to cover your needs, as well as your budget. With the OUTsurance rewards program in place, if you do not claim within paying up to 15 years of premiums, they give you a cashback OUTbonus!
Rewarding you for your loyalty
What other company rewards their clients for keeping up with payments? The OUTsurance application process is quick, and clients in the age group between 18 and 65 are all welcome to apply. You can also choose the time period of cover you like.
The flexibility you can trust
OUTsurance offers its clients the flexibility of payment terms to accommodate your budget and pay dates. In the event of a serious or terminal illness, OUTsurance will pay out up to 50% of your insured amount upfront, to cover your salary till the time you pass away.
You can choose to get funeral cover or illness cover or with their services, can opt for a combination of the two covers. Either way, they will negotiate a good rate for you and your family.
Their short-term credit life insurance invests in the diversity of today's economic lifestyle, with a direct approach to pinpointing your needs and offering a product that matches your criteria. They are a vibrant bunch of passionate people who care about their clients.
Credit life insurance that will address your needs
OUTsurance has the technology, the passion, and the culture to identify the needs of its clients and address their needs as required. OUTsurance knows the industry and uses its experience to its advantage in helping customers throughout South Africa, with their credit life insurance needs every day.
OUTsurance ensures that should something happen to you, they will have you covered. They offer clients several options, which will cover you in death, disability, or retrenchment.
Customer Reviews & Testimonials
"
October 2021
They always deliver great value for money products and I have all my cover with them and now credit life too.
Mandy. P
— Cape Town —
October 2021
They are great at paying out claims and I know that I can trust them with my life and the lives of my family.
Siyanda. T
— Pretoria —
September 2021
They are always ready to assist in the shortest time possible. I requested a call and in less than a minute I received a call from a friendly and helpful advisor.
Mishke. Y
— Mpumalanga —
OUTsurance Contact
Contact Number
E-Mail
Website
Physical Address
1241 Embankment Rd, Zwartkop, Centurion

Johannesburg

Gauteng

0157

South Africa
---
Postal Address
P.O. Box 8443, Centurion, 0046, South Africa
Opening Hours
Monday

08:00 – 18:00

Tuesday

08:00 – 18:00

Wednesday

08:00 – 18:00

Thursday

08:00 – 18:00

Friday

08:00 – 18:00

Saturday

08:00 – 13:00

Sunday

– Closed