Online insurance quotes
Effortless application process
Get your contract within 24hours
In-page navigation
---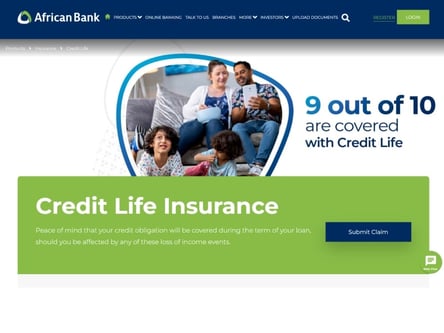 Author African Bank. Screenshot of African Bank website.


[Accessed February 7, 2023]
About African Bank
African Bank has quickly become a revolution in the online and offline banking zone.
South Africans have found simplicity in the layout of their services, support, and day-to-day service quality. African Bank has aligned itself with the innovation of the times and now offers an unprecedented service through online platforms, for busy customers.
A unique approach to Credit life insurance
With years of experience and the re-establishment of the New African Bank in the country, they deliver a remarkably unique approach to banking and investment to their clients through impeccable service.
Insurance that will exceed your expectations
African Bank is a leader in the financial world, with a range of products to suit every client's needs. They continuously drive value on their delivery, exceeding client expectations with every new and existing client they help. African Bank understands the needs of its clients and serves them with the respect they deserve.
African Bank Services
Credit Life Insurance at African Bank has a clear idea of how unpredictable life can be.
From African Bank's experience in the industry, they know that clients who have credit life insurance in place, benefit from the financial security of a backup in place should someone in the family pass away or be ill and unable to pay loans, credit cards, and other debts left behind.
Cover your debts with Credit life insurance
Credit life insurance from African Bank will cover your finances should you be unable to pay your installments in the event of your death, disability, retrenchment, or dreaded illness.
Short-term Credit life insurance cover
They also have the option for a short-term credit life insurance cover, which is when they will take over your payments or instalments over a short period until you can pick up on the payments once more. Should something happen which affects the payments on your debt, make sure you have the necessary cover in place, to keep you afloat on your instalments and cover your full debt amount.
African Bank – Credit Life Insurance
Product

Credit Life Insurance
Temporary Disability Got You Skipping Your Payments?

Fear no more credit life insurance is here when you face a challenge like temporary disability this help you pay your credit loans for up to 12 months while you unable to work.

They Cover Permanent Disability

If life turns upside down for you and you end up with a permanent disability they cover the full amount you owe on credit loans or any personal loans.

Did You End Up Being A Cut Back At Work

No worries they pay out when you get retrenched at work. They have the installment and the settlement option. With installment they pay for up to 12 months your credit loans and with settlement if you still cant pay after 12 months they settle the credit loan.
Benefits of African Bank
Short Term? - If you are looking for short term insurance well look no further African Bank have the best premiums of your choice and they will customize your premium you choose to suite the time frame you need for your insurance. They understand that life comes with changes and sometimes we just have to change with it.
Years Of Experience - With generations and generations of knowledge passing through this company they have staff who is more than qualified to give you the best service you deserve. They take you in consideration and they want to please your needs because you are their top priority.
You Haven't Seen Service This Fast - Online access and online application makes this process so easy and fast that you get your contract within 24hours from when you applied.
---
African Bank has the credit insurance solution you need
African Bank makes your application and claiming easy through their online streamlined processes.
Applications are easily accessible through their online platform, making the entire process from beginning to end quick and easy. Clients can access their credit life insurance from anywhere, the African Bank website provides simple technology prompts and directions to apply and submit from your office or home. Clients can also contact their call center and a consultant will call you back to assist with processing your application over the phone.
Get a Credit life insurance quote 100% online
If you are an African Bank client, the process will also go a lot quicker as they already have all your particulars on their system and can offer you an online insurance quote within minutes. Clients also have the option to visit any of their branches which are located across the entire country; their face-to-face customer service will add that special touch to the delivery you expect.
The African Bank platforms create an interactive approach with fast delivery and easy-to-use processes. They offer a range of insurance options which includes credit life insurance cover at affordable rates.
Their online application is fast
Click on Apply Online, and you will be guided through the entire process. Whatever form of communication their clients prefer, they can deliver on them. Online, telephone, and cell rates are free for clients wanting to access their applications through these channels. Get your credit life insurance in South Africa within 24 hours.
Applications are quick and easy, and clients can get their insurance contract within 24 hours of application. They will organize that your agreed premiums are debited directly from your bank account on a specific agreed date each month. They aim to make the entire process from beginning to end as easy and streamlined as possible for their clients.
Credit life insurance when you need it
They offer assistance throughout your term with them, including the need for statements and balances on your credit life insurance, and any updated news and information you may need in regards to your policy. Their experienced consultants are always available to assist and have extensive knowledge of all their products. Make Use of the African Bank Website 24/7.
Their online platform is available 24/7, so you can make use of the African Bank portal with your login whenever you want. They know you live a busy life, and there is little or no time to wait in a queue at the back, or make appointments. That's why they have the next best thing, their technology will allow you to access them anytime from anywhere.
Their cover is arranged in two categories, which is a lump sum payment of your loans and accounts in the event of death.
Customer Reviews & Testimonials
"
September 2021
I recently got retrenched and they paid out. I am a very happy client with a bond and credit cards that are fully paid now.
Dimakatso. O
— Bellville —
September 2021
We were in a car accident a few months ago and I lost both my arms, this resulted in me not being able to be an architect anymore. I don't know what we would have done without African Bank. A tru...
Karel. K
— Claremont —
August 2021
Their cover is so cheap yet comprehensive and an absolute necessity for me as I am a mother of three and a homeowner and have a few credit cards, so if anything happens to me, I have the peace of...
Georgia. H
— Wynberg —
African Bank Contact
Contact Number
E-Mail
Website
Physical Address
2, Old Mutual Centre, Strand St & St Georges Mall

Cape Town

Western Cape

8001

South Africa
---
Postal Address
Private Bag x170, Midrand, Johannesburg, 1685, South Africa
Opening Hours
Monday

08:30 – 17:00

Tuesday

08:30 – 17:00

Wednesday

08:30 – 17:00

Thursday

08:30 – 17:00

Friday

08:30 – 17:00

Saturday

09:00 – 13:00

Sunday

– Closed