Leaders in insurance
Quick online application
Fast and efficient services
In-page navigation
---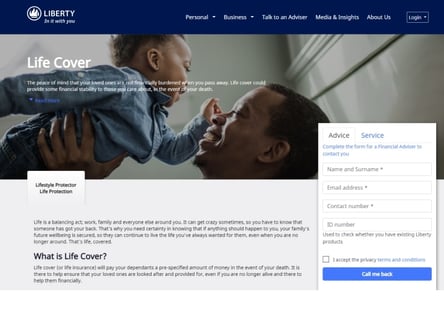 Author Liberty. Screenshot of Liberty website.


[Accessed February 7, 2023]
About Liberty
Liberty credit life insurance knows just how to cover you in the event of a traumatic situation in your life.
They have a lot of experience in servicing clients in covering their debt in the event of death or disability. A long list of very happy clients trusts them with their lives.
Liberty is not new to the financial world
They have a well-known reputation in South Africa as the investment leaders in the country. They also have incredible knowledge and track record for delivering insurance products that work hand in hand with the needs of every client.
A unique approach to Credit life insurance
Liberty has a unique way of matching its services in line with its diverse range of clients, offering a linking partnership between its expert staff and their client relationships. They manage large groups, business corporations, and private individuals and help manage their credit life insurance needs and processes from beginning to end.
Liberty Services
Liberty credit life insurance comes in a number of flexible and effective options.
They offer credit life insurance for clients who think ahead and want financial security to prevent risk in the event of their death or disability.
Life can throw you a curveball at any stage
You could get retrenched from a high-paying job tomorrow. You could fall victim to a serious critical illness, or you could, under an unforeseen circumstance, die without warning. Liberty's credit life insurance makes sure that whatever debts you have accumulated would be taken care of in the event of any of these devastating events that could happen.
Protecting those who matter most
The last thing we want is to leave the stress of financial debts and repayment balances for our family to try and salvage. This could leave a bad taste in anyone's life, and also result in more serious defaults causing them to lose their home, car, and anything else which is of value.
Liberty – Credit Life Insurance
Product

Credit Life Insurance
Self Employed Or Working For A Boss

Whether you are working for someone or working for yourself you qualify for credit life insurance by Liberty Life. They help you when you can't provide an income then they help you pay of your payments until you are able to pay them yourself.

They Protect Your Loved Ones

They don't only take you in consideration they also cover your loved ones that you want on your premium also if you pass away they help pay of your credit loans and help them with everyday expenses.

How Much Cover Do You Need

They estimate how much cover you would need by going through your monthly budget and seeing how much you need to pay on your credit loans.
Benefits of Liberty
Medical GAP Cover For You And The Family - This is when you have a medical scheme and you go to hospital but they don't cover the entire amount of the bill. This is where they step in an pay the outstanding balance that your medical scheme couldn't cover.
Health Cover Insurance - They offer health cover that is not only for just here in South Africa but also covered in other countries all over Africa. Get health insurance so that you and your family can get the treatment and medical assistance they need when you need it.
They Cater For Businesses As Well - They don't only look after the families and individuals here in SA. They also take the business owners to heart and they offer amazing premiums to make life easier for you and your employees.
They Don't Break Your Budget - They know life is expensive and when it comes to getting insured they first look at what you can afford then they adjust your premium as you need is.
---
Liberty credit insurance covers your outstanding debts fast
Liberty credit life insurance offers a simple and fast application process to meet the needs of its client's busy lifestyles.
You can also get a credit life insurance quote online. Liberty policies are annually renewed with its clients, so if you need to increase your premiums and credit cover amounts, you have the option to do so.
When a Credit life insurance claim can be made
Liberty's credit life insurance pay-outs are dependent on the person being retrenched, undergoing a critical or terminal illness, or under circumstances of death. Getting covered is easier than ever. Liberty has an accessible contact line on the Liberty website. This will allow you to leave a message for one of their consultants, and they will contact you back within minutes.
Easy and quick payments
They will evaluate your profile, to propose a suitable credit life insurance policy draft which you can look at. They will work around this draft until you are happy with the final contract. Once in place, clients can enjoy the ease of their monthly premiums being directly debited from their bank account on a day of the month of your choice.
Efficient & transparent Credit life insurance
Efficiency and transparency are two key elements of Liberty's service delivery to its clients. All their services revolve around their effectiveness to meet the specific needs of its clients. Liberty premiums are low, and work in line with the period within which you have chosen to pay your credit life insurance plan, and how much your debt amounts to.
Picking up where you left off
The cover you choose will ensure that should you be retrenched, they will pay your creditors for a time period stipulated, so that you don't fall behind in your payments. Once you get another income coming in, you can start picking up on your payments once more.
Removing the burden from your shoulders
In the event of disability or critical illness, Liberty will pay out a certain amount to your debts and the balance will be paid out should you pass away. Liberty knows you don't want to leave the hassles and burdens of your unpaid debts to your family members, so they make sure they cover them with the credit life insurance cover you have in place with Liberty.
Customer Reviews & Testimonials
"
September 2021
They offered me a highly comprehensive life cover that protects my income and the livelihoods of my family.
Martinus. L
— Limpopo —
August 2021
After my sister got retrenched Liberty paid out and took care of all her debt. There were no issues and the claims process was super-fast.
Precious. M
— Pretoria —
September 2021
They are friendly and reliable. A great company with great people that are there when it matters the most.
Sofia. G
— Port Elizabeth —
Liberty Contact
Contact Number
E-Mail
Website
Physical Address
3rd Floor, West, Libridge Building, 25 Ameshoff St, Braamfontein

Johannesburg

Gauteng

2001

South Africa
Opening Hours
Monday

08:00 – 16:30

Tuesday

08:00 – 16:30

Wednesday

08:00 – 16:30

Thursday

08:00 – 16:30

Friday

08:00 – 16:30

Saturday

– Closed

Sunday

– Closed