Family centered insurance
Affordable monthly premiums
Apply online
In-page navigation
---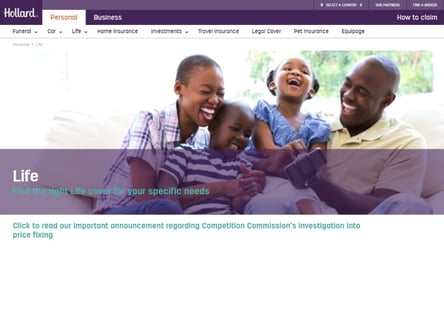 Author Regent. Screenshot of Regent website.


[Accessed February 7, 2023]
About Regent
Regent is one of South Africa's top credit insurance brokerage companies, which does the searching for our clients.
Leveraging our experience
Getting the right product when you need it is often a chance you take when doing the search yourself. For anyone who is inexperienced in the insurance industry, it can be quite a stressful task. We have had many years to form relationships with top insurance providers, who all offer the most valuable benefits to clients, with top quality premiums and a value for money you would battle to find on your own.
Get fast results
With our supplier and insurance leverage, we can secure the best credit insurance cover for you quicker than ever. We want to take the hassle off your hands and provide a search service that goes above and beyond, with an end to end customer care. Let us use our experience in the insurance industry for your benefit.
Regent Services
With more than half the population in the country being indebted to credit facilities, having cover in place would be a wise move to make.
Life can be unpredictable
If you are diagnosed with a serious illness, or disability, or even succumb to an unexpected death, having a credit life insurance cover in place to cover those debts when you can't, will make a complete financial difference to your family.
Instead of leaving your family with unpaid debts, rather leave the fond happy memories. Regent can help you with their searching services, which have been securing the right credit life insurance for clients around South Africa since 1994.
Affordable and valuable Credit life insurance
Regent has built strong valuable relationships with credit life insurance companies, to secure valuable and affordable cover for their clients.
Regent – Credit Life Insurance
Product

Credit Life Insurance
Fast As Lightning

They are quick to provide you with a quote and give you fast results, easy online access and instant cover no waiting periods to keep you waiting for your claims.

Something To Tick Of The List

Credit life insurance is definitely something that must be one your must have lists and getting this premium helps you tick of so much other things that's taken care of all in one premium.
Benefits of Regent
Be insured - If anything happens to you and you are insured with credit life insurance all of your debt will be paid off and all loans taken out on your name will be cleared, and not just falling on your loved once and leaving them to struggle.
They Keep Your Budget In Mind - With affordable prices there is no excuse not to get this premium, having this premium secures your future and preventing you from falling into a dark place.
Be Different - Don't be part of the population that fall under debt and bad credit. Get that credit life insurance premium today.
---
Regent will cover your debts with comprehensive credit insurance
Regent credit life insurance offers a simple but effective way to get the credit life insurance cover you need.
They work through an online platform, through the Regent website, which is accessible immediately to clients. Getting life cover has never been easier, and they do all the work for you. Register online with Regent today, and get covered tomorrow. They care about your future just as much as you do.
Finding the perfect fit for Credit life insurance
Regent will use its relationships with credit life insurance companies across the span of South Africa. This will help to find the right perfectly fitted credit life insurance company that will offer you the solution you need. Clients no longer need to spend days, weeks, or months, searching, applying, and not getting the results they want from doing their own search.
Let regent do the hard work for you
This can be highly stressful on its own, as well as the fact that you may not get the negotiated premiums that they can get you. Let Regent do the hard work, while you concentrate on what matters most to you. They have made the whole step-by-step process as easy to use as possible, to be available for clients on a diverse spectrum.
Get a Credit life insurance quote online
Clients can easily register online, and follow the easy-to-use steps to obtain an online credit life insurance quote. Regent will create a profile for clients, with all the key areas that revolve around their specific needs, according to their current outstanding debts, and budgetary abilities to pay back.
Let regent call you back
They can also assist you via a callback. Just send Regent a message on the Regent website, and they will get an experienced consultant to call you back immediately and discuss the option of credit life insurance cover with you. With every stage of their service delivery, they ensure they carry through Regent's aim which is to keep communication open with their clients at all times.
Regent never say never for Credit life insurance
They will always find a solution that fits your needs and your budget. They make their clients feel special; each client receives VIP treatment from Regent's caring and helpful team of consultants. They will always go above and beyond to ensure you get the right service for accident cover, credit life insurance, and funeral insurance cover. They will ensure an end result that will benefit you long term and that will give you more than you bargained for.
Customer Reviews & Testimonials
"
October 2021
My son was in a car accident last year and sustained severe injuries that prevented him from working for nearly 9 months. Regent carried him financially through this tough time.
Maria. D
— Bellville —
October 2021
I am a very pleased customer of Regent; they are always fast and reliable when you need them.
Rethabile. F
— Constantia —
October 2021
What a great company that always goes the extra mile to make life better when the worst happens. Their claims process is fast too.
Gail. W
— Kenilworth —
Regent Contact
Contact Number
E-Mail
Website
Physical Address
Dorp Street, De Bron,Bellville

Cape Town

Western Cape

7530

South Africa
---
Postal Address
PO Box 674, Edenvale, 1610, South Africa