Quick insurance application
Affordable premiums
Easy claims process
In-page navigation
---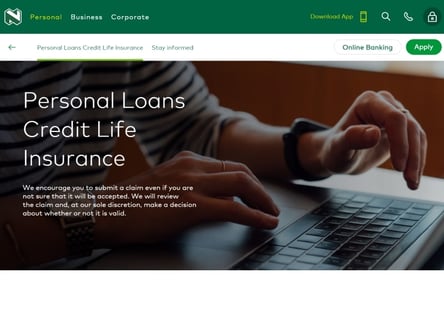 Author Nedbank. Screenshot of Nedbank website.


[Accessed February 7, 2023]
About Nedbank
Nedbank is a well-established bank, with branches right across Africa.
It was founded on 1 March 1888, and since then it has been growing, resulting in more than 2000 branches in 39 countries, to date. Nedbank exists to ensure that its clients are informed, financially secure and that they stay on top of their finances.
Their central purpose is to do good and have their presence felt by their loyal clients. Nedbank assists businesses, families, individuals, and society, by putting their financial expertise to use, for the greater good. They do not only teach you pointers and tricks to maintain a wealthy life, but they are genuinely interested in their clients' lives.
Where professionalism and values meet
Nedbank aspires to be completely transparent, honest, consistent regarding all decisions and actions relating to their clients. They pledge to be committed, accountable, and take full responsibility for actions they take concerning your finances. They have educated staff members that happily serve clients with insight into the bank's vision and mission.
They contribute a great deal to influencing and advocating environmental matters. They are not just a company looking to profit off their already suffering clients, they are involved and invested in what matters to you. Their goal is to help you achieve your goals and become your best self.
Nedbank Services
Nedbank's Credit life insurance plan has substantial terms and conditions pertaining to simpler ways of claiming for a benefit under your policy.
Credit life insurance is applicable in the case of death, should something happen to you, you are covered. Death comes suddenly and it is inevitable, therefore Nedbank enables you to take control.
The Credit Life Insurance plan can be found under the personal loan category. It repays your debt in most instances, even disability or accidents leading to permanent disability. This credit cover plan also includes unemployment and/or the inability to earn an income. Life is way too expensive to be unemployed and Nedbank is fully aware of this, they got you.
They have so much to offer you
Nedbank has many products and services to offer their clients, with them you know there will be a plan that suits your unique financial goals and needs. They offer Transactional (to make/receive payments), Savings (to keep money and earn interest), and Investment accounts.
They offer short-term loans for those unexpected incidents, home loans to upgrade in life, and provide your family with a safe and comfortable living space. Business loans are also available to entrepreneurs and businessmen and women that would like to take their business to the next level.
Nedbank – Credit Life Insurance
Product

Credit Life Insurance
No Medicals Needed

Nedbank has a very easy and hassle free process in applying for credit life insurance. There is no need for you to an pass medical exams first before you qualify.

We Pay Out As We Promise

When you have credit protection and you come in a situation where you need to claim, just give them a call and they will assist you with fast service.

Have You Heard Of Immediate Effect Yet?

Here by Nedbank they set the perfect example of what with immediate effect must look like, apply now and get covered today still.
Benefits of Nedbank
They Help Pay Off All Types Of Loans - Credit Protection helps you out when you need extra assistance in paying of your loans when you perhaps lost your job or fell very ill. They will give you an opportunity to get back on your feet and get another job or source of income to continue paying off your loans.
Affordable Prices - Are you looking for affordable insurance and banking made easy, get insured by them today. They do all the hard work for you all you need to do is tell them what you need and when you need it then their helpful staff starts the process and work out a premium that suites you and your family's lifestyle the best.
We Are The Best - Nedbank have been years in the financial industry and with years of experience they have trained themselves to be the best in the business and that is what you get the best of services.
---
Apply for affordable life insurance with Nedbank today.
When applying for Credit Life Insurance, be sure to have all the needed documentation.
The following documents are required:
A copy of your Identification Document as proof of your name and surname.
Proof of your physical address.
Bank statements dating back 3 months.
An email address.
Mobile number for emergency contact.
Easy application process
Step 1 - Firstly, you will be required to enter your personal details and contact information for client check-up purposes.
Step 2 - After submitting this, you then choose the plan that you would like to apply for, which in this case will be Credit Life Insurance.
Step 3 - Now, the only thing for you to do is wait for a response from Nedbank on whether you qualify and what the terms of your monthly repayments and your cover amount is.
The benefits of applying with Nedbank
Quick and affordable banking
Available online, and via their banking app
Friendly, approachable, and experienced employees
Fast assistance and support
Covered with immediate effect
When you claim your insurance, you must have the following at hand.
In the event of death
You need a copy of the death certificate, proof of the deceased's ID (Identity Document), and a claimant statement filled out by a family member.
In the event of disability
You are required to provide a disability claim form, a copy of your identification document, and a confidential medical report by an eligible medical practitioner.
In the event of retrenchment
A copy of your retrenchment letter written by your employer including the reasons supporting your retrenchment, A copy of your ID (Identity Document), and a retrenchment claim form.
In the event that you lose your income
A letter from your employer stating why you lost your income, salary slips of two months prior, and bank statements for three months.
Customer Reviews & Testimonials
"
September 2021
Nedbank was honestly the best option for my niece, when she passed away her debt was paid back in a short period of time. With no hassle.
Ackerman J.
— Pretoria —
August 2021
I was young when I chose Nedbank as my bank, and I have zero regrets. Nedbank does not disappoint.
Kamlisa V.
— Port Elizabeth —
April 2021
When I lost my job, I had no need to sit with my hands in my hair, I had Nedbank as my last resort, as my shield from financial destruction
Rosseau E.
— Durban —
Nedbank Contact
Contact Number
E-Mail
Website
Physical Address
Bloulelie Cres, Plattekloof 3,

Cape Town

Western Cape

7500

South Africa