Swift insurance quotes
Immediate life cover
Quick online application
In-page navigation
---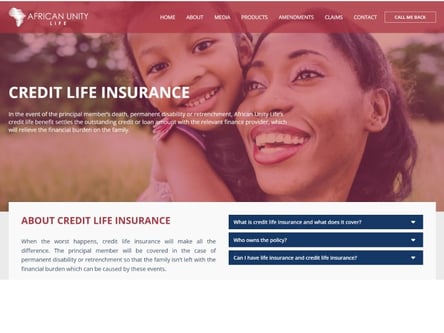 Author Africa Unity Life. Screenshot of Africa Unity Life website.


[Accessed February 7, 2023]
About Africa Unity Life
African Unity Life offers a variety of insurance products within South Africa, designed within an all-inclusive target market framework.
These products range from assistance insurance (funeral insurance and credit life insurance) to health insurance and life insurance. Known to provide quality, diversity, flexibility, and adaptability, African Unity Life offers Credit Life Insurance in South Africa which, in the event of the principal member's death, permanent disability, or retrenchment, will settle any outstanding credit or loan amount, helping to lighten the burden placed on the family during a difficult time.
Credit life insurance South Africa
Credit life insurance is a policy that is implemented into a financial agreement when an individual applies for credit, in order for the credit provider to be certain that they will be repaid in the event of a client's disability, unemployment or death. Credit life insurance in South Africa is important for providing peace of mind, should anything happen to an individual that would lead them to be unable to cover monthly expenses and pay back any outstanding debt.
Africa Unity Life Services
African Unity Life Credit Insurance will make provision for the policyholder when they are no longer able to earn an income and cover costs by paying any outstanding debt directly to the financial institution involved.
This insurance will take care of financial matters of the policyholder and in the event of natural or accidental death, the policyholder's family will be covered too. The credit life insurance policy will cover the policyholder in the event of the principal member's death, permanent disability, or retrenchment and will cover costs of:
Personal loans
Credit card purchases
Overdraft accounts
Along with this, proof of the payment for these outstanding amounts will be sent directly to the lender, otherwise known as the bank or financial institution by African Unity Life.
Important to note is that pensioners or self-employed individuals do not qualify for credit life insurance, as they would not be able to claim against cover that offers retrenchment or disability cover benefits.
Africa Unity Life – Credit Life Insurance
Product

Credit Life Insurance
You Get The Best Of Both Worlds

Africa unity life offers you life insurance and credit life insurance all in one premium. This helps you have a secured future for you and your family.

What Does Credit Life Insurance Cover

Their premium offers to pay your debt when you are unable to make payments due to loss of income, dread disease or death.
Benefits of Africa Unity Life
Amazing Products And Services - They offer a range of insurance premiums, you will get all you need is in one place. We have offers from car insurance, travel insurance, life cover, funeral cover and there is their health insurance option as well and so many more you can choose from.
Have Your Family Set For Life - They strive to see their clients happy and what they have learned through the years is that when ones family is taken care off and that is exactly the service they offer.
Easy And Fast Cover - You get what you need in no time and you are covered instantly and no waiting periods for you to claim.
---
Get a quote online
One should be aware of the difference between credit life insurance and life insurance when selecting the correct cover to suit individual needs.
A life insurance policy will help to ease the financial burden of a family after the death of an individual who is known to be the breadwinner. This is done by paying out a lump-sum payout to employees and their loved ones in the unforeseen event of death or disability. Life insurance, put simply, is the cover for one to provide for their family when they are no longer able to do so. The life insurance policy can be described as a lifelong commitment that ensures all premium payments are covered.
On the other hand, credit life insurance will payout to cover the existing debt in the event that the insured individual is retrenched, becomes permanently disabled, or dies. Credit life insurance is important if one has a debt with a lender/bank. The credit life insurance policy will come to an end once all outstanding debt has been settled.
Credit life insurance claims
One can submit a credit life insurance claim with African Unity Life by making contact through email via claimscreditlife@africanunity.co.za. From here, the credit life insurance claims procedure is divided into 3 steps which can be outlined as:
Africa Unity Life will receive the claim and immediately issue a ticket to assist the individual to keep track of the progress.
The claim is then allocated to an assessor and if all supporting documentation has been received and the claim form has been completed accurately, the claim will be assessed accordingly.
Depending on the value of the claim, the claim is reviewed by an approver and/or the Admin Manager. The claim is then either approved and paid or rejected.
In the event that an individual receives a letter of rejection in connection with their claim, one has the option to request African Unity Life to reconsider the claim or one can lodge a complaint.
Credit life insurance quotes
To get credit life insurance quotes in South Africa with African Unity Life, one can visit www.africanunitylife.co.za and complete the necessary fields of the information under the heading "APPLY FOR CREDIT LIFE INSURANCE" on the Credit Life Insurance page. Once this has been completed, one can select "SUBMIT" and expect to be contacted by an African Unity Life agent.
Should one require further or general assistance, there is the option of selecting the "CALL ME BACK" button, and after completing the necessary fields of information according to the product that one is interested in, select "SUBMIT" and African Unity Life will make contact shortly.
Customer Reviews & Testimonials
"
May 2021
I know my debt will be taken care of if I had to lose my income for some reason I wont fall more in to debt.
Emelia S
— Bloemfontein —
August 2020
All you need is proof of payment of the companies you owe and you are sorted not years of struggles.
Valery G
— Boksburg —
July 2021
It didn't even take 12 hours to complete the set up and all was covered thank you guys so much!
Werner A
— Namibia —
Africa Unity Life Contact
Contact Number
E-Mail
Website
Physical Address
109 Jip de Jager Drive Springfield Office Park

Cape Town

Western Cape

7530

South Africa
Opening Hours
Monday

08:30 – 16:30

Tuesday

08:30 – 16:30

Wednesday

08:30 – 16:30

Thursday

08:30 – 16:30

Friday

08:30 – 15:30

Saturday

– Closed

Sunday

– Closed