Effortless life insurance
Discounted premiums
Rapid online application
In-page navigation
---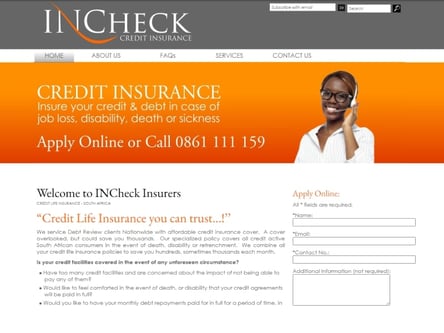 Author InCheck. Screenshot of InCheck website.


[Accessed February 7, 2023]
About InCheck
InCheck provides credit life insurance options for clients in South Africa that are affordable and easy to obtain.
They are customer-focused and rely on their expertise, products, and experience in the market to deliver second to none customer service.
Don't pay more
InCheck knows how expensive life insurance can be; clients can end up paying more than what they actually get out in most instances. They provide a more cost-effective approach to covering your insurance needs, with all the added benefits, you still get value for money, and more back in returns.
A trustworthy Credit life insurer
They are transparent and communicate throughout their processes and services with their clients, making sure you have a complete understanding of the service to you. All their policies have the underwriting enforcement of Metropolitan Life, so you can rest assured that you will be getting a certified and regulated proposal to satisfy your needs. InCheck aims to provide products to you, with your best interests at heart at every stage of your partnership with them.
InCheck Services
Incheck assist clients with the needed guidance and credit life insurance in a unique way.
With credit being one of our main processes and means to buy what we need, South Africans do build up high credit accounts and debts. We pay a vast amount of our salaries on these debts every month, and should something happen to prevent us from earning an income, these debts would unfortunately still be there.
How Credit life insurance works
In the unfortunate event that you should pass away, credit life insurance will cover all your outstanding unpaid debt, taking away the financial burdens from your family that they are left with. This can include loans, credit cards, home loans, and vehicle loans which still allow them to keep the assets, they will only have no repayments to make.
Loss of employment
If you are let go from work on a retrenchment basis, their credit life insurance will cover those repayments over a 6-month period, giving you a time frame to find alternate work, and not fall behind in your repayments.
InCheck – Credit Life Insurance
Product

Credit Life Insurance
Start Saving

With Incheck you pay no extra cost and you pay no middle man so you save so much money every month you can actually start a savings account.

We Settle For You

When your time is up and you leaving your loved ones behind make sure you are not leaving them with the burden of all your debt. Incheck settles your credit loans if you are covered by them with credit insurance.
Benefits of InCheck
Lost Your Job No Problem - They help you pay of your loans if you come in to a situation where you are no longer earning an income and can no longer pay your payment. They give you a 6 months time frame to get another job so you don't fall behind on your payments.
Insurance That Won't Cost You An Arm And A Leg - They have unbeatable prices for years there is no way you will get an insurance company with better prices as they negotiate for you to get you the best deals.
Finally It's Here - You can now apply online, no more stacks of paper work or hours of phone calls.
---
Incheck insurance saves you time and money and covers your debts.
Credit Life Insurance from InCheck is a sure way to get the cover you need at an affordable premium.
They have extensive experience in assisting clients who are under debt review, where the risk of losing assets and falling into lawsuit traps may be their biggest areas of concern.
A simple Credit life insurance application online
InCheck credit life insurance South Africa application process is simple, with everything at their client's fingertips. Their online platform will allow you to register completely online. You can receive a quick call back from them by simply sending them your contact details.
They will get back to you at the soonest possible time frame, and carry you through the credit life insurance application process. InCheck guides its clients advise them and presents a proposal and quotation that will match their outstanding debts, their needs, and affordability.
Clients, who find themselves overwhelmed with repayments on credit every month, will benefit a lot from their service offering. They can cover a higher cover amount which would be able to cover all those debts in the event of your death.
Meeting your obligations once you're gone
In a disability situation, InCheck will cover a portion of your debts for a specific time frame, and then the balance as a death benefit when you pass away. The reality of life is that should something happen to you, you need to ask yourself, who will look after your family financially?
Credit life insurance is critical
You may be gone, but the debts you have on your profile will still be there, and unless you have credit life insurance in place, they will be passed onto your family to sort out. InCheck often has clients coming to them with their current credit life insurance firm being too costly.
Affordable options and alternatives
InCheck then quotes clients on the same requirements and always comes out cheaper. They have thousands of satisfied clients, who praise its service delivery which is of the highest quality, and its affordability, which is very competitive in the insurance market. Simply contact InCheck now or apply for an online insurance quote in just minutes!
Comprehensive Credit life insurance coverage
InCheck offers its credit life insurance for situations such as death, disability, serious or critical illness, and retrenchment. Each option has its own benefits and own costing model. They can also offer a combined solution that covers all areas, at a reduced rate.
Cover your spouse at a special premium
InCheck finds delight in treating all its clients in a unique and special way. Every client they have is important to them. They improve and update their methods with the feedback they receive from their clients. They will always deliver on your expectations.
Customer Reviews & Testimonials
"
October 2021
InCheck made our lives so much easier. My husband had a stroke 2 years ago and from there has not been able to earn an income anymore. Don't know what we would have done without them.
Kwathema. R
— Pretoria —
October 2021
More than 1000 people got retrenched at my workplace and I was one of them. At least I had cover with InCheck that took care of my debt.
Jonas. G
— Johhansburg —
September 2021
We got an all-inclusive cover from them at a very low premium. They are also extremely friendly and helpful.
George. D
— Sandton —
InCheck Contact
Contact Number
E-Mail
Website