Free insurance quotes
No hidden costs
High quality services
In-page navigation
---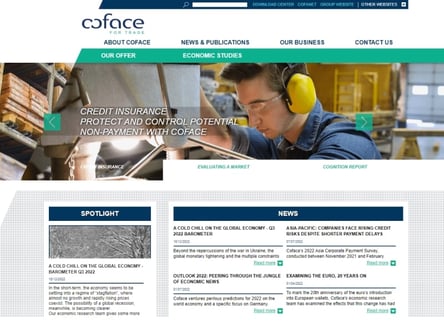 Author Coface. Screenshot of Coface website.


[Accessed February 7, 2023]
About Coface
Coface has been offering credit life insurance and related services to South Africans for over 70 years.
With a client span covering over 40,000 clients, they have earned a remarkable and positive outcome through their superior service and their impeccable products.
High-quality services
Coface services are of the highest quality and meet every expectation of their clients. They have global coverage that spans over 67 countries, so they are well known not only in the country but worldwide.
Credit life insurance in South Africa is necessary
Coface understands the risks that life can throw at you at any time of your life. Clients have homes, cars, and other credit on their plates, which they are paying off every month. Living credit-free these days is almost impossible.
Having a credit life insurance cover for these debts is no longer an option, but a necessity. You never know what could happen tomorrow, so make sure that you have proper cover in place with Coface's credit life insurance.
Coface Services
Coface offers a wide comprehensive range of affordable and beneficial credit life insurance options for everyone in South Africa.
Their services have become more and more important over the years. As the demanding lifestyles clients lead, and the cost of living rising every day, clients are finding themselves taking on more credit offers than ever before.
Solving the "What if" with Credit life insurance
It's very seldom that you can afford to pay for everything you have in cash. Credit is readily available for those larger purchases and just helps a lot with day-to-day living. But what if you lost your job tomorrow? What if you became disabled and couldn't work anymore? Who would pay for that debt?
Business and personal Credit life insurance
Coface credit life insurance products are conveniently available to clients wanting to ensure their credit in case of times like this. They will cover your business as well, with their credit life insurance, to ensure you don't lose all you have worked so hard for.
Coface – Credit Life Insurance
Product

Credit Life Insurance
Coface Has The Answers To All Your W's - What If, Where, Who ?

Getting your self covered with credit insurance so you don't have to run around when the what if's start happening like losing your job, getting to an accident, when this happen we normally run to the where is the money going to come from and who is going to provide for your family well they have the answer for you, get insured by them and you never have to worry about the W's again.

The Insurance Company You Can Trust

They have been covering their clients for over 70 years and they still going strong because they offer trustworthy service to their clients. Their clients trust them to look after them and they definitely deliver to their word, they make you their first priority putting your needs first. They care and that is why they offer the best premiums there is.

They Take Care Of Your Business Credit

In the business word a lot of unpredictable things happen and you get a lot of situations where you get customers who fail to pay their payment and then in the end your business suffer, not anymore they have you covered when your customer fails you.
Benefits of Coface
Get Covered Instantly - When you get Business insurance with them there is no waiting period, your business gets covered immediately. You can start claiming anytime you need to claim and they pay out immediately as well so that your business can go on as usual and you can continue making money and focusing on growing your business. When we stress about the little things we tend to get distracted that is why they have you covered.
They Give You A Better Understanding - They go into detail with you about any risks towards your business and what it involves and also what the consciences that the risks hold. They believe the more knowledge the client have about their business risks the better understanding you will have in knowing what type of premium you need and what you need to get covered. This will save you a lot of money and you don't have the unnecessary costs and things you don't need.
For Free - You can get a quote online and they don't ask you for any additional cost, easy and time efficient plus don't forget affordable premiums ready for you.
Helpful Staff - They have qualified staff members with very friendly service that help you through your whole journey with them.
---
Ensure your debts are taken care of should life take a turn
You always benefit from credit life insurance options at Coface.
Through their services, clients can secure their business with credit life insurance options that they provide. Having credit life insurance in place gives your company a secure platform and the stability to access credit in the future; it acts as a security in case something goes wrong, and is a financial cover to use as a backup in cases of dire need.
Business & personal Credit life insurance
Coface is not new to credit life insurance or business insurance, they already cover over 50 million businesses throughout the globe. Business owners have come to know their reputation, and flock to them for their knowledge and services. Coface process is easy to apply for and provides protection over risk for any non-payments or gap payments on your company.
Credit life insurance cover starts from day one
The process begins when you apply with Coface. Provide them with all the information and details they need to create a portfolio of your company. They will then offer you an online credit life insurance quote before getting you covered.
Their credit life insurance benefits you from day one, ensuring you protect your finances, reduce debts and increase cash flow.
Education is key
Through the process, they will educate you on the risks involved in your business, as well as the risks your company faces on a geographical basis. Clients can apply through them by having a face-to-face appointment. They will go through your business's credit life insurance needs and propose a credit life insurance quote that will be of value to you and your business.
Standing out while offering valued Credit life insurance
Coface prices are well in line with the insurance regulations and their services stand out amongst their peers. They offer value in their credit life insurance premiums with many value-added services that are included in the fees. They give their clients an effective solution, with protection at affordable rates.
Simple yet effective Credit life insurance
Coface products are simple yet effective and fit every business and person. Your quotation will be based on your turnover, your presence at risk, your industry, and the term in which you can provide payment. Coface provides you with the credit life insurance you deserve and covers you from day one.
Customer Reviews & Testimonials
"
September 2021
Got cover from them that is covering my bond and all my debt if anything happens to me if I can't earn an income anymore. Great benefits.
Unam. R
— Sandton —
November 2021
They offer comprehensive cover at reasonable prices and their cover is giving me the peace of mind I need.
Monique. G
— Sandown —
October 2021
My brother got disabled last year and they paid out without any issues. Even though it was a tough time, at least they are being taken care of financially.
John. S
— Kagiso —
Coface Contact
Contact Number
E-Mail
Website
Physical Address
3021 William Nicol Dr, Bryanston, Sandton

Johannesburg

Gauteng

2191

South Africa
Opening Hours
Monday

08:00 – 17:00

Tuesday

08:00 – 17:00

Wednesday

08:00 – 17:00

Thursday

08:00 – 17:00

Friday

08:00 – 17:00

Saturday

– Closed

Sunday

– Closed