Unbeatable life insurance
Easy online application
No hidden costs
In-page navigation
---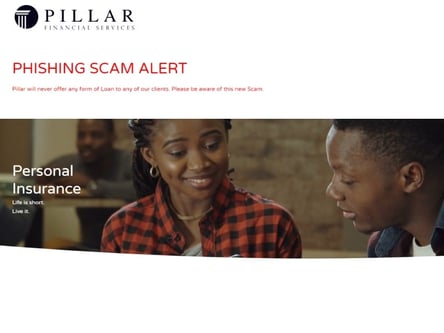 Author Pillar. Screenshot of Pillar website.


[Accessed February 7, 2023]
About Pillar
Pillar credit life insurance has based its services and products on the needs of its clients.
They think long term and think of what your needs will be further in life. They understand the insurance industry, as this is what their company is all about.
Years of experience in Credit life insurance
Pillar has extensive years in the service delivery of credit life insurance. With long-term and short-term options, their clients receive the most valuable products through a consistent and passionate firm, that truly cares. As a financially stable company, they have the ability to stand confidently for their clients and offer opportunities in the insurance industry.
No middle man with Pillar
When it comes to credit life insurance and investments into your future and your present, they are the country's experts in the field. They have the knowledge and the technology to ensure every interaction with them is fast, smooth, and with total focus on your needs.
Having a broker investing in you, means you get no middle man, you get the leverage of a firm that can assist you directly with anything from credit life cover, life cover to funeral insurance.
Pillar Services
Pillar credit life insurance covers your debts in the event that you pass away.
This is similar to long-term life insurance cover which all South Africans should have in place. Being debt-free and not having any kind of credit on your name, is not a reality in today's world.
Extensive amounts of credit
With financial obligations, day-to-day living, and the need to own a home, car, and anything else that requires some kind of credit, can be too costly to purchase cash.
South Africans rely on credit facilities to get them the things they need, with convenient repayment structures in place. However, in the event that you should die, or become disabled and unable to earn a living, who will pay your debts?
Credit life insurance South Africa
Pillar credit life insurance offers a low premium insurance policy, that will be the negotiator on behalf of their clients. This will secure the best possible credit life insurance cover for you. They have the leverage and the supplier relationships in place to ensure they get the best deals first.
Pillar – Credit Life Insurance
Product

Credit Life Insurance
No Middle Man

Pillar don't go to other companies that's going to end up costing you more. They have all the knowledge and resources they need to give you the best prices and the best deals that suite your needs. Cutting out the middle man can save you a lot of money.

Longest In The Business

They are one of the oldest companies that have been dealing with credit life insurance and over the years they have learned what works best for South Africans. They care about all their clients and they invest in your futures to make life better for you.

Prices To Beat

They offer low premiums for credit life insurance because they understand that life can become expensive and we tend to run to loans to make everyday life easier but paying of that extra loans can become a problem and that is where they come in.
Benefits of Pillar
Medical Cost Got You Down - Pillar offers you medical insurance to help you out when an emergency happens and you have to go to the hospital unplanned so where do you get this money from to pay the bill? Their medical insurance option helps you pay your medical bills when you can't pay the full amount upfront then pillar medical insurance steps in and pay a portion of your bill.
Is Your Personal Belongings Insured Yet? - They offer personal insurance for those who work hard in building themselves and buying nice things, these nice things can sometimes be expensive to lose and replace so rather get them insured and know that in a case of theft or if you lose it perhaps or it might be broken that you can replace it without taking out an extra cent.
You Choose Your Premium - At Pillar they offer you short term insurances or long term insurance premiums, the decision is all up to you and what suites your life the most. Either way it is always better to be prepared for the future.
Online Access - Pillar now gives you online access to your account so you can access your account anytime you want and makes claiming much easier.
---
Pillar credit life insurance offers low premiums and superior quality.
Pillar credit life insurance offers convenient online applications for clients looking for the best credit life insurance quotes on offer in the country.
They will act on your behalf to sift through all credit life insurance providers in the country and find the one that best fits your lifestyle, your budget, and your family's needs.
Many years of success with Credit life insurance
Many successful years in the industry, enable them to negotiate premiums on behalf of their clients. This means that they will get you a much better deal than if you had to do the searching yourself. They can get you lower credit life insurance rates, better value, and fast turnaround times on service delivery.
Pillar offers a nationwide Services
Pillar operates from its main branch in Cape Town but assists clients all over the country. They make their online life insurance application process simple, with an all-online process that allows clients to access their service from their offices, or their homes, and any time of the day. By following the online questions, you can conveniently provide them with all your required, and personal details and they will create a special profile for you.
Get Credit life insurance quotes
Once they have all the information they need, they use their negotiating clout and relationships with insurance partners throughout the country, to get quotes and proposals from insurance firms. Pillar scales down the search and offers you a proposal based on your insurance needs and personal details. They have had great success in securing credit life insurance policies with incredible benefits and value for money for their clients.
Get your Credit life insurance fast with pillar
Pillar consultants get busy with your credit life insurance request the minute you send it, as they know exactly where to search and who to enquire with. They know the business and know just how to get their clients the best results. Clients who start looking for the right credit life insurance provider will testify to the amount of wasted time it takes to search through the web.
Often, clients miss opportunities from credit life insurance companies without even knowing it. Let Pillar do all the searching and negotiating for you. They can find you the perfectly matched life, credit life insurance, and funeral cover to suit your credit needs.
Customer Reviews & Testimonials
"
September 2021
This is the lowest premium that they have offered me, I am happy with this cover and the premiums.
Grace. C
— Bellville —
October 2021
The online quotation was really easy and they gave me the best price and cover
Daniel. K
— Mowbry —
October 2021
I was searching for a long time to get credit life insurance and was on the edge to stop looking and Pillar sorted me out.
Lubanzi. D
— Tyger Valley —
Pillar Contact
Contact Number
E-Mail
Website
Physical Address
10 Gert Kotze St, Springbokpark, Bellville

Cape Town

Western Cape

7560

South Africa
Opening Hours
Monday

08:30 – 16:30

Tuesday

08:30 – 16:30

Wednesday

08:30 – 16:30

Thursday

08:30 – 16:30

Friday

08:30 – 16:30

Saturday

– Closed

Sunday

– Closed