Funeral cover up to R60 000
6 months waiting period
Easy online application
In-page navigation
---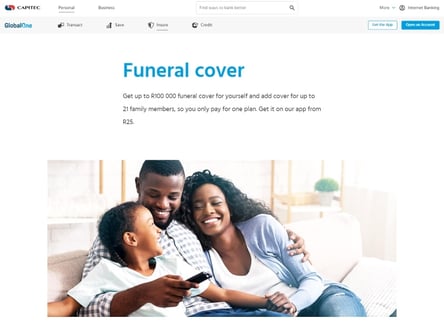 Author Capitec Funeral Cover. Screenshot of Capitec Funeral Cover website.


[Accessed February 7, 2023]
About Capitec Funeral Cover
Capitec is one of South Africa's most loved financial service providers because, unlike their competitors, they keep costs to a minimum and quality service at a maximum.
Simple, affordable, and accessible
This provider strives to deliver their products and services to you in the simplest, easiest way possible and they achieve this by incorporating the latest technology and by keeping innovation a top priority. When it comes to affordability and accessibility, Capitec is ahead of the rest with the lowest rates and widest range of options to access cash when you need it.
Giving back and impacting lives
As part of their CSI initiatives Capitec focuses plenty of resources on their foundation which is dedicated to helping boost financial literacy and numeracy skills in the country. They're also big on disaster relief and have donated to causes such as the Solidarity Fund and the Gift of the Givers Foundation.
They believe that supporting the country when things are at the worst can help impact the lives of those who need help the most. Another awesome way that Capitec gives back is by allowing all their staff members to take 3 days off per year to do any type of volunteering work within their community.
A comprehensive financial services provider
Capitec offers affordable transactional accounts, various savings solutions, personal loans, credit life insurance, and, tailored funeral plans to South Africans from all walks of life.
A leading Funeral plan
As a primary breadwinner, you know that your family depends on you for their needs. One of the ways that we protect our loved ones financially is by taking out life cover but this product takes a long time to pay out and will leave your family scrambling to arrange for the money for a funeral.
Capitec's funeral cover is among the fastest-growing plants in the country. Not only are the premiums affordable but in most cases, it offers more benefits than those offered by other providers.
Capitec Funeral Cover Services
Capitec is one of the leading South African banks – a bank committed to delivering more value at a lower cost and their funeral policy is no exception.
According to a competitor analysis on their website, Capitec's funeral policy is highly competitive, delivering more benefits (with few exceptions) at a lower cost than a wide range of their competitors.
A unique product designed to give you more
The funeral policy will offer you and your spouse up to R100,000 maximum funeral cover in the event of natural death and this figure doubled in the case of accidental death. This is called the double accidental death benefit.
What is accidental death? If you pass away as a result of any unnatural causes (as will be stated in the death certificate) the death is considered accidental and the double payout will apply. Suicide is excluded from this definition.
Add parents and children to your policy
You may add up to 21 people to your policy. Children between 6 and 13, parents aged 26 to 85, and extended family aged up to 85 are all covered for up to R50,000. Children who are 14 years or older are covered for a maximum of R60,000.
Death premium waiver
If the main policyholder passes away any time after an initial 12 month period from the date of the inception of the funeral policy, all family members will retain coverage for a further 6 month period at no cost.
Newborn premium waiver
After a 12 month period after the inception of your policy, if you have a baby or legally adopt a child, Capitec will waive your premiums for 6 months. You can also choose to pause your plan for a 6 month period if you so wish to. During this time you will not be covered and you will not be required to pay your monthly premiums.
Insurance claims will be paid out as quickly as possible but the person making the claim will be required to provide all the necessary documents including a copy of the death certificate and a BI-1663/BI-1680 or DHA-1663/DHA-1680 form that has been completed. A certified copy of the deceased's ID and the beneficiary's banking details will also be required.
Capitec Funeral Cover – Funeral Cover
Product

Funeral Cover
Personalise your cover

With Capitec you can tell them how many people you want to cover and they can work out your premium or you can tell them how much you can afford and they can tell you what cover they can offer

Cover up to 21 people on one plan

Capitec offers the opportunity to cover your spouse, 8 children, 4 parents and 8 extra extended family members

No premium increases

Capitec will not automatically increase your premiums unless you request it or they give you a full 31 days notice
Benefits of Capitec Funeral Cover
An app for all things - Capitec has an app with all their banking and insurance solutions in one place.
Simplified banking - Capitec has tried to remove all the red tape and complicated terms to simply offer you the best banking solutions for savings, credit and investments all by one revolutionary bank.
Financial education is a service offered by Capitec to help you learn how to manage your money and to make the best decisions for your future.
Business solutions - if you are a business owner you can rest assured that Capitec will be a partner.
Moving to Capitec is as easy as completing a few steps online.
---
Apply for your Capitec funeral plan via the app
The best way to apply for a funeral policy from Capitec is via their mobile app.
Not only will this save you time but you'll get a decent discount too. If you prefer to go old school you can visit any Capitec branch and apply for your funeral cover with the help of a consultant.
Your plan can be tailored to your needs
It's clear that Capitec's funeral policy is fast becoming one of the country's leading plans – and for very good reasons. One of the best features of Capitec's funeral cover quotes is that you can get the cover tailored to your needs or your budget.
You can either specify how many people you need cover for (and who these people are), and they'll set your premiums for maximum cover or you can tell them how much you can afford to pay every month and they'll tailor the cover amounts accordingly.
Capitec's waiting periods
After taking out a policy with Capitec your benefits will only activate after a 6 month waiting period. This means that if you, your spouse, child, or an extended family member passes before this 6 month period elapses, no benefit will be paid out. If you switch from another policy to Capitec, they'll waive the usual waiting periods (provided that the insurer is licensed).
Transparency, dependability, and real value
Capitec's funeral policies are underwritten by Centriq Life Insurance Company and are some of the most flexible and valuable policies on the market. If you need more information or want to comb through the T's & C's you can download a full policy schedule via their website.
Customer Reviews & Testimonials
"
March 2021
Losing my mother was so hard but Capitec took care of all the funeral worries thank you for helping in such a dark time.
Roben S
— Arcadia —
August 2020
As a father I stress about my death a lot but now I know Capitec have me covered if anything happens.
Dlomo H
— Pietermaritzburg —
February 2021
Cheapest funeral cover and instant coverage wow I love this bank.
Rochelle T
— Rustenburg —
Capitec Funeral Cover Contact
Contact Number
E-Mail
Website
Physical Address
5 Neutron Rd, Techno Park, Stellenbosch,

Cape Town

Western cape

7600

South Africa