R75 000 funeral cover
Cash back on premiums
Affordable premiums
In-page navigation
---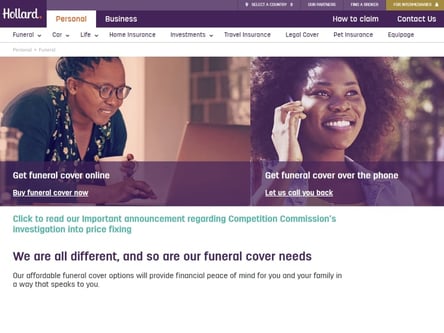 Author Hollard. Screenshot of Hollard website.


[Accessed February 7, 2023]
About Hollard
Hollard offers South Africans the advantage of planning ahead with a range of funeral cover options.
With their experience in the industry and their well-known brand across the country, Hollard has delivered on its promises to provide a solution to all clients in the country needing insurance.
Funeral cover in South Africa
They provide a range of insurance products, to guarantee financial fulfilment through all stages of life. Hollard now offers clients funeral cover in South Africa, which can save individuals and their families a great deal financially in the event of a loved one passing away.
Short and long term insurance
They offer their clients long-term and short-term life insurance options and options in each category that will allow them to determine which one best fits their lifestyle, and their budget.
A Funeral cover provider with a national force
Hollard has a client base of over 6 million insurance policyholders, with a footprint over the entire country. They have a passionate culture in their company, with over 3000 enthusiastic and energetic staff within their team. Every client they sign up for is treated with the utmost respect and given VIP treatment.
Hollard Services
Having to deal with the financial aspect of planning a funeral, and the costs involved can only make the situation even more stressful.
Hollard funeral cover provides cover for clients and their families, for that time of sadness when comfort is all they need to worry about.
Get up to R75,000 with Hollard Funeral cover
Hollard offers clients funeral cover in South Africa which pays the client within 48 hours. Key-value adds to their funeral cover plan include a number of benefits that will help members at that time of sadness, and Hollard's funeral cover pays out a lump sum of between R10 000 and R75 000.
Extended Funeral cover
Hollard clients also get rewarded with 20% cashback on their premiums after five claim-free years. Funeral cover can include a member's spouse and children, under one affordable monthly premium and one can also have the option of an extended cover for family members such as the policyholder's parents.
Cover that includes accidental death cover
The funeral cover policy is unique to clients, as Hollard also includes accidental death cover and the availability of a vehicle for a limited period of time.
Hollard – Funeral Cover
Product

Funeral Cover
Basic Funeral cover

You can get cover from R10 000 up to R75 000 which include repatriation and an airtime benefit

Optional benefits

You can add benefits to the basic policy. You can choose to add a cash back or premium waiver benefit.
Benefits of Hollard
Travel insurance from a company that understands the post Covid-19 world that we live in and all unexpected extra travel costs that this bring with it.
Legal cover that puts a lawyer at your disposal when you need them
Cover for your car - let Hollard help you with not only comprehensive car insurance but also extended warranty from their various partners
---
Hollard funeral insurance provides support when it's needed most
When Hollard offers funeral cover, they want it to be of value to their clients, and offer benefits that exceed any and all expectations.
They also want it to provide the financial means for members to be comfortably settled with the monetary obligations. Their service exceeds the expectations of their customers every time and they develop and offer the most innovative products, ensuring members always get the best from Hollard.
Individuals can apply through the Hollard online insurance application process and start planning ahead for the sake of their families.
Best Funeral cover
They offer these policy options to South African residents who are between the ages of 18 and 75 years, and who have a valid bank account for their premiums to be deducted from.
When a member or one of their family members dies, life investments and life assurance or insurance policies take a long time to payout, and the financial aspect of life usually becomes extremely stressful. Funeral cover in this regard can make these stressful moments more manageable.
Speedy Funeral cover claims payout
With Hollard, members get a pay-out of their funeral cover within a 48 hour period. This can be used for all aspects of funeral arrangements including the coffin, church, catering, flowers, and other financial obligations involved.
Hollard clients always get the best out of their insurance policies, including the funeral cover. They understand that this stressful time needs a provider with experience to provide the measures necessary to move forward.
Hollard Funeral cover includes
The peace of mind that one will get a lump sum pay-out to cater for their funeral arrangements
Cover for the amount ranging between R10,000 to R50,000.
Claims are paid out within 2 days of one's processed claim.
Accidental death benefits are paid out immediately – no waiting period.
All South African residents can be covered, including extended family members between 18 and 75 years old.
Non-invasive medical tests to qualify for funeral cover.
Claiming is easy as all one needs to do is attach a death certificate and required documents to the online claim form and submit it.
Hollard is available at any time via telephone to discuss any queries one may have.
Customer Reviews & Testimonials
"
September 2021
Great customer service and sympathetic funeral cover agents.
Pamela K
— Kensington —
November 2021
Thank you, Hollard for a funeral cover that provides more than I could ever have imagined. I am so happy to have a funeral cover that gives me peace of mind.
Craig D
— Krugersdorp —
September 2021
An easy funeral cover application process that allowed me to sign up and get the cover that myself and my family needed.
Buntu E
— Kagiso —
Hollard Contact
Contact Number
E-Mail
Website
Physical Address
22 Oxford Rd, Parktown

Johannesburg

Gauteng

2140

South Africa
---
Postal Address
PO Box 87 419, Houghton, 2041, South Africa
Opening Hours
Monday

08:00 – 17:00

Tuesday

08:00 – 17:00

Wednesday

08:00 – 17:00

Thursday

08:00 – 17:00

Friday

08:00 – 17:00

Saturday

– Closed

Sunday

– Closed