Funeral cover up to R50 000
Fixed premiums
Hassle free claims
In-page navigation
---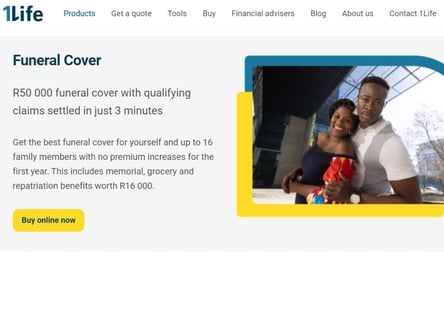 Author 1Life. Screenshot of 1Life website.


[Accessed February 7, 2023]
About 1Life
1Life has been serving South Africans since 2006 and has secured its name as the country's leading direct life insurer for 10 years.
They're determined to continue to change the industry and ensure that customers are presented with life insurance and related cover that serves them for life while providing additional day-to-day benefits.
Leading the industry by example
1Life was the first insurer to allow customers to purchase insurance online and via their mobile website and allow customers to manage their policies via the USSD service. They also were the first to allow HIV testing to be conducted by saliva swab rather than a blood test.
It is these types of innovations and firsts that have allowed 1Life to get ahead and remain ahead of its competitors and continue to offer their customers simpler, more convenient insurance.
1Life's Truth About Money initiative
The Truth About Money initiative strives to provide South Africans with access to information and resources related to money management. If you're a 1Life policyholder you get access to this complimentary service which can provide you with debt counselling and debt management advice, access to an online financial course to help you pave the way to financial freedom, and legal assistance should you be involved in a legal dispute.
Committing to generational wealth
1Life is committed to helping South Africans create and maintain generational wealth. This commitment starts with helping people get the best and most updated financial education so that they understand exactly what generational wealth is, what it can do, and how to secure it.
A brilliant collection of products
In addition to their industry-leading life insurance cover, 1Life also offers funeral cover, dread disease, and disability cover, as well as personal loans and investment options. When you take out any policy with them, you can be certain that you'll be getting industry-leading products, competitive prices, and excellent service that won't disappoint.
1Life Services
With 1 Life you have three funeral cover options to choose from: their regular funeral cover, the Essential Funeral Plan, and the Pure Life Plus Cover option.
1Life Funeral plan
You, your spouse, children, and extended family members can all get between R5,000 to R50,000 cover that includes a range of top-up benefits, repatriation services, and the option for the main member's spouse that's covered on the policy to take over the policy without having to comply with any waiting periods.
Essential Funeral Plan
This option allows you to custom select which funeral benefits you want to keep and therefore lower your premiums. You can choose to add meat, cashback, or grocery benefits at an additional cost or keep the regular payouts only.
This option also allows you to add 15 family members in addition to yourself and payouts will range from R5,000 to R50,000. If you've made 48 premium installments claim-free you can enjoy a cashback bonus of 6 times your average monthly premium.
Pure Life Plus Cover
If you combine your life insurance policy with the funeral cover you can save up to 28% on your monthly premiums. This bundle allows you to have peace of mind knowing that your life cover will pay out and help your family cover debts and larger ongoing expenses over time but that your funeral cover will kick in and payout immediately.
Continuation option explained
1Life allows a policyholder's spouse to take over the policy in the event that the policyholder passes away without having to worry about any waiting periods. If there is no spouse the next oldest member is covered on the policy as long as they are between 18 and 64.
Top-up benefits explained
The meat benefit pays out R5,000 and the grocery benefit pays out R2,500. The premium waiver benefits will ensure your family is still covered premium-free for up to 24 months after you pass away. Finally, the transportation benefit pays out R3,000 to pay for any transportation costs.
1Life – Funeral Cover
Product

Funeral Cover
Cover your entire family

You can cover up to 16 people per plan including your extended family

Super fast payout

Qualifying claims can be paid out in just 3 minutes

Get your quote

You can get your quote either online or request a call back
Benefits of 1Life
Tools - there are a number of useful tools available on the website. You can calculate how much your life cover will cost, down load a free will template, do a financial needs analysis as well as find a lab or pharmacy near you. Find all the convenient functions in one place.
Finance - 1Life offers investment and personal loans to its clients
Life insurance - you can choose from one of 4 different life insurance policies from the worlds #1 direct life insurer
---
Buy your 1Life funeral cover online.
You can get a funeral cover quote or buy your desired policy 100% online via the 1Life website in just a few minutes.
Getting a quote can easily be done by completing the three-step quotation process. The first step is providing your basic details and contact information followed by the second part which is when you select the cover amount that suits you best.
You can then also add your beneficiaries before your premium estimate will be presented to you. This quote will only be valid for a period of 30 days so make sure to buy it as soon as possible to secure the presented premium.
6-month Funeral cover waiting period
For your funeral cover to pay out in the event of death by natural causes you must pass a 6-month waiting period. You and your family are, however, fully covered for accidental death immediately once your first premium has been paid over.
Making a claim on your Funeral policy
You or any of your beneficiaries will be able to make a claim on your funeral policy by filling out the required documents and providing the supporting documents as requested.
Additional products offered by 1Life
1Life has four life cover products that are designed to offer you the most tailored cover while remaining simple and affordable. This includes their Pure Life Cover product and its Pure Life Plus Cover sister which offers just a little more and their Pulse Life Cover and its Pulse Lite Life Cover sister option.
Customer Reviews & Testimonials
"
June 2021
They don't only just cover your close family but also your extended family so you can add the mother in law and score some brownie points.
Lindiwe W
— Pretoria —
December 2021
You can even lower your cost with the essential funeral plan perfect for when the budget is low.
Nthombi Y
— Rivonia —
May 2021
If you take life insurance & funeral insurance by 1life yo safe BIG TIME!!! This is the best decision I've ever made!
Monique G
— Upington —
1Life Contact
Contact Number
E-Mail
Website
Physical Address
Auto and General Park 1 Telesure Lane Riverglen Dainfern

Cape Town

Western Cape

2191

South Africa
---
Postal Address
PO Box 11250 , Johannesburg, 2000, South Africa
Opening Hours
Monday

07:00 – 18:00

Tuesday

07:00 – 18:00

Wednesday

07:00 – 18:00

Thursday

07:00 – 18:00

Friday

07:00 – 18:00

Saturday

07:00 – 14:00

Sunday

– Closed