Easy to apply funeral cover
Affordable premiums
10% cash back
In-page navigation
---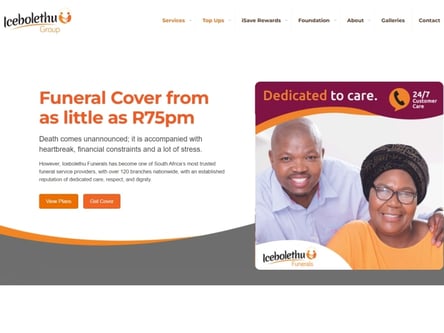 Author Icebolethu. Screenshot of Icebolethu website.


[Accessed February 7, 2023]
About Icebolethu
Icebolethu is one of the leading providers of funeral services and funeral cover not only to South Africans but also to SADC nationals working and living in South Africa.
With a powerful board of directors and a team of highly trained staff, you can rest assured that you and your family will be in good hands if the unthinkable happens.
Icebolethu can offer
Icebolethu offers a host of funeral and funeral-related services to ensure that all people have a dignified funeral that does not place unnecessary burdens on those left behind. They offer highly specialized funeral cover in South Africa, SADC citizens living in the UK, and SADC citizens living and working in South Africa.
They also offer funeral parlour services, professional funeral catering services, and tombstones and tombstone services via their funeral top-up services. Their funeral plans and funeral parlour, tombstones, and catering services all work together to provide you and your family with all the services and support that you would need during a difficult time.
Serving the community since 2015
The Icebolethu Foundation has been serving the community since 2015 through investments in education, care for vulnerable children and orphans, and support for the elderly.
Their back-to-school campaign helped provide children with basic school supplies like shoes, school uniforms, and lunch bags. Another great initiative is their Rhoda Girls program which was launched in 2017 and committed to mentoring 50 girls for a period of 5 years.
They've also built homes for people in dire need through their home building initiative in the Kwazulu-Natal area and donated water tanks to crop farmers in need. In partnership with Africa Unity Life, Icebolethu started building four more homes for the underprivileged and looks forward to continuing their work in the future.
Icebolethu Services
Icebolethu offers four main funeral cover plans to meet your and your family's specific needs and budget.
All four plans offer the following: collection of the deceased, storage of body, washing and body preparation, registration of death assistance, coffin spray, funeral programs, enlarged photo, hearse, family gazebo, grave gazebo, covered chairs, pastures/green carpet, lowering device, and still water for the family.
Extras based on your plan
The Platinum Plus Funeral Cover offers 200 funeral programs, a family car, and 200 chairs, plates, and spoons as well as 2 buses at R2,000, R2,000 cash, and preparation and decor of the church.
The Gold Plus funeral cover offers 150 funeral programs, 150 chairs, plates, and spoons, as well as 1 bus at R1,000, R1,500 cash, and preparation and decor of the church.
The Silver Plus Funeral Cover offers 100 funeral programs, 100 chairs, plates, and spoons, 1 bus at R1,000, and R1,000 cash.
The Casket Plus Plan Funeral Cover offers 100 funeral programs but none of the home items offered by the other three plans.
Mahala benefits you get on all plans
As an Icebolethu funeral plan policyholder, regardless of which plan you choose, you get a membership card, an umbrella, free airtime, groceries with R1,500, 10% cashback bonus after 5 years of being claim-free, 10% discount on funerals and tombstones, legal advice of up to R5,000, R10,000 ambulance and hospital fee cover, HIV/AIDS advice, health advice worth R1,500, trauma counselling services, and free will service.
Icebolethu Funeral policy top-ups
Icebolethu strives to keep their plans flexible and affordable which is why they have four plans available as well as a range of top-ups that include inkomo and a FREE goat, tombstones, graves, catering, grocery benefits, courtesy cars, and accidental death cover.
For an additional amount per month, you can add accidental cover which will pay R10,000 if the principal member or spouse dies as a result of accidental death.
Icebolethu – Funeral Cover
Product

Funeral Cover
price

Cover from as little as R75/month

4 Plans available

Icebolethu Funerals has 4 comprehensive plans available for you to choose from

Full service cover

Tailor made cover to provide for even the smallest details. You cover can include everything from the casket and repatriation of the body to the table cloths need for after the service
Benefits of Icebolethu
Assistance while alive - You can choose to add benefits to your policy such as a cash back benefit, legal advice and assistance in paying for ambulance services. You and you family can enjoy all of these benefits while you are still alive.
Assistance with the funeral - Icebolethu Funerals will take care of the funeral service including the catering. This allows you to focus on your grief and the family around you.
Assistance after your passing - make sure your family is taken care of after your death with a grocery benefit that will be paid to them for 12 months after your passing.
---
Apply in branch or download and complete an application online
To apply for Icebolethu funeral policy you can either visit one of their branches or download the funeral cover application form via their website.
You're also welcome to call their customer care line which is active 24/7 if you need any assistance or would like to apply for a policy telephonically. All people who are between the ages of 65 and 99 will have to comply with a 3 month waiting period (during which time there is no cover). All lives assured under the age of 65 do not require any waiting period to elapse for cover to be active.
Are you a SADC citizen
Icebolethu has partnered up with Old Mutual and African Unity Life to extend the best funeral cover to SADC citizens who are working and living in South Africa. This cover is excellent and provides assistance in preparing documents for repatriation of remains and transporting them by road or air in addition to picking up the deceased, washing and dressing the body, and providing a zinc-lined coffin or casket. In addition to the above, the long list of mahala benefits also applies to SADC citizen policyholders.
Group scheme cover
Icebolethu offers large companies, stokvels, churches, and other organizations and clubs group schemes for forty or more members. There are five plans that range from essential to premium plus. The cash payouts range from R10,000 to R60,000 for main members and spouses.
Customer Reviews & Testimonials
"
January 2021
They have affordable and flexible plans that helps a father of 5 a lot.
Devon R
— Durban —
June 2020
Joh they took care of literally everything you could think of when my Papa passed away thank you so much.
Celeste C
— George —
Icebolethu Contact
Contact Number
E-Mail
Website
Physical Address
277 Umbilo Rd, Congela,

Durban

Kwazulu Natal

4013

South Africa
Opening Hours
Monday

08:00 – 17:00

Tuesday

08:00 – 17:00

Wednesday

08:00 – 17:00

Thursday

08:00 – 17:00

Friday

08:00 – 17:00

Saturday

08:00 – 14:00

Sunday

– Closed