Metropolitan Funeral Cover
Funeral cover discounts
Quick online application
No medical examination
In-page navigation
---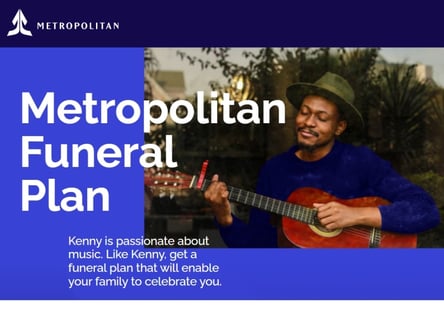 Author Metropolitan Funeral Cover. Screenshot of Metropolitan Funeral Cover website.


[Accessed February 7, 2023]
About Metropolitan Funeral Cover
Metropolitan was established over 114 years ago and is now one of the largest financial and insurance companies in South Africa.
Listed on the JSE as a division of MMI Holding, their security in this industry is overwhelmingly tight, which is an added value that they offer their clients.
Funeral cover with a passionate team
They leave a legacy throughout every service that they provide, ensuring their clients receive a service level second to none, as well as staff with the highest qualifications and a passion for the industry.
Funeral cover members deserve the best
They believe that their customers deserve nothing but the best, and this is seen by their guidance and advice on the life insurance and funeral cover policies that they offer.
They continuously develop their solutions so that members get the best that the market has to offer, with the best value for money. Their clients always get out more than what they put in and Metropolitan believes that investing in one's future should be no different.
Metropolitan Funeral Cover Services
Metropolitan funeral cover has so many benefits that it's easy to make the right choice by choosing the right partner to look after one's family and finances in the event of death.
Funeral cover that thinks of every aspect
Thinking and talking about death is something one tends to avoid, because of the traumatic emotional feelings that it brings up. However, the reality is that it's not just the emotional side that one needs to deal with, but the financial aspect as well.
This is why Metropolitan offers funeral cover in South Africa to take care of the financial side of things, leaving individuals time to mourn and carry on with matters that really count. Their funeral cover options are paid out to clients within a quick turnaround time of 48 hours from notification.
Funeral cover that covers all costs
The payout that each funeral cover member will receive, will enable them to cover those funeral expenses which can really take a knock on one's budget. Metropolitan funeral cover pays an amount of up to R30 000 to members, to afford the funeral service, coffin, tombstone, and catering involved.
Metropolitan Funeral Cover – Funeral Cover
Product

Funeral Cover
Price

Get funeral cover from as little as R40 a month

Cover your whole family

With Metropolitan you can cover up to 20 family members and you can add your extended family to your policy.

Tailor make your plan

Metropolitan will help you tailor make your plan to suit your unique family. They will also help with the arrangements when the time comes.
Benefits of Metropolitan Funeral Cover
Life insurance - Metropolitan offers different life insurance options with cover starting from as little as R100 a month. You can also include disability and critical illness cover with your life cover and funeral plan.
Retirement Planning can be confusing and daunting. Let Metropolitan help by assisting you to choose the correct plan for your future.
Financial Planning - in tough times it is even more important to have control of your money. On the Metropolitan website there is a budget format and calculators available to help you to proper planning.
---
Insurance and customer service that speaks volumes
Metropolitan offers members in South Africa the benefits of funeral cover, which not only meets their family's needs but is affordable and pays out fast.
With life and funeral cover services to choose from, individuals with any budget can afford to be covered throughout and after their lives.
Make the right decision
Metropolitan will help members make the right decision that will benefit themselves and their families today and in the future. They don't require any medical examinations for their funeral cover which covers members in the event of accidental or premature death circumstances.
They also cover the spouse of the policyholder, the children as well as the policyholder's parents, in-laws, and grandparents. Contact Metropolitan today and get a quote for a funeral cover policy today.
The best Funeral cover benefits
Funeral Benefits - Members get a lump sum paid out to them in the event of death, which would be paid to their beneficiary, to use in regards to arranging and paying for funeral arrangements.
Premium Holiday - They give their members a little leeway, so if they want to take one month off after a year of paying premiums, they can skip a month. This can occur 6 times over the life term of their funeral cover policy.
Children Benefit - Members can cover their children under one funeral cover policy, and they will be covered for life, no matter how old they are.
Continuation Benefit - When the main member of the policy dies, the funeral plan for the remaining beneficiaries will be paid in full, and will continue for the duration of the term for the members on the plan.
Funeral cover to provide peace of mind
At Metropolitan, they believe one always deserves a little more than what they put in. Metropolitan cares about members during the time of grief and aims to make life a little easier, with no financial stress or funeral arrangements to worry about.
Important Details and Benefits
Pay-outs on funeral cover plans ranging from R5,000 to R50,000.
Non-invasive medical examinations / no blood tests.
Guaranteed acceptance for all South Africans.
Fast pay-out with a turnaround time of only 48 hours.
One can cover up to 9 family members under their chosen funeral cover
They pay immediately for accidental death.
They provide funeral cover members with shopping benefits.
They reward members for not claiming after five years with an incredible cashback bonus.
They pay up one's family's premium ms in full should the main member pass away.
Members get an added benefit for a tombstone.
They can cover policyholders, their spouses, and children under one policy and one premium.
Premiums are affordable starting from R37 per month.
Customer Reviews & Testimonials
"
September 2021
The best funeral cover in South Africa with amazing benefits that are not seen every day!
Loyd V
— Braamfontein —
September 2021
Affordable funeral cover that provides cover for the whole family and even more.
Caroline T
— Kagiso —
October 2021
I am so happy to have myself and my family covered with Metropolitan funeral cover in South Africa. Thank you for providing me with peace of mind should anything happen to myself or my family.
Themba O
— Lawley —
Metropolitan Funeral Cover Contact
Contact Number
E-Mail
Website
Physical Address
101 De Korte St, Braamfontein,

Johannesburg

Gauteng

2001

South Africa
---
Postal Address
P.O. Box 2212, Bellville, Cape Town, 7535, South Africa
Opening Hours
Monday

08:00 – 16:00

Tuesday

08:00 – 16:00

Wednesday

08:00 – 16:00

Thursday

08:00 – 16:00

Friday

08:00 – 16:00

Saturday

– Closed

Sunday

– Closed