Custom-made funeral cover
Affordable premiums
Easy online application
In-page navigation
---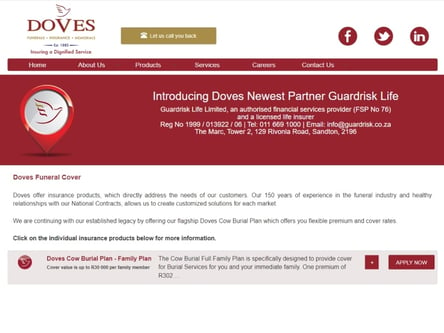 Author Doves. Screenshot of Doves website.


[Accessed February 7, 2023]
About Doves
The Doves Group in South Africa has been one of the longest-standing funeral cover providers in the country.
Since 1883, they have been assisting clients with all their funeral cover needs, at affordable premiums and the expertise of their staff members.
Personal Funeral cover service
Doves are well known in South Africa for their personal service. They care about the living and nonliving living and provide a dignified and consoling service when clients need that compassion for what they are going through. They provide a full service and not just an insurance document or legal cover.
Funeral cover in 160 branches
Dove gets personally involved in the after-care process after a family member's death. Through the years, they have managed to build a funeral business consisting of over 160 branches in over 9 provinces throughout the country. They are underwritten by Union Life, allowing Dove to provide more than funeral cover.
Offering solutions with Funeral cover
Where does one find the time to mourn in between all the arrangements and financial stress of a funeral? Doves can answer these questions with their funeral cover policy which takes care of everything that is involved in the planning of a funeral.
Doves Services
With Doves funeral cover in South Africa, they offer their clients burial, cremation, and handling of ashes.
They also help organize memorials or even home funeral arrangements and care passionately for the deceased, with respect and compassion.
Funeral cover in South Africa
Doves funeral cover policyholders can experience a service like never before from a group that cares about their clients. They know how much love one has for their family members, and show them the same love through their services.
With time not being guaranteed in one's life, having funeral cover in place will be a safety net for financial reasons when dealing with a death in the family.
Reasons to get Funeral cover
The death of a family member can be the most traumatic part of life, and having to deal with the mourning of this and trying to scrape up the finances to pay for a funeral can push one to their limit.
In the event of a funeral, one will need cash immediately and have to think of catering, car hire, caskets, tombstones, and funeral stationery. The support of a funeral expert to assist with these arrangements can make a great difference and can be acquired through funeral cover in South Africa.
Doves – Funeral Cover
Product

Funeral Cover
Funeral cover for individuals and groups

Doves offers funeral cover individuals and groups which must consist of at least 10 main members

Everything you need in one place

Doves offers you not only funeral cover but will handle anything that may be needed for a dignified service. They will assist with anything from repatriation to cremation.
Benefits of Doves
Legal cover - you can add legal cover to your funeral cover. This allows you to make sure that your family is covered in the face of unforeseen circumstances.
Planning a funeral - you can arrange a funeral via the website by filling in the form with all your details and requirements.
Allow Doves to help you to deal with the grief you are experiencing by having them contact everyone and let them know about the death and the details of the service.
---
Doves cover all your funeral insurance needs
Doves offer their clients more out of their insurance policies.
With Doves, members can get a partner for life and a carer in death. They will guide members through the trauma of losing a loved one, from the beginning to the end of the funeral preparations. Depending on which funeral plan one chooses, Doves will assist with all the support and guidance as well as the arrangements to make the day less traumatic.
They will even assist members to register the death of their loved ones. Just one more reason why Doves is the funeral cover provider of choice, as Doves offer members more than a funeral cover policy.
Specialists in funeral arrangements
Because Doves specialize in funerals, they can arrange the entire funeral for their members. From the church, casket, pamphlets, catering, and more, Doves are the full provider of everything that goes into a dignified funeral.
They have extensive experience in this area, their staff is empathetic to members' needs, and they understand that during this time, one needs the time to mourn and deal with the loss of their loved one. Doves want to take the burden of arrangements off members' hands, and with their funeral cover policy, they can assist with all financial aspects involved.
Benefits of doves Funeral cover
Doves offer more advantages with their funeral cover in South Africa compared to most other insurance providers. Financially, when one passes away, there is usually a mound of debt left behind, in the form of home loans, car loans, personal loans, credit cards, and more.
What makes Doves different is their unique individual savings option, which is an additional R99 per month, and pays out up to R50 000 to cover any debts left behind and acts as life insurance.
This also provides an R 250 000 family cover as well as an airtime voucher, to support the funeral arrangements with family out of town. To get a funeral cover quote online, one can contact Doves via their website or by email.
Funeral cover with no waiting period
The savings can also be used to pay for catering, unveiling, and transport costs for the funeral arrangements and Doves offers a funeral cover with no waiting period.
Their fast claims process allows members to receive their payout within 24 hours of claiming which further highlights the fact that Doves offer a funeral cover with no waiting period. They also offer a disability cover which pays out a portion of a member's funeral cover if they are unable to earn an income.
Customer Reviews & Testimonials
"
November 2021
Thank you Doves for providing me with the cover that my family and I needed. Funeral cover made a difficult time less stressful.
Marco B
— Waverly —
October 2021
With Doves, I was able to get a funeral cover quote quickly and their customer service provided me with great guidance through the process.
Themba D
— Gezina —
November 2021
An affordable funeral cover in South Africa with helpful benefits.
Sherry M
— Montana —
Doves Contact
Contact Number
E-Mail
Website
Physical Address
199 Church St,

Pretoria

Gauteng

0183

South Africa
---
Postal Address
P.O Box. 1265, Durbanville, Cape Town, 7551, South Africa