Reliable funeral cover
Affordable premiums
Quick application process
In-page navigation
---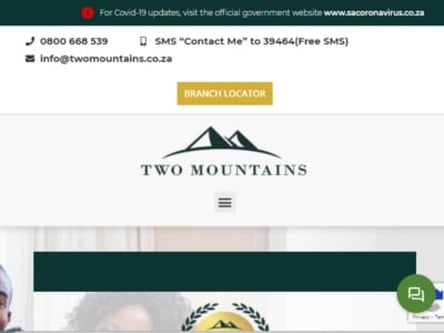 Author Two Mountains. Screenshot of Two Mountains website.


[Accessed February 7, 2023]
About Two Mountains
Founded in 1999, Two Mountains provides affordable funeral cover and burial services across five provinces, in 57 different locations.
They have over 1,000 employees and continue to drive their vision of being a preferred and leading service provider forward.
Two Mountain's values
Two Mountains know the importance of conducting themselves in a way that ensures their values are upheld. They strive to maintain high-level integrity, empathy, respect for others, and commitment in everything that they do. They also keep the principle of Ubuntu in their hearts and minds, thus remaining aware that they are a moving part of a bigger whole.
Building and maintaining strong relationships
Two Mountains are a caring company that focuses on building and maintaining long-term relationships with their employees, customers, partners, and community.
They're big on social responsibility and believe in the power of giving back. From their long-term dedication to Mandela Day initiatives to raise funds for the Reach for a Dream Foundation – they take it upon themselves to give back.
Support for the children of Namakgale
Two Mountains proudly donated wheelchairs and mattresses to the Thabeland Disability center in Namakgale to assist in supporting the disabled children and their caregivers who live at the centre.
Getting to grips with Funeral cover
Two Mountains have a lot of information regarding funeral cover and everything that precedes and follows the death of a loved one. This information will help you better understand the policy you're buying as well as what you or a loved one would have to do in the event that you or a family member passes on.
This information covers everything from what documents will have to be provided for a burial claim to be processed to what happens after a person dies. If you need any further information you can contact a consultant by calling their call centre, sending them an email, or even visiting one of their branches.
Two Mountains Services
Two Mountains is a micro-insurer that provides simple and affordable funeral policies, comprehensive burial, and granite services across five provinces with dedication, respect, and excellence.
Their goal is simply to ensure their customers are able to access a funeral plan that provides them and their families with comprehensive cover and quality burial services.
Packages tailored to suit your needs
While Two Mountain has a handful of set funeral policies, they also remain flexible enough to provide you with a cover that meets your unique needs and budget. The maximum payout for any funeral plan is R100,000 but this amount will vary depending on the package you choose as well as based on who the life assured is in relation to you as the policyholder. This means that the policyholder and their spouse will have the highest cover amount (and their parents respectively) but children will have a lower cover amount.
What your policy offers
There are six policies available to you when you take out funeral cover with Two Mountains. These are the African Pride Family Plan, the Copper Plan, the Silver Plan, the Gold Plan, the Platinum Plan, and the Diamond Plan.
All plans from the African Pride Family Plan to the Diamond Plan offer the use of a hearse and a family car, programs, collection and storage of the deceased, coffin spray, a grave marker, bottled water and juice, a tent and chairs, free repatriation, and groceries and airtime.
More comprehensive plans offer more of the items mentioned above were relevant as well as many additional items and services. For instance, the Silver Plan (and those above it) offers flower bouquets, upright flowers, and flower petals as well as a toilet. The Gold Plan also offers a podium, flower stand, candelabras, turfgrass, a red carpet, and decoration of the hall or church.
Two Mountains – Funeral Cover
Product

Funeral Cover
Price

Get cover from as little as R5.50 a day

3 different options

Two Mountains offers 3 different comprehensive options to choose from.
Benefits of Two Mountains
Planning the funeral - Two Mountains can assist in the planning of the funeral. They have a comprehensive selection of caskets and granite creation. They also offer a large fleet of vehicles available to transport you and your loved ones.
Social upliftment - Two Mountains is proud of their contribution to the reach for a dream foundation helping to make dreams come true.
---
Visit a Two Mountains branch or request a call-back today.
If you're not sure which of the six funeral plans offered by Two Mountains would best suit you, it's best to give them a call and chat with one of their consultants.
You can also visit their website and review the six available plans in detail to get an idea of what each offers ahead of time.
About Two Mountains' burial services
The burial services take care of all burial arrangements and services from caskets and coffins, catering and decorations, to hearse and family transport arrangements. With all services being taken care of in-house, family members don't have to worry about making burial arrangements and having to figure things out during such a difficult time – you'll always have the support of Two Mountains professional staff. The higher-tier plans even provide for the services of an event coordinator who will make sure everything is taken care of and runs according to schedule.
Granite products and services
Two Mountain also provides a range of granite products at affordable prices. You can view their full catalog online or visit a branch to view options and flip through a catalog.
Get in touch
While Two Mountains have many branches one could visit, there are many other ways to get in touch. You can make use of the free SMS services to get an agent to call you back, you can call the toll-free line or head office, fill in their contact form online, or email them.
Customer Reviews & Testimonials
"
May 2020
You have an option of 6 packages you can choose from i promise you , you will find the one for you.
Tamia I
— Mthatha —
March 2020
You can get over R100000 cover for you and your family I lost my husband and I'm still surviving today thanks to them.
Sibongile T
— Soweto —
May 2021
Apply online and leave the paper work for another day fast cover as well.
Nandi M
— Mahikeng —
Two Mountains Contact
Contact Number
E-Mail
Website
Physical Address
Waterfall Property, 2nd St, Halfway House, Midrand,

Johannesburg

Gauteng

1685

South Africa
Opening Hours
Monday

09:00 – 17:00

Tuesday

09:00 – 17:00

Wednesday

09:00 – 17:00

Thursday

09:00 – 17:00

Friday

09:00 – 17:00

Saturday

– Closed

Sunday

– Closed