Affordable funeral cover
Easy online application
Quick online quote
In-page navigation
---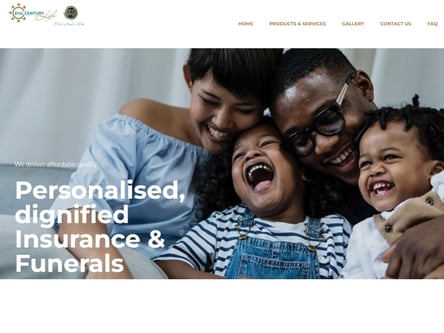 Author 21ST Century. Screenshot of 21ST Century website.


[Accessed February 7, 2023]
About 21ST Century
21st Century Life was established in 1998 and has since been offering funeral, accident, disability, and life cover policies to South Africans.
Dedicated Funeral cover
With their experience in this specific industry, they have been able to provide comfort and compassion to their members throughout this sad time in their lives.
Throughout the journey, they remain dedicated during a time that requires quick and reliable decision making and someone experienced to take the reins when emotions are scattered and one is incapable of dealing with the situation.
Compassionate Funeral cover in South Africa
When they started their firm, 21st Century Life noticed that there were many companies offering funeral cover, however, it seemed to be a very hard approach and they felt that clients needed more consoling from a funeral cover provider.
Funeral cover that provides great support
At one of the most difficult times in one's life, getting financial and emotional support is where 21st Century Lifes noticed a gap in the market.
They have designed a funeral cover that reaches out to their members with compassion and their superior services have thus reached thousands of customers via over 25 branches across the country.
Best Funeral cover service offered
21st Century Life offers South Africans looking for a superior funeral cover, a product that attends to all emotional and financial needs of their clients.
They also offer clients a range of funeral cover benefits that will assist members from beginning to end.
Funeral cover that offers support and guidance
Having the support and guidance from a firm that truly cares can make a huge difference to members during this very emotional time in their lives. Dealing with this alone is unfair, which is why 21st Century Life helps with all of the necessary arrangements, to create a smooth and seamless process for its members.
Comprehensive Funeral cover in South Africa
21st Century Life offers assistance through their policies which aid in catering, cars, additional furniture, tombstones, and everything else needed to ensure a funeral has everything that it needs.
21ST Century Services
21st Century Life has the experience in the insurance industry, to provide funeral cover in South Africa with all the added benefits members may need.
They understand the funeral cover industry and have been providing funeral cover to members and their loved ones for many years. What makes them stand out in this industry is their ability to provide a value-added cover that their members can get more out of.
Funeral cover with multiple beneficiaries
To cover funeral and burial expenses, 21st Century Life offers members a comprehensive funeral cover plan which relieves family members of the financial stress of coming up with the funds needed to provide a proper burial and funeral.
Funeral cover is like any other insurance policy, but is more affordable, and allows one to have several beneficiaries under one policy, paid through one easy premium each month.
Funeral cover for every budget
When one has to mourn the loss of a loved one, dealing with traumatic details such as selecting a casket, completing documentation, and having to arrange all the formalities of the funeral may be stressful. In such events, it may be comforting having 21st Century Life to organize all arrangements concerning this difficult time.
With 21st Century Life, members can get all of the support they need and have funerals organized according to precise requirements and budget.
They have a complete group of experienced people to assist with all funeral requirements and those looking for the best funeral cover in South Africa can get a funeral cover quote online and contact 21st Century to get covered.
Funeral plans designed for simplicity
21st Century Life provides various funeral cover alternatives to fit individual needs. They make provision for a one of a kind budget which means that for a mere monthly premium, members can get R50 000 funeral cover. With their funeral cover plans, members can afford the premiums of R30 a month.
21st Century Life strives to assist its members in many ways, to make life and death a little easier to deal with. They have an option to suit everyone's needs and those who require extensive cover and support for their families can also apply for life insurance.
21ST Century – Funeral Cover
Product

Funeral Cover
Tailor made cover

You can cover you and your family from R20 000 to R100 000 to suit your budget

Cash pay out

21st Century offers families cash payouts to help with all of the expenses that may arise
Benefits of 21ST Century
Full catering service - 21st Century will sort out all of the food needed for the day so that you can concentrate on your family.
Funeral service - 21st Century will assist you with the planning of a dignified service that your loved ones deserve.
Easy contact - On the website you can get in touch with a consultant to discuss your needs by simply contacting them on the whatsapp button provided.
---
21st Century takes on the planning during a difficult time
21st Century Life will assist clients with a funeral cover of choice and in line with their budget.
They aim to provide funeral cover in South Africa where members pay a minimal rate per month that will cover the member and their family so that when the time does come, 21st Century
Members can get the following
Pre-funeral fund – Members can get a fast instant pay-out before the funeral to start making arrangements.
The funeral provider – 21st Century Life organizes a dignified funeral for members.
Catering provided.
Get Funeral cover in South Africa today
21st Century Life provides an end-to-end funeral solution that covers members' needs, that allows family members to concentrate on the mourning of their loved one, without having to worry about the planning of a funeral.
Their staff is here to assist members from beginning to end with their best funeral cover and are available to assist with any questions or queries that members may have along the way.
They also have over 15 fully equipped mortuaries on a national footprint, making their consolidated services approachable and easier to access to their members.
Customer Reviews & Testimonials
"
October 2021
A compassionate and caring funeral cover provider in South Africa. Thank you for helping to ease the stress of a difficult time.
Siphokazi G
— Midrand —
November 2021
Supportive staff and an affordable funeral cover policy.
Karen O
— Roodeport —
21ST Century Contact
Contact Number
E-Mail
Website
Physical Address
410 Janadel Ave, Halfway Gardens

Midrand

Gauteng

1686

South Africa
---
Postal Address
PO Box 7116, Halfway House, 1685, South Africa
Opening Hours
Monday

24 – hours

Tuesday

24 – hours

Wednesday

24 – hours

Thursday

24 – hours

Friday

24 – hours

Saturday

– Closed

Sunday

– Closed