Quick funeral cover
No waiting period
No medical tests
In-page navigation
---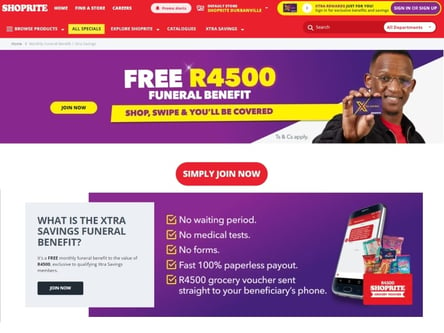 Author Shoprite Funeral Cover. Screenshot of Shoprite Funeral Cover website.


[Accessed February 7, 2023]
About Shoprite Funeral Cover
Shoprite Holdings is one of Africa's largest retailers with over 500 stores and millions of loyal customers and they're showing no signs of slowing down.
They're also a major contributor to the economy not only through their support of local businesses but also through their employments of more than 140,000 people. In addition to their Shoprite brand, popular divisions of Shoprite Holdings include Checkers, OK Furniture, House & Home, and more.
Through their success, they have maintained a focus on their customers and have invested more than R270 million in South African communities, R485 million in training across the continent, and have proudly diverted more than 8,000 tons of plastic waste.
This was done through a range of initiatives including reducing their electricity consumption, introducing renewable energy sources into their operations, and reducing their upstream and downstream waste. This was done by improving packaging to reduce waste, improving stock management, donating surplus food to be used as livestock feed and for industrial uses.
Giving back to the community
From empowering the youth via their youth skills programs to disaster relief programs, and their food garden initiative, Shoprite is dedicated to ensuring they give back to the communities within which they operate.
One of the primary ways in which they do this is through various garden projects such as the Training And Resources in Early Education (TREE) community centre in Tshikudini village. With the support of Shoprite, they planted a food garden to help feed the over 200 children they care for on a daily basis.
Money Market services and more
To offer their customers even more simplicity and convenience, they've continued to improve their Money Market services and add as many services and options as possible. Whether it's sending and receiving money, paying for groceries on account, or getting insured via their partnership with Outsurance – Shoprite simply offers you more value.
Shoprite Funeral Cover Services
By partnering up with Outsurance, Shoprite now offers you funeral insurance that offers between R10,000 and R50,000 cover for up to 21 family members under a single policy.
Outsurance is one of South Africa's largest and most trusted insurers and was pioneer of the cashback for staying claim-free concept. To date, they have paid out over R3 billion worth of cash backs to their loyal customers.
Funeral cover offers
In the event that you pass away as a result of natural or accidental causes, or any of the assured lives on the policy, you or your beneficiary will receive a lump sum payout as per the policy schedule to help cover the costs of a funeral. With Shoprite's funeral policy the first R1,000 is paid out as a R1,000 voucher that can be used at any Shoprite, Checkers, or USave store.
Cover for up to 21 family members
In addition, to cover for yourself as the policyholder, you can cover your spouse, any biological or stepchildren, your parents and the parents of your spouse, as well as extended family members including sisters, brothers, nieces, nephews, cousins, aunts, and uncles.
The 6-month waiting period
After you buy the funeral policy you will have to wait for a 6 month period or until 6 premiums have been paid for death by natural causes to be covered. Cover for accidental death is immediate. This waiting period can be waived if you or any of your family members were covered on another policy with a registered insurer.
Accidental death cover
In addition to your funeral cover, you can also add accidental death cover which will pay out a set sum of money to your beneficences in the event of your accidental death (this is an amount over and above the funeral cover amount).
Shoprite Funeral Cover – Funeral Cover
Product

Funeral Cover
Free Cover

You receive free funeral cover of up to R4500 if you are and Xtra Savings member

How?

Simply swipe your xtra savings card when you spend R100 or more at least 4 times a month to qualify
Benefits of Shoprite Funeral Cover
Add Shoprite to your whatsapp contacts - simply message them to check if you are covered or to submit your claim
Check you till slip - if you want to make sure that you have swiped enough to qualify for that month, you can simply check your latest till slip.
SMS - Shoprite will sms you to confirm your cover for the next month
---
Get a funeral policy for you and your family today.
In order to qualify for a funeral policy you, and all the family members you add, must be South African citizens or permanent residents with a valid birth certificate or South African identity document.
Payment of premiums and your OUTBonus
Payment of your monthly premiums can be made by debit order or by paying them cash at any Shoprite, USave, Checkers Hyper, or Checkers store. As with many insurance quotes offered by Outsurance, if you don't claim for a period of 12 months, you'll be entitled to receive a Shoprite, Checkers, or USave voucher equal to one month's premium.
Premium waiver benefit explained
If you pass away as the policyholder, all family members that you have covered under your policy will still be covered for a further 3 months after your death at no cost.
You can pause your Shoprite funeral policy for 3 months at any point after you have completed the 6 month waiting period. This will keep your policy active while not requiring you to pay any premiums (but you will not have any cover). If you change your mind during this 3-month period you can simply pay your premium and your cover will restart.
Make changes to your cover
You can easily add or remove family members, adjust cover amounts, change your beneficiary and update your payment information when and as required.
Customer Reviews & Testimonials
"
September 2021
They pay out a scheduled lump sump after my father passed which helped me get through school and grow up being a very money savvy adult.
Nonhlanhla T
— Bloemfontein —
August 2020
You can also add accidental death cover, and in my line of work that is a huge relief!!
Jonah R
— Free State —
July 2021
Good funeral cover just a 6 month waiting period before you are covered.
Jack M
— Knysna —
Shoprite Funeral Cover Contact
Contact Number
E-Mail
Website
Physical Address
100 Brakfontein Rd, Louwlardia, Centurion,

Johannesburg

Gauteng

1683

South Africa
Opening Hours
Monday

08:00 – 17:00

Tuesday

08:00 – 17:00

Wednesday

08:00 – 17:00

Thursday

08:00 – 17:00

Friday

08:00 – 17:00

Saturday

– Closed

Sunday

– Closed