Life cover up to R10 million
No waiting period
No medical exam
In-page navigation
---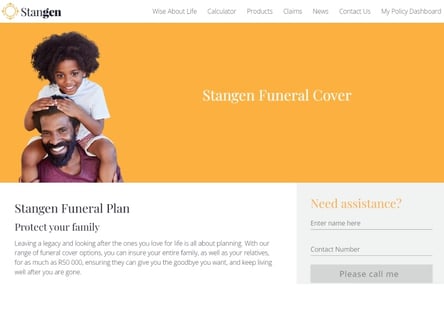 Author Stangen. Screenshot of Stangen website.


[Accessed February 7, 2023]
About Stangen
Stangen was established in 1948 and has changed and evolved over the years to become the much-loved insurer that it is today.
They pride themselves in delivering real, tangible benefits to all South Africans through their flexible range of insurance products. They offer life, disability, health, and funeral insurance cover at affordable rates that make sense.
Owned by King Price
Stangen is owned by King Price Financial Services, one of South Africa's most loved and fastest-growing insurers. That being said, Stangen is run as a completely separate entity and their unique approach to insurance has been maintained.
Customer service from the heart
One of the ways that Stangen goes about differentiating itself from other insurers is by delivering exceptional service to its policyholders. They ensure that their products are simple and easy to understand as well as affordable and go out of their way to pay out claims as quickly as possible.
Partner with Stangen
If you're someone that likes to plan for the future because you care about the wellbeing of your loved ones and perhaps, want to leave a legacy, then Stangen is the right insurer to partner up with and have your life, disability, medical, and funeral cover needs to be taken care of.
A team that stands out
Another way that Stangen has been able to set itself apart from the rest of the market is by ensuring that they select team members who are driven and passionate and will deliver the level of service to their customers that Stangen has set.
Whether you're looking to get a life cover policy that will enable you to leave the legacy you've always dreamed of leaving behind or want funeral cover for yourself and your family, Stangen is ready to deliver.
Stangen Services
Stangen's funeral cover offers you up to R50,000 funeral cover with no waiting periods for accidental death, no medical exams, and the option to cover your whole family at an affordable monthly rate.
Funeral policy explained
Funeral policies are a term insurance product that ensures you, your spouse, and your children, and extended family members for a set amount. In the event that any covered family member dies, the insurer will pay out the lump sum and any additional benefits as per the policy schedule.
A closer look at Stangen's Funeral cover
Stangen approaches insurance from a unique point in that they allow you to take on the benefits that you actually need and want rather than try and sell you on a set package that doesn't really meet your needs.
With Stangen's funeral policy you can cover yourself, your spouse, children, and extended family members as you desire. If you pass away as the policyholder, your family will still be covered for a further period of 6 months at no cost.
Commuter cover + Funeral insurance
If you take out, for instance, commuter cover, you not only get R500,000 death and disability cover, but you also get R50,000 ICU and funeral cover.
Funeral cover with a Life insurance policy
If you take out a life insurance policy with Stangen you not only get up to R10 million cover but you also get an accelerated funeral benefit that will quickly pay out R30,000 to help pay for funeral expenses within 24 hours. Unlike with a funeral policy, you may have to go for an HIV test to secure life cover.
The reason that this is a great feature is that life insurance claims generally take a fairly long period of time to pay out and this usually leaves the family struggling to pay for the cost of the funeral.
Stangen – Funeral Cover
Product

Funeral Cover
Cover your whole family

You can cover yourself, your spouse, your children and your extended family

No Medical checks

You can get funeral cover without having a medical check

No Waiting period

There is no waiting period for accidental death after the first premium is paid
Benefits of Stangen
Customised life insurance - Stangen offers you a quick and easy calculator. Fill in all your information and requirements and they will send you a quote tailor made to you.
Value Adds - you can add life cover, critical illness cover, disability cover and salary protection to your policy to make sure you have peace of mind for any eventuality.
Personal Dashboard - They allow you to take control of your cover by logging in to your personal dashboard and adding or amending you policy as you wish.
---
Get a quote in seconds on the Stangen website
Stangen has an amazing tool available to quickly and easily calculate your funeral cover premiums with nothing more than your ID number and monthly income.
Once you've input these into their system, you'll be able to find out how much funeral cover would cost you on a monthly basis. The same applies to life cover and any of the other products Stangen offers.
Other products offered by Stangen
Life cover: Pays out between R100,000 and R10 million to your beneficiaries or estate if you pass away. You can add an accelerated funeral benefit of R30,000.
Salary protection: If you become disabled or are unable to work, salary protection will pay out up to 75% of your salary up to R90,000 a month until you recover, start working again, turn 65 or pass away.
Critical illness cover: If you are diagnosed with a critical illness such as heart attack, cancer, or stroke the cover will pay out a lump sum.
Disability cover: If you become permanently and completely disabled, the cover will pay out a lump sum.
Commuter cover: Pays out a lump sum if you pass away or are permanently disabled as a result of a commuter accident.
With Stangen you can select either or any mix of the above insurance covers to meet your specific needs and goals. If you're not sure how much cover you need or how much you can afford to pay you can make use of Stangen's handy cover calculator and even get the results sent over to you by email – for free.
Group cover available
If you own or run a large organization you can also select an ideal combination of cover for your staff members with Stangen group cover. They even offer group credit life insurance which will pay the debts of a deceased staff member.
Customer Reviews & Testimonials
"
July 2021
If you are a stressful parent like me and always worried about the future I advise people to join Stragen , with their funeral cover I have one less thing to worry about.
Lauren T
— Mpumalanga —
March 2020
They only give you what you need no extra cost for things you don't want!
Stanley J
— Colchester —
Stangen Contact
Contact Number
E-Mail
Website
Physical Address
Menlyn Corporate Park, Block A 175 Corobay Avenue, Waterkloof Glen, Ext 11

Pretoria

Gauteng

0081

South Africa
---
Postal Address
PO Box 284 Menlyn , Pretoria, 0063, South Africa
Opening Hours
Monday

08:00 – 17:00

Tuesday

08:00 – 17:00

Wednesday

08:00 – 17:00

Thursday

08:00 – 17:00

Friday

08:00 – 17:00

Saturday

– Closed

Sunday

– Closed