Simplified funeral cover
100% online process
No medical exam
In-page navigation
---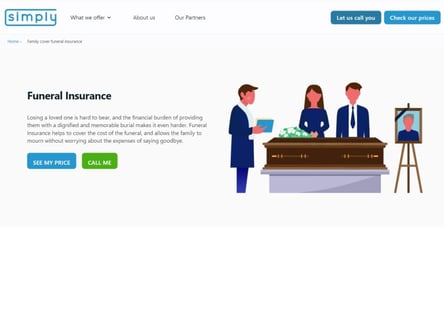 Author Simply. Screenshot of Simply website.


[Accessed February 7, 2023]
About Simply
Founded in 2015, Simply is an insurer that entered the market with a desire to shake things up a bit and help South Africans get the life, disability, and funeral cover that they need to set themselves and their families up for life.
Mission to help South Africans win at life
Simply believes that by simplifying their products and making them more affordable they can help change the financial futures of millions of people and they've certainly got off on a good foot. Their mission is simply to achieve great change one policy at a time.
They've managed to achieve this by focusing on simplifying and streamlining their products and services to reduce the cost of insurance overall and translate this into real, tangible benefits to customers.
Policies are underwritten by Old Mutual
As new players in the term insurance market, Simply is backed up by Old Mutual Alternative Risk Transfer Limited (OMART). This not only means that you can rest assured that your finances are in good hands but that you're dealing with a company that has a lot of support and knows what it's doing.
Innovation that has led to change
With Simply you can get a complete insurance quote using their chatbot, and apply for cover 100% online without having to speak to anyone. If you're looking for life or funeral cover from a provider that wants to do things in a new, modern way that will save you time and money, Simply is just the right partner for you.
Enjoy the Simply blog
Whether it's an informative piece about saving big by taking out group cover or an informative discussion about various labour law and related matters, you can enjoy an informative blog that's packed with real, practical advice that you can lean on in your time of need.
Simply Services
Simply Offers you and your family an affordable and flexible funeral policy with cover of up to R50,000 for you and your spouse.
Children between 14 and 21 also get 100% cover while newborns and children up to 14 get 50% cover with newborns to children aged 6 having cover capped at R10,000.
What a Funeral plan offers
A funeral policy will pay out a lump sum to the listed beneficiaries in the event that the main policy holder or any other family member (or your domestic worker) who was added to the policy passes away.
This lump sum will generally be paid out within 24 hours which means family members will have access to cash immediately to cover the generally expensive costs of a funeral. Funeral costs include things such as a burial plot, casket or coffin, a tombstone, grave services, funeral home services, catering, and venue hire.
Repatriation benefit explained
Simply will pay for the remains of a loved one to be repatriated to South Africa and cover the cost of things such as locating the deceased, accommodation for the next of kin who will have to travel to identify the body, repatriation, referral to an undertaker and help with all the documents. These documents will be required to allow the body to be transported across the border.
Family Life cover that offers three benefits
Simply also offer a life insurance policy that includes life cover of up to R2 million, disability cover of up to R2 million, and funeral cover with a maximum payout of R50,000. The added funeral plan simply ensures that should anything happen to you or any covered family members, cash is quickly made available to ensure the costs of a funeral can be covered. You can also add extended family members to your funeral policy.
Simply – Funeral Cover
Product

Funeral Cover
Who can be covered

You can cover yourself and your family, your domestic worker and your staff

Calculator

Use the calculator on the website to help you budget and see how much cover you can afford
Benefits of Simply
All inclusive cover - Cover from Simply is more than just funeral cover. You can get cover from just R89 a month for life cover, work related disability and family funeral cover
No paperwork - you can receive your quote and buy your cover completely online
No medicals - You do not need to get a medical to qualify for cover
---
Choose your ideal cover and apply online
Whether you want to take out a funeral policy only or you'd like to combine your life, disability, and funeral cover in one package, you can quickly and easily apply on Simply's website. They've made it quick and easy to get a quote online and then also purchase the desired policy in just three simple steps.
Apply for Life cover with a funeral benefit
The first step is to get an insurance quote to find out how much you'll have to pay for your life cover. The next step is to answer three health-related questions, and finally, you will need to provide your banking details. This is all you have to do to secure life cover with Simply!
Get Funeral cover for your domestic worker
You can also add your domestic worker to your policy and ensure that they're covered should they pass away. This will not only ensure that they can enjoy a dignified funeral but that their family isn't left to worry about how they will come up with the money for the funeral.
Group Life and Funeral cover
Simply also offer group cover for employees of a large organization. This product offers cover for either or any combination of funeral, disability, and life cover and amounts can be adjusted as per the needs of your organization and employees.
A little more information
While Simply pride themselves in being able to help people secure life, disability, and funeral cover online with no paperwork and no delays, you can also request a callback or contact them telephonically for a little more personalized help.
Customer Reviews & Testimonials
"
February 2021
Packages so cheap I even added my domestic worker to my list.
Piet K
— Mthatha —
October 2021
Simply is really one of the most simplest ways to get funeral cover fast.
Dylan P
— Randburg —
Simply Contact
Contact Number
E-Mail
Website
Physical Address
3rd Floor, Grove Exchange 9 Grove Ave, Claremont

Cape Town

Western Cape

7708

South Africa
Opening Hours
Monday

08:00 – 17:00

Tuesday

08:00 – 17:00

Wednesday

08:00 – 17:00

Thursday

08:00 – 17:00

Friday

08:00 – 17:00

Saturday

– Closed

Sunday

– Closed