Save on funeral cover
Affordable premiums
Easy online application
In-page navigation
---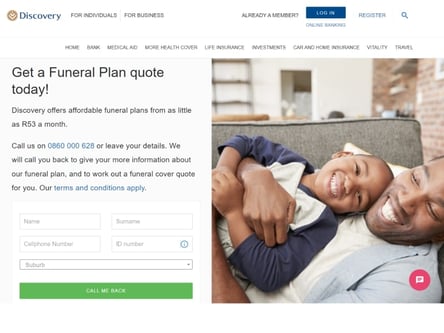 Author Discovery. Screenshot of Discovery website.


[Accessed February 7, 2023]
About Discovery
As the country's leading medical aid, life insurance, and investment solutions provider with over 5 million clients Discovery has become a household name that delivers real sustainable value within their industry.
While their lead in the health industry may have you thinking they've been around for a very long time, Discovery was in fact only started up in 1992 with the backing of Rand Merchant Bank. From then on they grew from strength to strength and were officially listed on the JSE in 1999.
In 2000, they launched Discovery Life followed by many other initiatives, offers, and products that made them what we know them to be today.
Making South Africans healthier
Discovery places great emphasis on health in everything that they do. They strive to help people improve their overall health and their social contributions revolve around this aim. This applies not only to their customers but also to their employees who are encouraged to live healthy, active lives and act as a positive example for everyone else.
Reducing their environmental impact
Discovery has been praised for their commitment to reducing their environmental impact and their dedication to reaching their environmental objectives as outlined in their environmental policy which combined their recycling, and climate change, and environmental policies.
From encouraging their employees to recycle by providing home recycling stations to recycling over 70% of their campus waste – Discovery certainly walks the talk. They're also a member of the CDP and have remained transparent and willing to push themselves in this area.
Medical aid, Life cover, and more
Whether you want to secure your health and wellbeing by joining this leading medical aid scheme or want to carve out a solid financial plan for your family, Discovery can help you achieve your health, lifestyle, and financial goals.
Discovery Services
Losing a family member is a traumatic event that no one wants to think about but, when you have a family to think about, it's a reality that must be faced head-on.
A funeral cover offers a safety net that will ensure a grieving family is not left to scramble to get the money together to arrange a proper, dignified burial. It'll pay out a lump sum to the beneficiary or policyholder as well as provide a handful of additional benefits such as a grocery benefit and extended cover for the family when the policyholder passes away.
Discovery's Classic and Essential Funeral plans
Discovery offers two funeral plans; the Classic and Essential. These plans offer you and your family a financial blanket for when the unimaginable happens.
You also get to choose from six plan options that offer you either no payback benefits or up to 17.5% of your premiums. This payback benefit will be available to you after a claim-free period of five years.
Features of the Discovery's Classic funeral plan
You can select a benefit of between R10,000 and R60,000 depending on your needs and budget
Once all the relevant documents are received and the claim form completed, you or your beneficiary will receive a payment within 24 hours.
In the event of the accidental death of either you or your spouse, the payment is doubled.
You get additional support through three extra payouts including R5,000 for the unveiling, R4,500 for educational fees and expenses, and R3,600 for groceries.
If you pass away, your partner and children will be covered for a period of 12 months at no cost.
You can enjoy cash backs of up to 17.5% after a claim-free period of four years. This feature allows you to select from six different cash-back
Stillborns and children under three months are also automatically covered under the policy.
Discovery – Funeral Cover
Product

Funeral Cover
Price

Get cover from as little as R53 a month

Double the payout

Your family will receive double the payout if you or your spouse die in an accident

24 Hour payout

You can get your lump sum pay out in 24 hours from them receiving all the correct documents
Benefits of Discovery
Life cover - if the unthinkable does happen then you can make sure that your family is well taken care of in your absence.
Prepaid Health a revolutionary new product from the leaders in health care insurance. This new platform allows for a more inclusive approach to access to private health care. Anyone living in South Africa can buy a voucher and redeem it any of the private medical practices within the Discovery Prepaid Health Network.
Vitality Rewards - Discovery is a leader in offering rewards to its clients in every way possible.
---
Get a Discovery funeral plan quote in seconds.
Armed just with your ID number and contact details you can complete a call me back form and get an accurate funeral plan quote with the help of a Discovery consultant in no time.
Speak to a Discovery consultant today
When deciding how much funeral cover is right for you and your family there are many factors that need to be taken into account. This is why it's best to consult with a financial adviser who will be able to determine the best plan for you based on your specific needs and budget.
Life insurance from Discovery
While funeral cover offers cover in the event that a family member passes on, the benefits are limited not only by the plan you select by legislation. To ensure your family has the right amount of cover in the event that you pass away, you'd need to purchase a life insurance policy. Discovery has a range of flexible life cover options that can include accelerated benefits to ensure your family doesn't have to wait to access the cash they need.
The funeral benefits can be for you as the policyholder only or for you and your entire family. You may cover up to 10 extended family members on your policy as long as they are financially dependent on you to cover the cost of burial services. This benefit will expire at the age of 70 or when the cover expires or is cancelled.
Customer Reviews & Testimonials
"
February 2021
With my wife's passing and funeral groceries was my biggest concern because we have a huge family but Discovery covered it all.
Andy K
— Vryburg —
September 2021
They really give our loved one the funeral they deserve I'm really thankful.
Sandra B
— Tsitsikamma —
May 2020
Great prices for luxury insurance and definitely highly recommended.
Buyisiwe N
— Johannesburg —
Discovery Contact
Contact Number
E-Mail
Website
Physical Address
1 Discovery Pl, Sandhurst, Sandton,

Johannesburg

Gauteng

2196

South Africa
Opening Hours
Monday

08:00 – 17:00

Tuesday

08:00 – 17:00

Wednesday

08:00 – 17:00

Thursday

08:00 – 17:00

Friday

08:00 – 17:00

Saturday

09:00 – 14:00

Sunday

09:00 – 14:00