Flexible funeral cover
Best monthly premiums
Easy online application
In-page navigation
---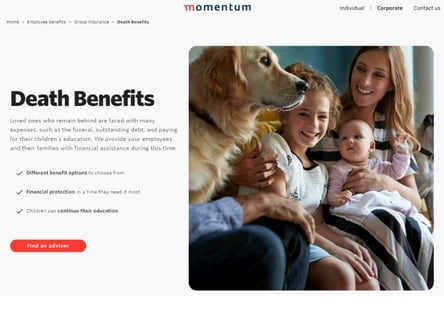 Author Momentum. Screenshot of Momentum website.


[Accessed February 7, 2023]
About Momentum
Established in 1996, Momentum is one of the country's most trusted financial services providers and a well-respected leader in its field.
With a vision to become your trusted insurer and financial partner, Momentum radiates positivity and commitment and their can-do attitude permeates all that they do. Whether you're looking for affordable and reliable medical insurance or just want a no-fuss car insurance solution they've got the right stuff.
An award-winning insurer
From winning the best hedge fund award at the HedgeNews Africa Awards to bagging the Raging Bull Award two times in a row for their interest-bearing short-term fund, Momentum has established itself as an innovative leader and has earned respect across many sectors.
Helping move the country forward
Momentum has focused its corporate social investments on empowering the youth through literacy programs as well as job placement and employment programs aimed at creating long-lasting, sustainable change in the lives of South Africa's youth.
Celebrating diversity and leading by example
As the first large insurer to obtain a level 1 B-BBEE certificate, Momentum leads by example and truly embodies the meaning of a diverse workplace. They're also committed to excellence, integrity, innovation, and teamwork, and their high customer satisfaction rates and high rate of employee retention are a testament to this. Whether you're a customer or an employee – one thing is for certain – you'll be taken care of.
A culture of Ubuntu and giving back
Momentum encourages its employees to get involved in community initiatives and give back to their communities. They achieve this through their brilliantly managed volunteer program that is boosted by numerous strategic partnerships with organizations that work within their focus area.
Momentum Services
While Momentum doesn't offer funeral cover to individuals as a separate product, they offer death benefits via their group insurance products.
This is a product available to corporates and businesses to provide their employees with an excellent financial plan that will cushion them if tragedy were ever to strike. The lump-sum payout can be used by the deceased's family for everything from funeral costs to education.
Momentum death benefit features
There must be a minimum of 15 employees added to a scheme and the monthly premium is paid in arrears. In addition to paying out a lump sum if your employee or a family member of theirs passes, Momentum's death benefit carries a large range of optional benefits.
Optional benefits and options
Tax replacement cover: the lump sum payment will be Taxed so taking out Tax replacement cover will make sure this is paid for separately.
Conversion option: If Momentum Myriad offers employees who were part of a group insurance death benefit scheme the chance to take out a similar life insurance plan once their group insurance ceases.
Terminal illness benefit: If an employee is diagnosed with a terminal illness they get early access to their death benefit lump sum payout.
A special benefit for children: This option covers educational and other costs for the child/children of a member that has passed on.
Tailor the benefits to your needs
The payout can be set based on a percentage, a formula, a multiple of an employee's salary, or even defined on a contribution basis. The optional add-ons can be specified on an individual basis or on a group basis depending on the employer's goals and needs.
Momentum – Funeral Cover
Product

Funeral Cover
Death benefits for business

Momentum offers an employer the opportunity to offer funeral cover to their employees. In order to qualify the business must cover at least 15 main members.

Lump sum pay out

This cover will pay out a lump sum upon the death of either the employee (main member) or one of their family members if the family member was added to their policy
Benefits of Momentum
Draft a free will - a will is not something we want to think about but it is a very important plan to have in place. Momentum allows you to draft a will for free and protect your family.
Momentum App allows you to view all Momentum products from your phone. You are able to keep track of your Multiply points and you can submit claims via the app.
Life cover - Momentum offers comprehensive life cover for you to add to your portfolio. They also offer disability and critical illness cover.
---
Contact Momentum today to arrange your group insurance scheme.
When dealing with such a large insurance policy, it's always best for the employer to contact Momentum directly and deal with a consultant who will be able to help them decide on which options and benefits are best, and how much cover is ideal for members.
In fact, there are many specifics that will need to be decided and it's best to have a knowledgeable expert guide you through it. In addition, it's the employer's responsibility to notify Momentum if any details of any of the group scheme members change or if old members should be removed and new ones covered.
Who can get covered
Group death benefit policies and all add-ons are available to the employees of a corporation, organization, or business as long as there are 15 or more employees added. The employees must be employed on a full-time basis (working a minimum of 20 hours per week), and either below the age of 65 or under the employer's retirement age (whichever is lower). The maximum cover age is 70 years old.
It's also important to remind all members that in order for their cover to remain active Momentum will require that they must be at work and attending to their normal duties. If a member is not actively working, their policy can be delayed until they return to work or their employer must request that their cover remains active and this must be approved by Momentum.
When will the cover stop
If the employee is over the age limit discussed above, leaves his employer, becomes a part-time employee, passes on, or the policy is either not paid by the employer or is terminated, the cover will stop. The cover will also cease if the employee is absent from the country for a period exceeding 12 months and, naturally after a claim has been made.
Customer Reviews & Testimonials
"
July 2021
Low prices but waiting periods sometimes long but no hassles with paperwork.
Dumisani K
— Pretoria —
April 2021
They helped me put my children through school after their father passed.
Andile B
— Tshwane —
Momentum Contact
Contact Number
E-Mail
Website
Physical Address
268 West Avenue, Centurion,

Johannesburg

Gauteng

0157

South Africa