Affordable funeral cover
No hidden costs
Short waiting period
In-page navigation
---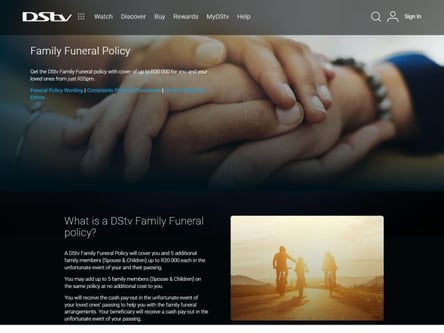 Author Dstv Funeral Cover. Screenshot of Dstv Funeral Cover website.


[Accessed February 7, 2023]
About Dstv Funeral Cover
DSTV is a subsidiary of MultiChoice, one of South Africa's most well-known and loved entertainment brands.
Their funeral insurance is provided by NMS Insurance Services (SA) Limited, a micro-insurer that is also a division of MultiChoice South Africa.
More about MultiChoice
MultiChoice is the country's largest and most loved entertainment company with a goal to continue to enrich lives. They're also a giant in the African entertainment industry and have a presence in more than 50 African countries. While they were only formed in 1995, their history includes the inception of M-Net which was launched in 1985 because they were the force behind the establishment of MultiChoice.
Since then, they've grown from strength to strength and have continued to innovate and introduce new and exciting products and services to their 14 million customers across the continent.
NMS' code of ethics
In addition to complying with the law of the Republic, NMS strives to maintain a high level of integrity and ethical standards that ensure the company maintains a good reputation and continues to grow organically.
They not only strive to maintain business and financial integrity but also to ensure that fair employment practices are observed and maintained and that all directors and managers remain truthful, fair, and compliant in all their dealing on behalf of the NMS.
A simple, affordable Funeral plan
DStv offers you and your loved ones a simple, affordable funeral plan that can offer you peace of mind knowing that you and your family will be taken care of financially when tragedy strikes. They have a Core Family Policy and an Extended Family Policy that offers you flexible cover that suits your budget.
Dstv Funeral Cover Services
The DSTV funeral policy offers you and your family funeral cover of up to R20,000 starting at just R35 per month.
On the Core Family Policy, you can only add 5 family members onto the policy in addition to yourself as the policyholder, and should either you or any of your insured family members pass away, the payout will be made.
If you have more family members that you want insurance cover for you will have to take out the Extended Family Policy which will allow you to add up to 9 family members and this may not include more than two extended family members.
After purchasing your funeral cover, always ensure that you review your policy schedule as well as the terms and conditions so that you are familiar with the inclusions and exclusions that are relevant.
31 day grace period
If you miss a payment, you will have a 31-day grace period during which time you need to make the payment for your cover to remain active. After 15 days have passed from the date your premium was due, you will receive a notice of termination which will let you know you need to pay your premium within the next 15 days for cover to continue.
How a Funeral policy works
If you or an insured family member passes on, you will make an insurance claim on the DSTV funeral policy by contacting NMS and providing them with the required supporting documentation and a completed claims form. They will then make the payment to the nominated beneficiary of the cover amount.
Documents that are required will include a notice of death form, a death certificate, and a certified copy of their South African ID card or book. There may be additional documents required depending on the circumstances of the death.
This money can be used to help with funeral arrangements that are often incredibly expensive and not easy to deal with. This includes things such as funeral home services, caskets and coffins, transport, catering, venue hire, and flowers.
Dstv Funeral Cover – Funeral Cover
Product

Funeral Cover
Price

Get R20 000 funeral cover for only R35/ month

Add family

You can add up to 5 people who are you spouse or children at no additional cost
Benefits of Dstv Funeral Cover
Get in contact - If you have a questions you can get in touch with the lets chat button to speak to a helpful consultant.
Who can get a policy? You must be a South African resident, you must be 18 years old and must be a DSTV customer
A world of choices with DSTV
---
Apply for your DStv funeral cover
You can make use of the DStv website or the My DStv App to apply for your affordable DStv funeral insurance in just a few minutes.
You can also make use of their Whatsapp service which will allow you to quickly and easily communicate with an agent that can help you secure cover, adjust your insurance policy, or get your questions answered.
Requirements to qualify for DSTV Funeral cover
The main policyholder must be at least 18 years old (and not older than 75 years), be a South African permanent resident or citizen, and be a DSTV customer.
Cancel your Funeral policy
There is a 31-day cooling-off period during which you can get a refund of any premiums already paid and cancel with no notice. If however, you've had the policy for more than 31 days you will have to provide written notice of cancellation to NMS.
The self-service platforms
The self-service platforms available to you are the My DStv App, the DStv website, and Whatsapp where you can receive all of your policy communications (such as notices and general updates) and where you can adjust your cover, add and remove family members, and update your contact and personal information as necessary. Remember that if you add a new family member to your policy they will be subject to the standard waiting periods that you and all other members had to pass.
Standard waiting periods
A 6 month standard waiting period is in place which means that no payout will be made if a death occurs before this time period. This does not, of course, apply to accidental death which is covered from the get-go.
Customer Reviews & Testimonials
"
February 2021
I pay as little as R35 per month only for my funeral cover there is no excuse for not having.
Jimmy C
— Polokwane —
December 2020
Very understandable when times are tough they give you some grace period when you cant pay.
Lee-ann C
— Pretoria —
Dstv Funeral Cover Contact
Contact Number
E-Mail
Website
Physical Address
MultiChoice Customer Centre, Willie Faasen Avenue, N1 City

Cape Town

Western Cape

7460

South Africa
Opening Hours
Monday

08:00 – 17:00

Tuesday

08:00 – 17:00

Wednesday

08:00 – 17:00

Thursday

08:00 – 17:00

Friday

08:00 – 17:00

Saturday

08:00 – 17:00

Sunday

09:00 – 14:00