African Bank Funeral Cover
Funeral cover for all
Easy online application
No medical examinations
In-page navigation
---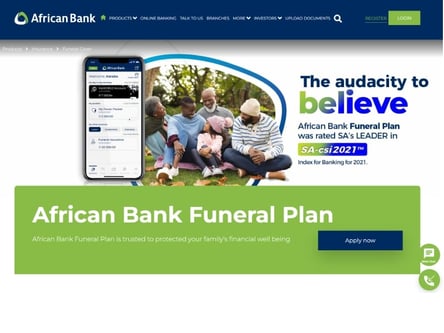 Author African Bank. Screenshot of African Bank website.


[Accessed February 7, 2023]
About African Bank
African Bank is committed to taking responsibility for its actions and activities and striving to put the customer first by delivering on its promises. They achieve this by remaining open and honest and maintaining open communication that enables a long-lasting, respectable relationship to develop.
Products and services offered
African Bank offers a comprehensive range of financial and insurance products and services designed with you, the South African consumer in mind. These products include everything from basic transactional accounts and loans to credit life insurance and a solid funeral plan that can be customized to meet your unique needs.
Whether you're looking to save money or get affordable insurance that will secure you and your family financially, you'll get just the product that you need with African Bank. If you're looking for a bank that doesn't just treat you like another number, African Bank should be your partner of choice. They're dedicated and will always go out of their way to make sure all of your needs are flawlessly met.
A Funeral policy you can rely on
While African Bank does not offer a full range of insurance products like the other major players on the market, their funeral policy is among one of the most reliable, beneficial ones on the market.
Not only have they made it easy to get an insurance quote and buy the cover, but they've also made it quick and easy for you to update your policy and contact details, and even easier to make a claim or contact their agents for help.
African Bank Services
African bank's funeral policy is designed to help you and your loved ones through a difficult time by not only providing the financial support needed to cover the funeral but also by providing additional support and benefits.
The funeral policy will cover you and your loved ones for natural and unnatural death and payout a set lump sum. This lump sum (the over amount) will determine how much your premiums will be. You can add your spouse, children, and any extended family members to your policy which will lower the costs and give you more peace of mind. Payouts can be used for any and all funeral costs and expenses including transportation of remains, coffins, burial plots, catering, and more.
Cover of up to R100,000
One of the great things about the funeral plan from African Bank is that you can get a customized plan to suit your needs and budget. They offer cover from R5,000 to a maximum of R100,000 which means you'll get just the right cover amount regardless of your budget.
Special benefits for children
Children who are mentally ill or permanently disabled will receive life-long cover for the child rate so long as they were added onto the plan before the age of 25. In addition, full-time students can also get child rates up to the age of 25.
Who can get cover
As the main policyholder you must be over the age of 18 but under the age of 65 to apply for funeral cover. All people who are added to a policy must have a South African ID book.
African Bank – Funeral Cover
Product

Funeral Cover
Premium Calculator

You can use the online cover calculator. You can cover yourself, your spouse and up to 8 children

24 Hour payout

You can receive your payout within 24 hours if you submit all of the correct documentations

No African Bank Account

You do not need to have an Africa Bank Account to get funeral cover with them
Benefits of African Bank
Webchat allows you to chat to a consultant while on the website with any questions you may have or request a call back from a skilled advisor.
Banking - African Bank offers comprehensive banking solutions including various banking accounts for saving and transacting
Credit life insurance is an insurance policy that will cover any outstanding loan amounts that you have. This could be credit card debt, store accounts, home loans or car finance.
Investments - Fixed and notice investments as well as a tax free investment
---
Apply now and get instant approval.
You do not need to have a bank account, go through a medical exam or even visit a ranch to apply for a funeral plan from African Bank – it can all be done online.
You can also call African Bank and have a consultant guide you through the process of securing your funeral plan. In branch, applications are also accepted.
The 4-month waiting period
While most insurers require that a 6-month waiting period elapses before policyholders and family members are covered, African Bank only requires a 4-month period to pass before you and your loved ones will have full cover.
Accidental death benefit
The accidental death benefit provides double the normal payout in the event that the life assured death was as a result of an accident. There is no waiting period for the accidental death benefit to become active.
Reading through your policy schedule
It's important to review your policy schedule to ensure that you're aware of what the funeral policy does and does not cover, how much you're covered for, and all the added benefits that are available.
Exclusions to be aware of
African Bank specifically excludes death as a result of self-inflicted injuries or illnesses or suicide within the first 12 months of policy inception.
The 30 day grace period
You are required to pay all premiums in order for cover to remain active but you get the benefit of a 30-day grace period within which you will still be covered provided that the payment is made within the 30 days.
Credit life insurance
In addition to their funeral insurance product, they also offer credit life insurance which is a product that pays your debts completely in the event of death and covers your installments if you're retrenched.
Find out more online
African Bank has made it easy for you to review all the details regarding their funeral cover in South Africa and you can download claim forms and the policy wording on their site as well as review the benefits.
Customer Reviews & Testimonials
"
February 2020
This is very convenient if you have a house bond with them then you pay one payment at once.
Uche D
— Nelspruit —
September 2021
They just phone you a lot but otherwise I have no complaints.
Phelewa T
— Cape Town —
June 2021
When I lost my baby they helped me and gave her a very dignifying funeral thank you so much.
Sonja N
— Upington —
African Bank Contact
Contact Number
E-Mail
Website
Physical Address
262 Voortrekker Rd, Shop No 24, Shoprite Park, Parow,

Cape Town

Western Cape

7500

South Africa