Effortless funeral cover
Affordable premiums
No medical examinations
In-page navigation
---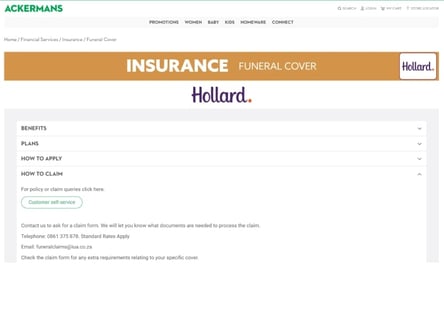 Author Ackermans Funeral Cover. Screenshot of Ackermans Funeral Cover website.


[Accessed February 7, 2023]
About Ackermans Funeral Cover
Ackermans has become one of South Africa's most loved discount retailers and has been expanding its business year on year.
They currently have more than 740 stores across 5 countries and have no intention of slowing down. They're all about family and helping people attain affordable and stylish clothes and household items.
Financial solutions from Ackermans
You can buy on credit, lay-by, or pay cash. With these three financial solutions, you can get the items you and your family need the most with ease and convenience.
A retailer that cares about theirs
Ackermans is big on supporting their staff and making sure that they get to shine. Not only do staff get access to tertiary education benefits but their children do too. They also enjoy school and crèche benefits but they get staff discounts and access to Ackermans' wellness and Careways EAP services.
An award-winning retailer
For the past 10 years, Ackermans has been steadily accumulating awards of various kinds from the Times Sowetan Retail Awards to the Icon Brands Survey winner of the Children's Retailer Clothing Category. Their latest award was the Ask Afrika Icon Brands award where they proudly won in the Children's Clothes category.
These awards, as well as all others, simply show just how committed Ackermans is to delivering exceptional value and staying ahead of the pack with commitment, dedication, and creative flair.
Funeral insurance from Ackermans
To add to their growing list of products and services, Ackerman's now offers South Africans affordable funeral cover for the whole family. This cover simply offers a lump sum payout, as well as a monthly installment, if you or an insured loved one passes on.
With affordable premiums, large payouts, accidental death double benefit, and a monthly installment to help with ongoing costs, their policies are fast becoming a favourite.
Ackermans Funeral Cover Services
Ackermans has partnered up with one of the country's most loved insurers Hollard, to bring you affordable and flexible funeral insurance that brings you more value.
About Hollard Insurance
Hollard Insurance Group is South Africa's largest insurance group that has been serving customers since 1980. They're dedicated to growth and strive to maintain their culture which is focused on getting things done without excluding creativity and experimentation.
They offer a full spectrum of insurance and financial products including life, funeral, car, home, travel, and pet insurance. They also offer legal cover and a range of investment options including Tax-efficient savings accounts and retirement savings plans.
The Ackermans Funeral policy
Ackermans offers two funeral plans for you and your family: the Family Protector Plan and the Family Protector Plan Plus. Both plans offer you a double payout in the case of accidental death. This means that if you're covered for R12,500 your policy will pay out 25,000 total in the event of accidental death.
The Family Protector Plan
Offers up to R115,500 cover per month as well as R3,000 paid over a period of 6 months. Both you and your spouse can get equal cover that will pay out double in the event of accidental death.
The Family Protector Plus Plan
With the Family Protector Plan Plus you can secure up to R216,000 maximum cover and R14,400 paid out across a span of 12 months. If you remain claim-free for 5 years you will also get 20% cashback.
The 6-month waiting period
All policyholders and insured family members will only be covered for death as a result of natural causes after having passed a 6-month waiting period. For pre-existing conditions and suicide, the waiting period is 12 months but there is no waiting period for accidental death.
Ackermans Funeral Cover – Funeral Cover
Product

Funeral Cover
Family Protection Plan

This plan allows you to cover yourself and your family for funeral benefits. Added to this the main member is covered for accidental death.

Family Protection Plan Plus

This plan offers payouts almost double those of the Family Protection Plan for both funeral benefits and the accidental death cover for the main member
Benefits of Ackermans Funeral Cover
Guaranteed Acceptance - If you meet all the criteria set out by the plan you are guaranteed acceptance
No waiting period for Accidental Death - There is no waiting period for the accidental death cover after the first premium is paid
Add the cover to your account - Do you have an account with Ackermans? Simply add the Family Protection Cover to your account and pay the premiums monthly
Fast pay out - Claims can be paid out in just 48 hours
---
Visit an Ackermans store or call their call center to apply
If you've decided that you want to take out a funeral policy with Ackermans you can apply for funeral cover in any store, make use of their SMS service, or contact them via their dedicated call center to get help from a friendly consultant.
Get Funeral cover
There's nothing worse than having a loved one pass away and during such a difficult time, having to worry about money makes things worse. Not only do the people left behind have to worry about their own living costs but they now have to put together enough money for a funeral.
With a funeral plan, if you or a family member pass away, you can rest assured that there will be enough to cover the funeral. In the event that the death was accidental, there will be a double benefit payment which will help the family even more. The lump-sum payout helps you cover things like the purchase of a burial plot, funeral parlour expenses, catering, flowers, transport, and more. It will also help pay for other costs such as groceries and school fees.
If you're the main breadwinner in the family and worry about what would happen if you or your spouse were to pass away, securing your family financially with a solid funeral cover policy is a must.
Extra Funeral insurance benefits you'll enjoy
You don't need to go for a medical exam to get cover.
You get covered for life as long as you take out the policy between 18 and 65 and you continue to pay your premiums.
The death benefit is Tax-free.
If you're an Ackermans cardholder you can pay your premiums using your account.
Customer Reviews & Testimonials
"
September 2021
Definitely suited for an senior like me very affordable.
Esther L
— P.E —
March 2020
I've been with them for years and years very reliable and I'm always going to be a loyal customer.
Sanet V
— Transkei —
April 2020
Simple funeral coverage for those living a simple life.
Ryan S
— Santon —
Ackermans Funeral Cover Contact
Contact Number
E-Mail
Website
Physical Address
3 Hogsback Ave, Quellerina, Roodepoort,

Johannesburg

Gauteng

1709

South Africa