Life cover up to R1 million
Low monthly premiums
Quick claims payout
In-page navigation
---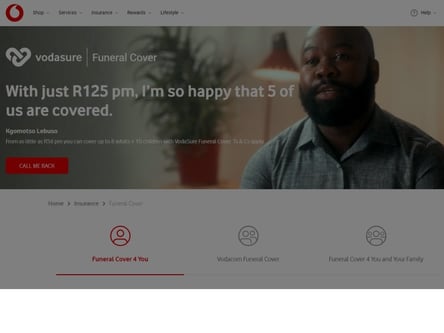 Author Vodacom Funeral Cover. Screenshot of Vodacom Funeral Cover website.


[Accessed February 7, 2023]
About Vodacom Funeral Cover
As South Africa's largest network provider and a leading supplier of mobile phones and other devices, Vodacom is a respected giant in the telecommunications industry.
They've been at the front and center of the industry and have brought about large-scale change and innovation in the digital and online worlds. So whether they're helping fight against cyberbullying or extending their coverage to rural areas and helping connect more people, they're always looking ahead and striving to make SA a better place for all.
They continue to innovate and introduce new and exciting products and services to their customers – with new offers, deals, devices, and value-added services making their way to South Africans daily.
An eye on the future
Being aware of just how crucial it is for students to have access to the internet and online and digital resources, Vodacom has connected close to 700,000 students to their free online learning platform Vodacom e-school.
In addition, they're a company that's committed to reducing their impact on the earth and have made great efforts to reduce, recycle and reuse while also looking to renewable sources of energy and e-waste to make great change for all.
Access music, movies, games, and more
Vodacom also offers convenient access to a range of music, video, and gaming subscriptions by allowing you to pay these via your Vodacom bill. So whether you want to keep your mobile free of viruses with top Norton security or watch Netflix with the family, you can get it done. You can also stay up-to-date with all the latest entertainment.
Insurance products from Vodacom
In addition to the funeral cover available which we'll discuss later on, Vodacom also offers device insurance, contract cover, legal advice via their VodaSure Legal Advice Line, and life cover of up to R1 million.
Vodacom Funeral Cover Services
Vodacom offers three funeral cover options which are simple, easy to apply for and maintain, and affordable.
While these products may not offer large amounts of cover for you or your family members, it's really affordable and will make all the difference if tragedy strikes. A funeral policy from Vodacom will simply pay out a lump sum benefit to your beneficiary in the event that you pass away.
Funeral cover for you
This option offers you three cover amounts with three premium amounts. This only covers you as the policyholder and you cannot add cover for your spouse, children, or any other family members.
For R10 a month you get R2,500 worth of cover
For R16 a month you get R5,000 worth of cover
For R26 a month you get R10,000 worth of cover
Vodacom cover for you and your family
This option offers you cover for yourself, your spouse, and your children and also offers three levels of cover.
Option 1 offers you and your spouse R2,500 worth of cover and R1,250 per child
Option 2 offers you and your spouse cover of up to R5,000 and R2,500 per child
Option 3 offers you and your spouse cover of up to R10,000 and R5,000 per child
The Vodacom Cover 4 You and Your Family will cover up to 5 biological or legally adopted children and/or stepchildren up to the age of 21.
There are substantial differences between regular funeral policies and Vodacom's funeral cover options. One major difference is the lower coverage amounts available with both the plans above offer no more than R10,000 for you and your spouse.
Regular funeral plans may cost more but they pay out up to R100,000 for the main beneficiary and spouse and up to double that for accidental death. This is why it's important to decide whether the cover is sufficient for your needs – and if so great! If not, you'll need to look elsewhere.
Vodacom Funeral Cover – Funeral Cover
Product

Funeral Cover
Price

Cover from R10 for Vodacom prepaid customers

Cover many people

With Vodacom Funeral Cover you can cover up to 8 people and 10 children

Speedy payouts

Vodacom Funeral will pay out within 48hours of receiving all of the correct information
Benefits of Vodacom Funeral Cover
Mom and Baby - follow the link on the website to many articles with information that every new mom can use.
Connecting your world - Vodacom is one of the biggest networks in South Africa and helps you to connect with family and friends.
e-School - Vodacom understands that education is a vital component to success. You can register your child for free and if you are a Vodacom customer then you don't pay for data used to download the content.
Vodabucks - earn Vodabucks as a valued Vodacom customer.
---
Get Vodacom funeral cover now.
In order to qualify to take out a funeral policy, you must be a Vodacom prepaid customer (for the Funeral Cover 4 You and Funeral Cover 4 You and Your Family products), have a valid South African Identity document, and be between the ages of 18 and 60.
The Vodacom Funeral Cover is available to Vodacom customers and non-Vodacom customers and for anything from R56 per month you can get cover for you, your spouse, and your children. You, your spouse, and other family members (excluding children) must be aged between 10 and 74 years to be covered.
Get your Funeral cover with Vodacom
The easiest way to apply for cover online is by completing the call-me-back form on their website. Once you've done this a friendly consultant will get back to you and you can quickly secure the cover you need. You can also get help deciding how much cover is right for you based on your needs and budget.
Since your weekly premiums will be deducted from your airtime you don't even need a bank account to have a funeral cover in South Africa. You need to make sure there's sufficient airtime available because if the payment isn't made you will lose cover.
Policy waiting period
Your accidental death benefit (if you die as a result of unnatural causes) begins immediately but your natural death benefit will only become active after a 3 month period has passed. This is lower than the standard waiting period that you'll have to undergo with any other insurer.
No payment equals no cover
In order for your policy to remain active, you must pay your weekly premiums. If your premium isn't paid, you'll lose your cover and any attempt at making a claim by your estate or a beneficiary will be declined.
Making a policy claim
Claims will be processed and paid out as quickly as possible and within 48 hours of having received all the necessary documents from the person making the claim (the beneficiary). Claims can be made by telephone or by email.
Customer Reviews & Testimonials
"
November 2021
Did you know if you have a contract by Vodacom you basically can get funeral cover without any paperwork!!
Bianca L
— Durban —
October 2020
They gave me the best customized premium that suites me and my whole family's needs.
Tevin G
— Pretoria —
April 2021
As a busy young lady I appreciate the fact that I can pay my phone bill and funeral cover at once , us as young ones don't always understand how important funeral cover is.
Liyema K
— Cape Town —
Vodacom Funeral Cover Contact
Contact Number
E-Mail
Website
Physical Address
0A Century Blvd, Century City,

Cape Town

Western Cape

7441

South Africa
Opening Hours
Monday

09:00 – 21:00

Tuesday

09:00 – 21:00

Wednesday

09:00 – 21:00

Thursday

09:00 – 21:00

Friday

09:00 – 21:00

Saturday

09:00 – 21:00

Sunday

09:00 – 21:00