No hidden costs
Affordable premiums
Variety of plans to choose from
In-page navigation
---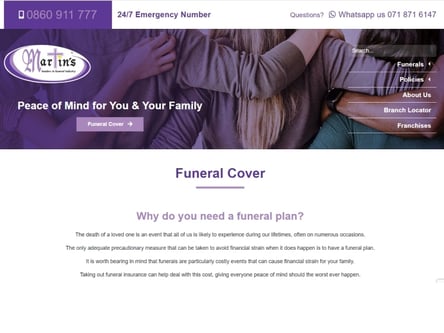 Author Martins Funerals. Screenshot of Martins Funerals website.


[Accessed February 7, 2023]
About Martins Funerals
Martin's Funerals was established in 1989 by husband and wife team Martin and Annalize Piek in a small office.
With hard work and dedication, the business expanded quickly and they moved to Randfontein where they continued to grow the business and deliver excellence to their customers.
A leader in the Funeral industry
Today, Martin's Funerals is a leader in the industry and has 165 outlets across the country and contracts with large mining companies, burial societies, and insurance providers. Many of their outlets are franchisees and they still offer franchise opportunities across the country. One of the reasons for their enormous success is that they care about their customers and work with the utmost respect, dedication, and compassion.
Funeral services offered
Martin's Funerals can assist individuals, families, businesses, and large organizations with all aspects of planning, arranging and executing a dignified funeral. Whether it's funeral arrangements or a cremation, transport, repatriation, or tombstones, they have the products and related services.
Martin's Funerals personalized assistance
Martin's Funerals encourage you to contact them directly should you have any specific questions about any of their products or services, or should you need help with any aspect of arranging a funeral or cremation.
They are available by phone 24 hours a day, 7 days a week, ready to serve you and your family. Their 22 years of experience have ensured that they're able to flawlessly assist customers with everything from paperwork to the final touches for a funeral service.
Martins Funerals Services
Martin's Funerals offer funeral cover packages for individuals, pensioners, and families – and these packages and their benefits are listed on their website.
Funeral Cover for pensioners
Most funeral policies have a maximum coverage of 65 years – meaning that pensioners are often left with no options for any form of funeral cover. Martin's Funerals have three packages designed for people who are over the age of 65.
The Emerald Plan for pensioners offers people between 65 and 84 R15,000 worth of cover as well as the option to add their spouse and children to the policy at just R175 per month.
The Pearl Plan offers a cover of up to R18,000 for a policyholder and their spouse who must be between the ages of 65 and 84 at R270 per month.
The Zircon Plan offers cover for people over the age of 85 with a payout of R12,000 at a monthly premium of R245.
Cover for families
All family plans are available to policyholders and their spouses who have a South African ID book and are between the ages of 18 and 64.
The Sapphire Plan offers cover to the policyholder and their spouse of R15,000 and cover for their children ranging from R3,750 for stillborn children, to R15,000 for children between 14 and 21 years of age at a monthly premium of R155.
The Ruby Plan offers cover to the policyholder and their spouse of R20,000 and cover for their children ranging from R5,000 for stillborn children, to R20,000 for children between 14 and 21 years of age at a monthly premium of R200.
The Diamond Plan offers cover to the policyholder and their spouse of R30,000 and cover for their children ranging from R7,500 for stillborn children to R30,000 for children between 14 and 21 years of age at a monthly premium of R260. This is their highest-tier
Martins Funerals – Funeral Cover
Product

Funeral Cover
Price

You can get up to R5000 funeral cover for as little as R25 a month as a single person

Three options

You can get cover for your specific stage in life. Single Cover, Family Cover or Pensioner Cover
Benefits of Martins Funerals
Funeral Service - Martins Funerals offers comprehensive funeral services including repatriation, tombstones and the opportunity to pre-arrange your funeral so that your family knows your exact wishes before the worst happens.
Obituaries - On the website you can find helpful information on how to write this very important script
Country wide branches
---
Contact Martin's Funerals via phone today.
You cannot purchase funeral cover online at the moment and will need to either call Martin's Funerals or send them an email and get someone to contact you.
When a loved one passes
If you have a funeral policy you will need to provide a range of supporting documents like the death certificate and notice of death from before the policy will payout. If you have a funeral cover with Martin's Funerals this does not mean that you have to make use of their funeral and burial services – but given their service excellence and years of experience, this would be a good choice.
If you choose to have them assist you, they will take care of everything from making all the funeral or cremation arrangements to sorting out the paperwork. They have a great deal of information about everything from what happens when someone passes away to how to write an obituary on their website.
Cover for individuals
If you're just looking for cover for yourself as a policyholder you will have the opportunity to choose from among six great plans offered by Martin's Funerals. These plans range from the most basic cover of R15,000 to a larger amount of R18,000. There is also an option for those who are over the age of 85 to take out cover of R12,000.
Martins waiting periods
Martin's Funerals usually require a 12 month waiting period before any claims on a policy can be made with the exception of their higher tier Emerald, Pearl, and Zircon plans which only require a 9 month waiting period to elapse.
Funeral cover from Martin's Funerals
As a leader in their field, it only makes sense that Martin's Funerals teamed up with African Unity Life Ltd to bring affordable, flexible funeral cover plans to their customers. These plans start from as little as R25 per month up to about R260 for their highest cover amount package. These plans will pay out a lump sum benefit in the event the policyholder or another insured loved one passes away.
Customer Reviews & Testimonials
"
December 2020
I'm an old lady who doesn't have an income only my pension but with their affordable prices even I can afford to have funeral cover.
Dawn L
— Transkei —
May 2020
This was the easiest cover I've ever gotten they take care of all the paper work for you all you need to do is give them your correct details.
Martin P
— Knysna —
April 2021
This is really an amazing insurance company they even have a 24 hour helpline so they are available any time you need them.
Jean-Jaq Q
— Durban —
Martins Funerals Contact
Contact Number
E-Mail
Website
Physical Address
21 Fedler St, Aureus, Randfontein,

Johannesburg

Gauteng

1759

South Africa
Opening Hours
Monday

08:00 – 17:00

Tuesday

08:00 – 17:00

Wednesday

08:00 – 17:00

Thursday

08:00 – 17:00

Friday

08:00 – 17:00

Saturday

– Closed

Sunday

– Closed