Efficient funeral cover
Affordable premiums
Quick and easy online application
In-page navigation
---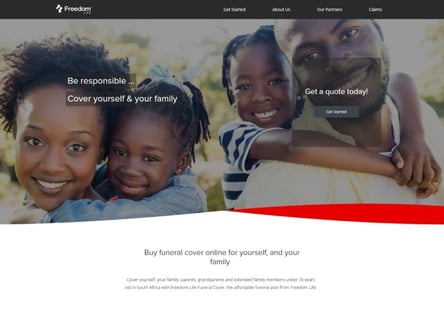 Author Freedom Life. Screenshot of Freedom Life website.


[Accessed February 7, 2023]
About Freedom Life
All Freedom Life's policies are underwritten by Old Mutual Alternative Risk Transfer Limited (OMART) which is one of South Africa's largest and most respected insurers.
About OMART services
Established in 2003, OMART is part of the Old Mutual Group and is a long-term insurer that specializes in cell captive solutions. They basically provide the backing that insurance companies need to provide insurance products and services to their customers. These companies include large corporations, commercial companies, and even smaller start-ups.
In addition to the above OMART also delivers actuarial, administrative, and financial reporting and management services to their clients. Freedom Life has also partnered up with major retailers Shoprite and Checkers and has a partnership with Swiss Re which is a global reinsurance provider.
A simple, no-fuss insurer
Freedom Life is a simple, no-fuss insurer that offers funeral cover for you and your family at affordable rates. From their product to their website, they keep things as simple and straightforward as possible.
Their policies do not come with loads of confusing and unnecessary added benefits – you simply get covered up to the maximum allowable for the various age groups, and pay a monthly premium accordingly. While your funeral cover premium may be reviewed twice a year, you will be given a 30-day notice should your premium increase at any of the two annual premium review dates.
Simple, great service delivery
Freedom Life's agents are experts in their field and are well trained to be able to help you secure the funeral cover that's just right for your needs and also to ensure that claims are taken care of in a compassionate, quick, and efficient manner.
Freedom Life Services
Freedom Life offers funeral policies with a maximum benefit of 75,000 for adults and R10,000 for children aged 0 to 5 and R30,000 for children aged 6 to 13.
Not only can you cover yourself, your spouse, and children (up to 6 children) but also your extended family which includes parents, aunts, uncles, and cousins. Children are covered until they turn 21 or until the age of 26 if they are full-time students.
Policyholders must be South African citizens aged between 18 and 64 and boyfriends or girlfriends can only be added if it is proved that they have been in a serious relationship for at least 6 months prior to taking out the funeral cover.
Need a Funeral policy
If you're the main breadwinner in your family and want to make sure that your family will be able to give you a dignified funeral, then you need a funeral policy. Those who have a life insurance policy but have no accelerated funeral benefit may also want to get funeral cover since life insurance takes a long time to pay out and your family will need the money the most just after death.
What the Funeral payout can be used for
The money can be used for everything from purchasing a burial plot to paying for the funeral home, venue, and arranging for decor, flowers, and catering. There are many expenses involved in arranging a funeral or memorial and if your family is reliant on your income, your funeral policy will certainly be a saving grace during this time.
Specific waiting periods
Before the funeral cover will pay out certain waiting periods must elapse. In the event of accidental death, there is no waiting period but any death as a result of natural causes will only be covered if a period of 6 months passed. In addition, a 12 month period must pass before death by suicide will be covered.
Freedom Life – Funeral Cover
Product

Funeral Cover
Price

Get cover from R65 a month

Cover your family

You can cover yourself, your spouse and your children
Benefits of Freedom Life
Apply online - you can fill in your information and a consultant will call you back with advice and the different options available
Add extended family - you have the option to add your parents or even your extended family
Claims - you can claim by email, whatsapp or phone the call center
---
Apply online for an affordable Freedom Life funeral policy.
You can simply buy cover online via the Freedom Life website in just minutes, but you can also call their call centre, or make use of their Whatsapp or USSD number.
Whichever method you choose to use, you will be greeted with quick and efficient service and staff that know exactly what they're doing and will always ensure you're taken care of. They can help you determine how much cover is right for you and your family and also assist you in downgrading or upgrading your policy as and when appropriate for you.
What happens if you miss a payment
Freedom Life's funeral policy offers a one-month grace period during which time you will be required to catch up on the missed payment for cover to continue. If you do not pay the premium within this period your cover will terminate and you will not be able to reinstate it.
What the cooling-off period is all about
The cooling-off period allows you to cancel the funeral policy within 31 days of having purchased the policy and your premiums will be refunded. If you want to cancel the policy after this 31-day period you will be able to do so only after providing 31-days' written notice.
Paying your premiums
While it's easier and safer to pay your premiums via debit order, you can also pay in any Checkers, USave, or Shoprite store nationwide.
Making adjustments and updates to your policy
Freedom Life makes it quick and easy for you to add or remove family members as well as update your details by calling their call centre. It's also important that you review your policy schedule and all the terms and conditions so that you understand everything from when your insurance cover becomes active to when it will be terminated, and what the specific inclusions and exclusions are.
Customer Reviews & Testimonials
"
October 2020
I have all my little ones covered by freedom life funeral cover its quite affordable especially for big families.
Jacob U
— North West —
April 2021
If you want your loved ones to have a truly dignifying funeral get covered by freedom life, they have done a great job with my grans funeral.
Abraham K
— Nelspruit —
September 2021
Thanks to freedom life my husbands funeral was taken care of completely even to the last small detail. They give you the freedom to mourn in peace.
Gloria W
— Vereeniging —
Freedom Life Contact
Contact Number
E-Mail
Website