Online funeral cover
Instant cover
Easy claim process
In-page navigation
---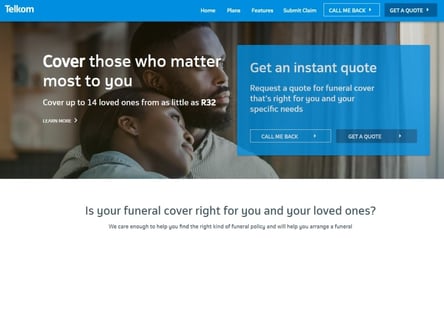 Author Telkom Funeral Cover. Screenshot of Telkom Funeral Cover website.


[Accessed February 7, 2023]
About Telkom Funeral Cover
Telkom is known as one of South Africa's oldest fixed telephone service providers which started its operation in 1991 and now is one of the most affordable and fastest-growing mobile network providers.
To be more specific they offer a range of voice, data, fixed, mobile, IT, and data center products and services to a range of private and business clients across the country.
Maintaining a competitive edge
Telkom acknowledges the importance of strategy and of remaining competitive by continuously reviewing and adjusting its strategy to meet the ever-evolving needs of its clients.
They're able to achieve this by focusing their resources on their five pillars which include seeking opportunities to grow, becoming a leading broadband provider, and upgrading and improving their network through technology.
The Telkom Foundation
Telkom's Foundation is dedicated to education and places emphasis on supporting schools, teachers, and learners across the country. Their programs provide academic tuition as well as a range of devices and resources to support the teachers and students. Their program focuses on high school education, post-school support as well as placements that make use of learnerships and internships.
Putting you first
One of Telkom's core values is to put you, the customer first by ensuring that your needs are met so that you can create the future of your dreams. They also strive to understand your needs and will try time and time to get things right and make sure they offer the products and services that you need.
A Funeral policy worthy of you
Telkom offers four funeral plans and the option of adding extended family members to any of the four plans. Not only are these options affordable but they provide real benefits that will make all the difference during a difficult time.
Telkom Funeral Cover Services
Telkom offers four funeral plans that can cover just one person who is the policyholder or up to 14 family members.
This funeral policy will pay out a lump sum as per the amount you select when taking the policy out, as well as help you arrange a dignified funeral with the help of Telkom's burial service partner.
They will help you get the remains transported to the nearest funeral home, buy a coffin and a tombstone as well as provide for necessaries such as airtime and groceries.
Telkom's Funeral plans:
Main member
Main member and children
Main member and spouse
Main member, spouse, and children
You can select any of the above four funeral plan options and then choose to add one or more extended family members. Extended family members include parents and grandparents, aunts, uncles, cousins, and in-laws.
Cover you can get
You can select R10,000, R20,000, R30,000, R50,000, or R70,000 of cover. This is the amount that you as the policyholder and your spouse will be covered for in the event that either of you passes away.
Features of Telkom's Funeral policies
All Telkom's funeral insurance policies offer a double payout in the event of accidental death. This means that if you or your spouse passes away as a result of an accident, the funeral cover amount on your policy will be doubled. The payout will also be made available within 48 hours which means your family doesn't have to stress or worry about long waiting periods and costly delays.
As long as all the required documents are provided and the required claim forms completed by the beneficiary, Telkom can stick to their end of the deal. Documents include a death certificate, notification of death form, and a certified copy of the deceased's ID.
Telkom Funeral Cover – Funeral Cover
Product

Funeral Cover
Call back or online

You can either request a call back or get your uote online

Family cover

Cover for your spouse, kids and extended family.
Benefits of Telkom Funeral Cover
Double the payout - get double the payout for accidental death
Tailor made - get tailor made funeral cover to suit your budget.
Claim process made easy. You can submit your claim online.
---
Get a funeral cover quote in just 60 seconds.
You can get a customized funeral insurance quote in just 60 seconds on the Telkom website by inputting your cover needs.
Your premium will instantly appear as you select the cover amount and number of family members you need cover for. You cannot purchase a Telkom funeral plan via any third party including a financial adviser or an insurance broker of any kind – it must be done directly through Telkom. Alternatively, you can call the Telkom call center to purchase your policy.
Satisfied with your quote
If you're happy with the quote you've been provided with you can then proceed to input all your personal details and contact information and buy the policy online. You can do it all 100% online and use your bank card to make the payment after you've reviewed the convenient quote summary.
No need for a medical
You do not need to go for a medical exam or a blood test to secure a Telkom funeral policy. All you need to have is a South African ID document and be over the age of 18 to secure cover.
Waiting periods explained
There is a mandatory 6 month waiting period for all those who purchase a funeral plan from Telkom. Until this, 6 month period elapses no payouts will be approved for death from natural causes. That said, there is no waiting period for death as a result of an accident and, as mentioned, there will be a double benefit in this case.
Customer Reviews & Testimonials
"
May 2021
If you have a small family and just starting out in life I would say Telkom have the best funeral policies for you to choose from.
François O
— East London —
August 2020
As a single person I don't need much but I know if I do have kids one day I can adjust my funeral cover as needed.
Lindy P
— Welkom —
March 2021
My wife passed away and I thought my kids was going to suffer because of funeral cost but luckily she was covered by Telkom and they took care of everything so I also joined and my kids!
Bandile U
— Tembisa —
Telkom Funeral Cover Contact
Contact Number
E-Mail
Website
Physical Address
Ground Floor, St George's Building, 12 Adderley St, Cape Town City Centre,

Cape Town

Western Cape

8001

South Africa
Opening Hours
Monday

09:00 – 17:00

Tuesday

09:00 – 17:00

Wednesday

09:00 – 17:00

Thursday

09:00 – 17:00

Friday

09:00 – 17:00

Saturday

09:00 – 13:00

Sunday

– Closed