Elite funeral cover
Affordable premiums
Get an online quote
In-page navigation
---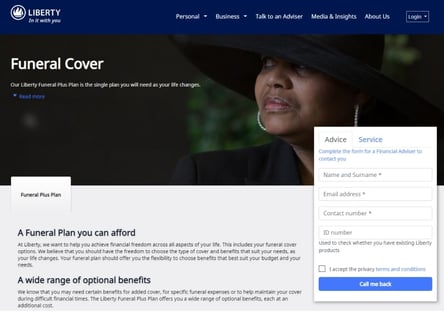 Author Liberty. Screenshot of Liberty website.


[Accessed February 7, 2023]
About Liberty
Liberty has a corporate and ethical responsibility to invest in the future of its members and communities.
They have been providing responsible services throughout the years with the best-practice operational ethics, and a love for what they do.
A Funeral cover provider that values education
They are not just one of the leading investment and insurance companies in the country, but also pay great attention to their influence in education in South Africa. Educating members is an important part of understanding their business, and the opportunities and services that they deliver.
Community development is key
Liberty focuses on projects to assist in communities through organizations with the same objectives in South Africa and Liberty is fully engaged in community upliftment initiatives. Together they build and address various outcomes to increase education and improve processes throughout communities where it is needed.
Funeral cover and more to select from
Liberty's corporate division offers customers a range of risk products in a variety of insurance offers, to provide cover throughout life for personal and business insurance needs. From birth to retirement, and funeral cover in death, they have the policy to cover members from the start.
Liberty Services
Liberty offers members in South Africa a choice of insurance options to meet their budget, and their family size.
Their funeral cover options are aligned to assist members with all the necessary expenses involved in planning a funeral.
Funeral cover that relieves financial pressures
A funeral can work out to be rather costly, which means having funeral cover in place will definitely take the financial stress off one's shoulders.
Liberty life includes the option of a burial plan, which pays towards the burial of a loved one and/or other family members that members wish to cover under the policyholder's premiums. Should one wish to opt for a bigger cover, the comprehensive funeral cover plan may be one's best choice.
Funeral cover for immediate family
This funeral cover option can cover the costs of the funeral for the policyholder, their spouse, and their children. One can also opt for life assurance or insurance to cover members and all their debts.
Funeral cover that covers extended family
Liberty funeral cover in South Africa also offers extended funeral benefits, where policyholders can cover their parents, in-laws, and grandparents. The benefit of their funeral cover policies is that members only pay one premium per month, covering all their beneficiaries under one policy.
Liberty – Funeral Cover
Product

Funeral Cover
Cover your whole family

You can add you spouse, children, parents and extended family to your policy

When will I receive my money

Metropolitan strives to pay out claims within 48 hours of all necessary information received

Value adds

You can add groceries, airtime and transport to your policy
Benefits of Liberty
Invest - Liberty can help you invest your money for the future. They offer offshore investment options, retirement annuities and pension funds. Comprehensive short term insurance for car, home, personal liability and on-the-go which covers handbags, cell phones etc.
Medical Aid - Liberty can help you find the perfect medical aid by submitting your form to their partners
Insurance - Liberty offers a comprehensive list of insurances that you can build into a portfolio. These include critical illness, disability cover, income protection and life protection.
---
Liberty invests in the lives and future of our communities
Liberty invests in the lives and future of its communities.
Members can access their online insurance applications for their funeral cover policy as well as their current insurance policies through their convenient and easy-to-use online platform. South African members can register on the Liberty website and complete the application forms either online through a simple process, or simply call one of the Liberty consultants, to get the process rolling on their funeral cover plan.
Funeral cover consultants ready to assist
Their consultants will assist individuals with all queries when they need to know a little more about what a funeral cover plan can offer. Once individuals become a member of Liberty, they will have instant access to the Liberty portal and a live online platform allowing them to access their policyholder account.
One can keep track of their payments, balances, and policy updates at any time. Liberty also offers a toll-free contact line for when members need to get instant information from their experts.
The best Funeral cover customer care
Liberty takes its customer care very seriously and wants to assist individuals as soon as they have a question, complaint, or query. Their integrated interfaces on their website make all processes for their members convenient and accessible.
With innovative technology allowing one to apply and claim through one platform, members are provided with secure steps at any stage. The privacy of members is always protected, and confidentiality is a key focus.
Online calculator for Funeral cover premiums
Liberty's handy tools and calculators online allow one to work out how much their funeral cover premiums will add up to be each month, depending on whichever funeral cover plan they choose. Liberty doesn't require any medicals or blood tests for applicants and one can submit their identity documents to a consultant on request.
Funeral cover that offers legal advice
Liberty offers over and above services with their funeral cover plans, with a helpful will and legal assistance helpline which often works for hand in hand with this option of cover. Their funeral cover in South Africa includes transport up to R7500 for families who live further than 50km away from where the funeral will take place as well as a discount on tombstones at selected funeral homes.
Funeral cover with value-added services
One can even get an airtime voucher, to help coordinate the funeral arrangements via phone, and Liberty assists with the catering through grocery vouchers as well as electricity vouchers. They give funeral cover members value, through their complete range of funeral cover and life insurance options.
Customer Reviews & Testimonials
"
September 2021
Great customer service and supportive funeral cover consultants are available whenever needed.
Claire Y
— Menlyn —
November 2021
Thank you, Liberty, for providing myself and my family with the best funeral cover in South Africa that has provided me with peace of mind.
Vuyani P
— Lyttelton —
October 2021
Extensive funeral cover that covers all areas of importance and more.
Martin F
— Montana —
Liberty Contact
Contact Number
E-Mail
Website
Physical Address
5th Floor, Menlyn Corner, 87 Frikkie De Beer St, Menlyn,

Pretoria

Gauteng

0181

South Africa
Opening Hours
Monday

08:00 – 16:30

Tuesday

08:00 – 16:30

Wednesday

08:00 – 16:30

Thursday

08:00 – 16:30

Friday

08:00 – 16:30

Saturday

– Closed

Sunday

– Closed