Family funeral cover
Quick online application
Affordable premiums
In-page navigation
---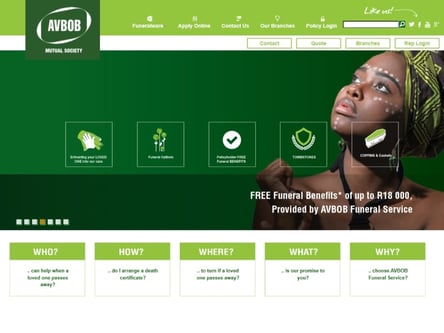 Author AVBOB. Screenshot of AVBOB website.


[Accessed February 7, 2023]
About AVBOB
The AVBOB Group includes three main areas such as insurance, funeral services, and industries.
As South Africa's first choice for an all-in-one funeral cover solution, they provide members with all they need to get covered and insured for when they need the services of a specialized provider.
One Funeral cover policy for the whole family
AVBOB has been providing funeral cover and life insurance to its members since 1918 and has evolved with the times of today's lifestyles and today's economy. They offer affordable deals for members wanting to cover themselves and their families under one policy.
Funeral cover in South Africa
Their firm covers over 160 funeral agencies and has just less than 100 offices throughout South Africa. They offer availability to a diverse spectrum of members, with any budgetary need, to ensure that they can cover everyone needing funeral cover.
Funeral cover with service excellence
Death is not a subject that anyone likes to think about, however, it is a reality, and how one copes with it is different in every home.
AVBOB shows excellence in its services from the very beginning when applying for cover or getting an insurance quote online, right through to the very end. They will stand by each member's side and assist them in dealing with what could be the worst situation.
AVBOB Services
AVBOB was founded in 1918 as a small funeral business and has evolved into a countrywide funeral cover firm, covering all aspects of a funeral and funeral cover.
AVBOB insurance covers individuals and their families through a range of affordable coverage options.
The best Funeral cover in South Africa
AVBOB will assist with the organizing of a funeral, from catering right through to the tombstone. They have a team of professional staff who know just how to ensure this emotional time is less stressful for members.
They also offer a rewards program for their members, in the form of a cashback lifestyle option. This option is for a single life cover at a rate affordable to everyone.
Funeral cover to suit all needs
AVBOB creates its policies in line with every budget, allowing its members to choose which option is most affordable to their budget, and to their family's needs.
Additional benefits of Funeral cover
Their policies also have options such as free funeral and transportation offers incorporated into the insurance cover, as well as an upfront cash payout of R1000 to cover any immediate costs.
AVBOB – Funeral Cover
Product

Funeral Cover
Apply and buy online

AVBOB allows you to fill in the form and receive a quote online. You can also apply for a policy online. Cut out the red tape and paperwork.

Arrange a Funeral Online

AVBOB allows you to arrange your funeral online. They have various options for you to choose from and tailor make the day.
Benefits of AVBOB
Your policy - You can view your policy online on the AVBOB website at any time. Log in to your self service option and read and manage your policy.
Cash back - You can add a cash back option to your policy. After 5 claim free years you will receive a years worth of premiums back. You could also qualify for free funeral benefits when AVBOB conducts the funeral service.
Funeral ware - you can view options for caskets and tombstones all online.
---
Your trusted funeral partner from beginning to end
AVBOB are no newcomers to the funeral and funeral cover insurance world.
Their name stands out in the crowd, as one of the most reliable and most affordable funeral cover in South Africa. They can configure a funeral cover policy in line with each member's needs and budget and will assist with the financial and emotional support to guide and assist members through this difficult time.
Funeral cover that stands out
AVBOB provides continuous training to their staff to ensure they are always updated with new and better versions of their products and services as they come along, to keep their members updated with the best possible funeral cover offers in the market.
With AVBOB, members not only get a funeral cover they can depend on but also a list of benefits and features that make their funeral cover stand out.
AVBOB Funeral cover benefits
In the event of death, the insured member's insurance policy will be paid up in full and still carry over for the remaining beneficiaries over the term of their lives.
One can add a spouse to their cover and pay the premiums under one policy.
One can add their children (unlimited number of children) to their one policy.
AVBOB allows clients to add extended family members such as parents, grandparents, and in-laws to their one policy to a maximum of 6 people.
In the event of a policyholder dying in an accident, AVBOB will pay the beneficiary to double the amount insured.
They offer a savings plan option at an extra fee to allow for a larger lump sum payout in the event of the policyholder's death. This can be used to cover debts and loans or whatever one chooses to use it for.
There is no waiting period applicable for natural or accidental death cover.
Get a Funeral cover quote today
To get a funeral cover quote online, simply contact AVBOB online and click on the quote tab. From there, one of the experienced consultants will call back and discuss the options.
Alternatively, one can also visit any AVBOB branch as they have locations throughout the country, or call the toll-free landline at 0861 AVBOB (0861 282621), to get a funeral cover quote.
Customer Reviews & Testimonials
"
September 2021
Great customer service and extensive coverage with AVBOB funeral cover in South Africa.
Lucas V
— Reitfontein —
November 2021
Thank you for the easy online funeral cover quote option. AVBOB made it a simple process to get the best funeral cover.
Vusisizwe I
— Waltloo —
November 2021
So happy to have myself and my family covered with AVBOB funeral cover. Such an affordable cover option.
Tarryn D
— Gezina —
AVBOB Contact
Contact Number
E-Mail
Website
Physical Address
359 Lynnwood Rd, Menlo Park

Pretoria

Gauteng

0081

South Africa
---
Postal Address
PO Box 1661, Pretoria, 0001, South Africa
Opening Hours
Monday

08:00 – 16:30

Tuesday

08:00 – 16:30

Wednesday

08:00 – 16:30

Thursday

08:00 – 16:30

Friday

08:00 – 13:30

Saturday

08:30 – 12:00

Sunday

– Closed