Funeral cover from R70p/m
Get an online quote
Quick claims process
In-page navigation
---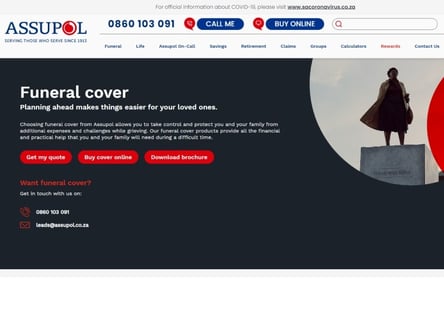 Author Assupol. Screenshot of Assupol website.


[Accessed February 7, 2023]
About Assupol
Assupol Life has over a hundred years of experience in the industry of investing in lives.
They are an authorized financial services company that has a wide variety of insurance options for clients needing cover throughout their lives.
Funeral cover with large market share
They already provide services over the entire country and makeup over 76% market share in the government space. They know what members need, and they give it to them, with beneficial outcomes, fast pay-outs, and lucrative returns on all that they invest in.
A passionate Funeral cover team
They are proud of their team who are extremely knowledgeable about the insurance and financial industry as well as their passion for their life insurance and funeral cover products and how they serve their customers.
Quality processes are in place through every step of their service, to ensure nothing slips through the gaps, and that clients receive 100% of excellence in their partnership with Assupol.
Funeral cover that provides solutions
Assupol helps members with a custom-suited funeral cover solution within the price range appropriate for the mid-market client. With a client base of thousands of happy customers, Assupol keeps progressing in their service delivery, as well as the products they develop.
Assupol Services
A funeral cover from Assupol can save one an enormous amount of time, money, and stress when it is needed. They make it a priority to provide financial cover for clients looking to plan ahead.
Offers financial security and stability
Anyone thinking of their future and the future of their family will agree that having the right insurance in place for every aspect of one's life, will be beneficial long term. This includes everything from car insurance, medical aid, funeral cover, and more. At Assupol, they have the means and the financial stability to provide this to their members.
Easily accessible Funeral cover in South Africa
Their funeral cover is easily obtainable and pays members within 48 hours. Their Family Funeral Plan covers policyholders, their spouses, and children, which means that with only one minimal monthly premium, the whole family can get the benefits of funeral cover when the time comes.
Cover starting from R70 a month
Members will be saving thousands in Rands, as well as not having the financial stress during this time of grieving, as Assupol can afford to cover one's entire family with funeral cover starting from as little as R70 per month.
That's a small price to pay for the benefits one will receive, considering the costs involved in planning and paying for a funeral.
Assupol – Funeral Cover
Product

Funeral Cover
Options to buy your funeral cover

Assupol gives you several options to buy your funeral cover. You can buy the cover over the phone, online or face-to-face

Pensioner Plan

Assupol gives the opportunity to senior citizens to get cover with their Cornerstone Pensioner Plan
Benefits of Assupol
Group Schemes - Assupol provides the opportunity for small business owners to cover their employees with competitive rates for group funeral plans.
Life insurance - Assupol offers an easy to use table which compares their life insurance options. You can choose which cover and price suits you best and buy online.
Retirement - they also have four different retirement solutions available for you to choose from.
---
Assupol private the funeral insurance that adds value to your life.
Assupol is the insurance expert in South Africa, and when it comes to funeral cover, they stand out in the industry.
Assupol is continuously growing and adapting to the change of the economy and their clients never get mediocre services.
Assupol provide proactive Funeral cover
With service excellence, fast pay-out times, and a valuable solution to funeral cover needs through Assupol, they can help individuals today to prepare for the future. One never knows how long they have and life can be very unpredictable. Assupol helps to take the proactive route and get covered for the future today with the best funeral cover in South Africa.
Funeral cover in South Africa made easy
Assupol provides funeral cover and life insurance cover for everyone, no matter what their family size. Their funeral cover plans cover members in the event of death and critical illness or dread disease. Getting funeral cover has never been easier or more affordable than it is with Assupol.
Funeral cover with a difference
They offer clients the benefits of a funeral cover that offers more choice. Disability, critical illness cover, investment withdrawals, or dread-disease claims are all covered in their policy options and are accessible by simply calling 012 366 3700, and an expert will be ready to assist.
Funeral cover quotes and claims online
In the event that a funeral cover member or their spouse dies, claiming is as simple as faxing a completed claim form to Assupol. Claim forms and online funeral cover quotes are available on their website to download, print or use. Everything one needs to claim is on hand, and within a short span of time, one's funeral cover lump sum payout will be paid out, to allow for the proceedings of the funeral arrangements to take place.
Funeral cover for the whole family
Family funeral cover includes the ability to cover one's spouse and children under one cover and one premium per month. Assupol's premiums for family cover range from as little as R70 a month and can be deducted from one's bank account each month through a convenient debit order.
Funeral cover consultants ready to help
They have a team of experienced consultants on the other end of a toll-free line available at any time to answer any questions and offer their knowledge to advise individuals on which funeral cover options would suit their needs best.
Customer Reviews & Testimonials
"
October 2021
Thank you Assupol for an easy funeral cover application process, as well as an affordable monthly premium.
Xoliswa H
— Midrand —
October 2021
Great service from funeral cover consultants that reassured me why a funeral cover policy is so important.
Simone T
— Pretoria —
August 2021
I am so happy to have myself and my family covered with Assupol's funeral cover in South Africa. They have provided me with the financial security and peace of mind that I needed.
William G
— Sandton —
Assupol Contact
Contact Number
E-Mail
Website
Physical Address
381 Ontdekkers Rd, Florida Park,

Roodepoort

Gauteng

1709

South Africa
Opening Hours
Monday

07:30 – 16:00

Tuesday

07:30 – 16:00

Wednesday

07:30 – 16:00

Thursday

07:30 – 16:00

Friday

07:30 – 16:00

Saturday

08:00 – 13:00

Sunday

– Closed