R100 000 funeral cover
Low premiums
Easy online application
In-page navigation
---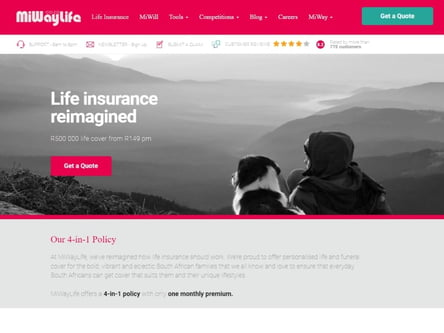 Author MiWay. Screenshot of MiWay website.


[Accessed February 7, 2023]
About MiWay
MiWayLife is a division of Sanlam, one of South Africa's most loved insurance providers, and specifically offers life insurance to South Africans.
Their life cover is unique in that it allows you to combine various products into one package with the aim of helping you save while also making your finances a little easier to manage.
Backed by Sanlam
When it comes to insurance quotes, it's good to know that you're being taken care of by a financial service provider who you can rely on. Backed by Sanlam, one of the country's largest insurers, MiWayLife is a company that you can rely on to serve you and your family without a hiccup for years to come.
Despite this backing, MiWayLife is managed as a completely separate entity and you can enjoy their unique identity which is that of a company that pays attention to detail and personalized service.
More about Sanlam
Since MiWayLife is a division of Sanlam, it makes sense to get to know a little bit more about their company. Salam is one of South Africa's leading financial services providers with more than 100 years of experience.
Sanlam is a leader in the insurance market as well as the financial planning and wealth management sphere. They strive to deliver innovative products and services to individuals and corporations that also hold on to tried-and-tested methods.
More about MiWay
MiWay is also a division of Sanlam and provides a range of insurance products and services including car, home, and business insurance. They're currently one of the country's most loved insurers, and just like MiWayLife, they strive to do things a little differently.
Part of their strategy is to offer South Africans products that are simple and affordable. To ensure simplicity they've refined their fine print so that it's simple to understand and easy to remember.
MiWay Services
MiWayLife does not have a separate funeral policy but offers accelerated funeral benefits and family funeral cover to all those who have a life insurance policy with them.
Accelerated Funeral benefits
Accelerated funeral benefits offer your beneficiaries access to quick cash to cover the costs of a funeral or memorial. This allows them to get by financially and take care of all the necessary funeral expenses while waiting for your life cover to payout.
This payment will be made within 48 hours and will pay out up to 10% of your life cover amount with a cap of R50,000. They also allow you to add funeral cover for your family members to your policy.
MiWayLife's 4-in-1 Life insurance product
MiWayLife has decided to go about life insurance a little differently and offer a life insurance product that acts as a comprehensive life insurance policy but also offers accelerated funeral cover (discussed above), terminal illness cover, and funeral cover for your family members.
Funeral cover for your loved ones
MiWayLife's 4-in-1 policy allows you to add funeral cover for your spouse, 4 parents, up to 8 biological or stepchildren, and 8 extended family members.
Get your will written for free
Writing a will is an important part of your financial plan because it will determine how your assets and liabilities are handled if you pass away. MiWayLife offers clients a free-will writing service – just another way that they strive to support you and ensure you have a solid financial plan behind you.
As mentioned MiWayLife does not offer standalone funeral cover but they're a division of Sanlam – and they do. Sanlam's funeral cover offers up to R100,000 cover, a quick and easy payout that can happen within 4 hours, and affordable premiums.
MiWay – Funeral Cover
Product

Funeral Cover
Value added funeral cover

Funeral cover from MiWay is part of their comprehensive 4-in-1 life insurance policy. You can get comprehensive life insurance cover from as little as R149 a month
Benefits of MiWay
Home Contents Insurance - you can get home contents insurance with affordable premiums and flat rate excess. If you apply online you also stand in line to receive one month's premium paid back.
Car insurance that will suit your budget where you can submit your claim online
---
Get a live MiWayLife quote online in seconds.
The quickest and simplest way to get a quote is to visit MiWayLife's website and use their online insurance quote system.
If you're happy with the quote provided you can also buy the funeral cover online after finding out more information and details.
Qualify for Life cover
You need to have a South African ID book, be over the age of 18, and be residing in South Africa to be able to apply for life insurance and all the extra products that MiWayLife can throw in.
When you apply, your cover amount and your premiums will be based on your individual risk and financial profile. The higher the cover amount required and the more additional products you need, the higher your premiums will be.
When taking out life cover you can speak to one of MiWayLife's agents who will answer any of your questions and help you decide what the right level of cover will be. They can also help you understand your policy schedule and give you great tips and advice.
Add and remove family members from the Funeral plan
You can contact MiWayLife at any time to add or remove family members from the best funeral cover attached to your life insurance policy. Remember to carefully review the terms and conditions as well as the cover amount available for each family member.
While your spouse may enjoy similar coverage to you, your parents, children, and extended family members will have different maximum cover amounts. This is why it's important that you review your policy schedule carefully and make sure you get the right amount of cover for yourself and all of your family members.
Check out MiWayLife's blog
From great interviews with star athletes to advice on health and fitness, the MiWayLife blog is certainly worth a regular visit.
Customer Reviews & Testimonials
"
August 2021
Is it just me or is Miway the way to go. They cover my whole family at affordable prices and i had no hassles claiming when my brother passed they have a decent way of dealing with their clients.
Olumiyo J
— Boksburg —
October 2020
I'm definitely convincing my parents to switch funeral cover , they have been pay way to much for years time for Miway's affordable cover!
Miska M
— Johannesburg —
MiWay Contact
Contact Number
E-Mail
Website
Physical Address
2nd Floor, Hill On Empire, Parktown

Johannesburg

Gauteng

2193

South Africa
---
Postal Address
PO BOX address Postnet suite 409 Private Bag X30500 Houghton , Johannesburg, 2041, South Africa