HIV life insurance for all
No waiting period
Get an online quote
In-page navigation
---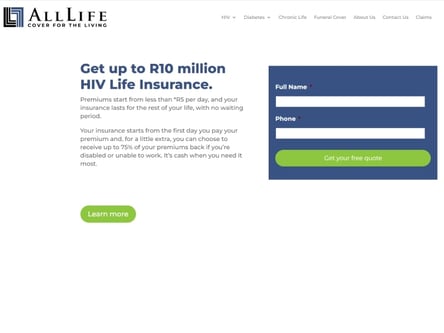 Author ALL LIFE Insurance. Screenshot of ALL LIFE Insurance website.


[Accessed February 7, 2023]
About ALL LIFE Insurance
All Life Insurance in South Africa just stepped it up, with an innovative approach to help clients living with HIV improve their lives. Where other firms turn clients down because of their HIV status, All Life will assist.
More than just HIV Life Insurance
They offer affordable HIV life insurance solutions and services with many choices for clients to choose from. By keeping their HIV-positive clients updated on their health regimes, they offer a quality of life for them as well as insurance cover.
Their HIV life insurance is unique
With the experience and the passion for helping people, they insure clients who are often labelled as uninsurable. They are not new to the industry. Their firm was established in 2004 with the aim and mission to provide a service to clients which offered over and above insurance cover. All Life has successfully implemented this solution to their clients with committed staff on their team, and innovative processes.
Dedicated to high-quality HIV life insurance
Since opening their doors, they have assisted thousands of clients in a better quality of life. Guiding them through the road they journey along and assisting with health and insurance solutions that are specifically designed for them. Pay-outs of millions in insurance cover to families which have relied on their services have been overseen by them.
ALL LIFE Insurance Services
All Life Insurance offers Life Insurance for HIV clients, as a world-class leader of insurance providers in South Africa.
All Life Insurance is proud to be a trailblazer in the insurance industry. The first in the market to assist HIV clients with a cover to help them live a better life, and still have cover in place to help them and their families financially.
Affordable HIV life insurance cover
You can enjoy affordable cover with them from as little as R130 per month and access cover up to an amount of R10 million. Not only do they offer life insurance to cover you in the event of your death but offer a disability cover should you be too ill to work and earn a salary to support your family.
No waiting periods
Another benefit of their life cover is that there are no waiting periods, they cover you from day one. Having an illness that is destined to bring you to the end of your life, can be very traumatizing. Preparing for the end is a wise choice, especially when you have a family to consider.
A large death benefit pay-out
With one of the largest death-benefit pay-outs, All Life's HIV life cover can bring financial relief to your family. Application for life or disability cover is immediate, with no paperwork, no small print, and no hidden agenda. They truly do care about your well-being and that of your family.
ALL LIFE Insurance – HIV Life Insurance
Product

HIV Life Insurance
Are You Living With HIV

At all life they don't discriminate against you if you have tested positive for HIV. They understand its hard to deal with so they have designed HIV life insurance. There is no need to stress about who will cover you because they will take care of everything you need.

Their Team Is Ready For You

At All Life if you are covered by them with HIV life insurance you can be assured that they will always have a team ready to assist you and take care of what you need. Their staff care about your health.

Knowledge Is True Power

They don't only provide you with life cover they also make sure to provide you with the necessary information and tips on how to live a full healthy life with HIV.
Benefits of ALL LIFE Insurance
It Can Get Hard - Finding out you have HIV can be hard pill to swallow but the pills you have to swallow gets even harder and more bitter. But this is not a time to get down in the dumps. All you need is a good support system and All life have been working for years on their support system to assist you through your journey from day one they will be there making it a little easier for you day by day.
Preparing Is Always Good - Living with HIV can be heavy on a person especially mentally and not only for you but also your family. Preparing for what's bound to come is the only way to put your mind at ease. The staff at All net is trained in helping you prepare for the future and your family's future.
No Time To Wait - They understand that with HIV your life can change in an instant and also they understand that with HIV you never know when your time might come. Some live a long life some don't so that is why their HIV premium is effective from the first day you start paying. There is no waiting period for you that you have to wait out before you can claim.
---
All Life Insurance covers clients living with HIV
All Life in South Africa is about investing financially in their clients' lives. They provide services and product options that are in line with the specification of specific needs, age, family size, and budget.
Offering you a way forward with HIV Life Insurance
Their ability to service clients with the products they need is something that they value. When it comes to life assurance, their clients need an investment that covers their future from the very beginning; with an outcome at the end that is profitable and worth it.
All Life Assurance gives South Africans a strategy to invest in their future. They provide South Africans with customized products that fit their lifestyles and budget. They will take all your factors into consideration to provide something that works for you.
Their online platform for HIV life insurance
To get an insurance quote, clients can make use of their online platform. Enjoy getting a convenient online HIV life insurance quote. You can complete your details in the areas provided and send them directly to All Life by clicking submit. Thereafter an experienced consultant will provide you with a quote according to your needs.
They value your opinion
Your comments and your suggestions are of great value to them. They encourage clients to let them know what they think of their service, and where they need to improve. Everyone has a different lifestyle, a different need and so they take this into account when designing the perfect cover that suits you best.
Quick and easy HIV life insurance approval
By making their processes easy through online platforms, you can get your policy quickly and safely. They do also have experts in the background, with a team of insurance and assurance experts on hand. You can contact them at any time if you need assistance.
Due to years of providing clients with their life assurance needs, they understand the industry very well. They are approachable and happy to assist you with whatever you need to ensure you are satisfied with the cover you receive.
The 3 main categories aligned with HIV life insurance products
Whole Life Insurance
Loan Protection Insurance
Term Insurance
Customer Reviews & Testimonials
"
August 2021
With All Life, I was able to apply for good life insurance, despite my HIV status being positive. They not once made me feel judged or criticized.
Nofomele. K
— Johannesburg —
October 2021
All Life proved to me that with them All lives matter. They supported my endeavours of ensuring that my family is safe and taken care of, should I pass away.
Kirsty-Leigh. P
— Pretoria —
November 2021
I walked into All Life the day after I found out I was HIV positive, with a heavy mood. Every other insurance company I went to prior to All Life told me that I was a high-risk client, but All Li...
Adrian. B
— Johannesburg —
ALL LIFE Insurance Contact
Contact Number
E-Mail
Website
Physical Address
25 Ameshoff St, Braamfontein,

Johannesburg

Gauteng

2017

South Africa
---
Postal Address
PO Box 787159, Sandton, 2196, South Africa
Opening Hours
Monday

08:00 – 17:00

Tuesday

08:00 – 17:00

Wednesday

08:00 – 17:00

Thursday

08:00 – 17:00

Friday

08:00 – 17:00

Saturday

08:00 – 13:00

Sunday

– Closed