Unbeatable insurance quotes
Affordable premiums
Quick claims process
In-page navigation
---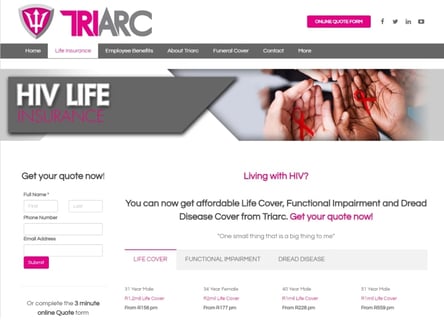 Author Triarc. Screenshot of Triarc website.


[Accessed February 8, 2023]
About Triarc
Triarc established an organization in South Africa, with the best intentions to provide a product that would meet the needs of every customer.
As a diversified financial services company, they have revolutionized the life insurance industry for clients of every calibre by including those living with HIV.
They've come out on top with HIV life insurance
With a constant evolution of services and products available to all clients, they have come out on top in the insurance industry. They have done so by providing an end-to-end solution from financial protection to life and death cover.
Growing and evolving HIV life insurance
They believe in developing from what they know and what they have learned during their years in the financial industry. They have done this by moving forward with new ideas from the feedback they receive from clients and coming up with new and unique ways to provide the solutions their clients want.
Aggressively pursuing equality for all
Their footprint covers all main districts in South Africa allowing them to be actively involved in the lives of those they offer HIV life insurance cover. They can provide a financial safety net for you and your family with the long-term picture in mind. Triarc takes an aggressive approach to define the equal rights of all people living in the country, having the right to get cover no matter what their status.
Triarc Services
Triarc takes life assurance and insurance to the next level, without the discrimination of health status, and without the traumatic declining of life insurance cover to clients needing financial support.
Clients across South Africa can depend on Triarc to provide a life cover that will ensure your family is well looked after in the event of your terminal illness or death.
Thousands of happy clients
With five years in the business of life insurance, they have already built up a clientele list a mile long. This is with thousands of clients referring the Triarc name to family and friends. It's not just their service excellence, it's not just their passion for people, it's the fact that they will support you till the end and after.
They understand the difficulties in getting your life covered should you have a dreaded disease or HIV. That is why they offer HIV life insurance for functional impairment, dread disease, and death. Their repayment terms are affordable and their pay-outs are very competitive.
Their clients get lump-sum payments in the event of their death or on the diagnosis of a dread disease. This will help you financially when you are at the point of being unable to provide a regular income to support your family.
Triarc – HIV Life Insurance
Product

HIV Life Insurance
Surprises Can Be Good

When You Live With HIV, life can be full of worries especially if you have children you don't know what the future hold for them when you no longer there. But with HIV life insurance you can leave them a little surprise for when start the adult life maybe a head start in life.

It Helps A Lot

If you fall ill or end up with a dread disease they pay you out to help you pay your debts and if it comes that you pass away the rest of the cover will be paid out and your family won't be effected by any loans or debt you have.

When The End Is Near

You have a very unpredictable life when living with HIV a lot of hard things come on to your path and when you know that your time can run out anytime it is nice to know that with your HIV life insurance you also get additional funeral cover that pays out within 48 hours when you claim.
Benefits of Triarc
Benefit Growth - Benefit growth allows you to select the option to annually increase your benefits as you grow and life gets more expensive. Nothing stays the same and sometime we need more so we allow you to choose to get more, and you can always option out if you no longer need the benefit growth on your premium.
Leave It To Your Business - If you are in partnership in business and you are insured with life insurance you can let a portion of the money that pays out after you pass away go to your business so that your business still can go on without you and in that way you can provide a monthly income to your family still.
Premium Pattern - This allows you to choose to pay cheaper on your premium in the first couple of years and then you can let it increase annually by a fixed percentage. They let you decide when you are ready for more they know life can be tough when you busy building a life so they give you a chance to find your feet first.
They Don't Take Ages To Pay Out - When you put in your claim you don't have to wait years to get your money, with their easy claim process they get your claim processed and approved in no time.
---
Triarc, South Africa's number one life insurance provider
Triarc offers more than your average life insurance options.
They know that people live in a diverse country, with specific needs. Most insurance companies require clients to take multiple medical tests and show a clean bill of health to be approved for life cover.
HIV life insurance cover for all
Triarc provides life insurance for everyone, even clients living with HIV. This is a unique feature in the industry. They believe everyone deserves equal opportunities and services, including that of HIV life insurance cover.
With their underwriters, Guardrisk, backing their values and philosophies, they know that they can provide the support you need to ensure your financial planning is in order.
Triarc cares about you and your loved ones
Contact them today for an insurance quote and get covered. To get the insurance cover you need to cover yourself for life; clients can contact them directly through their email address or by simply phoning them. They will get back to you immediately to discuss your life insurance application and get you covered in fast turnaround times.
Offering you the HIV life insurance cover you need
You can rely on them to give you the cover you need to keep you and your family financially secure in the event of your death. Their HIV life insurance cover includes funeral options that are paid out in 4 hours of your received claim, to help your family with the payment of funeral arrangements and all the costs involved in organizing a dignified funeral.
HIV life insurance makes claiming a simple process
They know that during this time your family doesn't need the added stress of paperwork, lengthy questions, and time-consuming processes. You can complete the claim form on their website, attach the death certificate and necessary documentation. They will then process the life insurance claim immediately, to ensure the lump sum pay outreaches you fast.
Other insurance products
They also provide clients with the dreaded disease and long-term care insurance and disability cover with a pay-out of a portion of your life cover. This is to help you financially until you pass away.
Having to be diagnosed with dread disease or disability could prevent you from working again. This could hinder you from earning an income, so this little portion of the cover will be a lifesaver during this time.
Customer Reviews & Testimonials
"
March 2021
The online claims process has made it so much easier to submit my claim. I did not have to go through the hassle of seeing them in person.
Jabulani R
— Cape Town —
September 2021
They were so quick to contact me back so that I can apply for HIV life insurance cover.
Rorisang S
— Cape Town —
September 2021
With this cover during my time in hospital, I was still able to take care of my family.
Kevin M
— Cape Town —
Triarc Contact
Contact Number
E-Mail
Website
Physical Address
Unit 329 Mayfair, Century Avenue, Century City,

Cape Town

Western Cape

7441

South Africa
Opening Hours
Monday

08:00 – 17:00

Tuesday

08:00 – 17:00

Wednesday

08:00 – 17:00

Thursday

08:00 – 17:00

Friday

08:00 – 17:00

Saturday

08:00 – 13:00

Sunday

– Closed