Online insurance inquiry
No waiting period
No medical exams
In-page navigation
---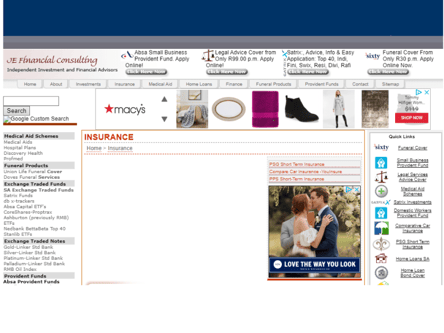 Author JE Financial Consulting. Screenshot of JE Financial Consulting website.


[Accessed February 7, 2023]
About JE Financial Consulting
JE Financial Consulting has over three decades of experience in helping clients invest in their futures.
With life insurance options that will have you spoilt for choice, as well as life cover for those living with HIV.
A strong HIV life insurance infrastructure
With their local expertise, you will be further supported by a strong national infrastructure and their commitment to best practices at every level. In addition to providing a comprehensive service, they will help you identify additional value-added services and savings opportunities, whilst ensuring a high-quality service to you and your family.
Dynamic and sustainable HIV life insurance
JE Financial Consulting is proud to be providing a dynamic and sustainable solution for all South African clients, needing support, through a reputable firm that cares about the wellbeing of their clients.
They are sincere in their commitment to working as a life partner to their clients and look forward to having further discussions around their HIV life insurance services and related products.
JE Financial Consulting delivers:
A commitment to service excellence.
A strong culture of passion for sustainability.
A passion for innovation.
JE Financial Consulting Services
JE Financial Consulting offers clients in South Africa a wide choice of life assurance and insurance options.
They work with you to establish and achieve realistic goals while continuously looking for ways to improve their service delivery. Simultaneously, they offer their clients the best life cover solution, suitable for their needs.
They offer HIV life insurance clients benefits
Lowest premiums - affordable options.
A well-established company - experienced staff.
No invasive medicals – they cover clients with HIV.
Fast pay-outs – no waiting periods.
Disability cover – funeral cover.
Cover from just R24 per month.
Clients can benefit from life cover from as little as R24 per month which is affordable to any budget. Making the choice to get covered now, will increase the financial support they will get later down the line.
Increase your HIV life insurance cover
Should you wish to increase your HIV insurance cover, they have alternative options between R44 upwards, which entitles the main member to cover your spouse and children as well as being prepared for any life event that can impact the lives of your family long term.
JE Financial Consulting – HIV Life Insurance
Product

HIV Life Insurance
They Cover It All

JE Consultants get the best quotes for you that there is available. They look at what you need then they source their partners premiums and find the one for you.

They Help You Save

They don't just offer their clients the best premiums for their needs but also they look at your budget and they get the prices that will fit into your budget they won't give you anything you can't afford.
Benefits of JE Financial Consulting
Do You Want to Take Care Of The Future Now - JE Consultants don't offer just the best HIV life insurance to you they also get you the best deals in funeral, car and home insurance they strive to get you the full cover that you need and that would take care of your future.
Get Access Now - With their easy online apply system it is really as simple as 1 2 3 and you are covered. No waiting in line or filling out stacks of paper anymore, you get it all from the comfort of your home.
No More Medicals Needed - They don't ask you to go do medical exams and all that time consuming things. They cover anyone even if you are living with HIV.
---
JE Financial Consulting - Positive life insurance cover
JE Financial Consulting knows that every client is different.
Their life cover solutions are designed to work with your uniqueness as an individual, using their experience and ethical practice at the forefront of their service delivery. They will work with you to identify real-life cover options, while sharing and addressing any challenges, together. Life insurance is no longer a dreaded task as they have made it easy to obtain, and easy to afford.
Financial support when it matters most
No one should be left without any financial support in the event of a family member's death. One reason that clients get life insurance cover is for the financial protection of their family's future.
If you are the breadwinner in the family, you know how much your family depends on you financially to get by. Often, they are unaware of how much they provide, such as the payment on your home, car, schooling, and those credit card bills every month.
HIV life insurance has your back
How would your family keep the roof over their heads, and still afford to live without the financial assistance of your income? They offer their clients two kinds of insurance options. They have a term life insurance that gives their clients cover over a specific period.
The pay-out will be determined when you reach a certain time frame, or upon death and is a more affordable option, and pays out less than a life insurance cover.
Long term HIV life insurance
They also offer long-term life insurance, which pays out in the event of your death, you will keep paying your premiums until this day. This will pay a larger lump sum to your beneficiary, to cover those debts that have accumulated over the years.
What makes their life cover options so unique is that they offer cover to clients living with HIV. Get HIV life cover today and carry on living the life you have without worrying about your finances in the future.
Costs included with their HIV life insurance
The cost of their coverage options is determined by a number of factors. This includes your age, your family size, and how many people you wish to cover. It will also include the benefits you would like to add to your policy and what you are willing and able to pay per month.
Customer Reviews & Testimonials
"
June 2021
I felt my world crumbling when I found out I have HIV. The Life Insurance I had, dropped me because I was viewed as a high-risk client.
Tristan. R
— Pretoria —
September 2021
I am a family member of one of JE Financial Consulting clients, when she passed away due to HIV we were looked after and covered by the HIV Life Insurance that she took out. This is a great cover...
Temba. W
— Johannesburg —
October 2021
I am so grateful for this company, that went the extra mile for me. I was worried about what would happen to my family when I pass on, but now I can go in peace because I know I have made provisi...
Emily, O
— Pretoria —
JE Financial Consulting Contact
Contact Number
E-Mail
Website
Physical Address
1394 Walter Ave, Waverley,

Pretoria

Gauteng

0186

South Africa
Opening Hours
Monday

08:00 – 17:00

Tuesday

08:00 – 17:00

Wednesday

08:00 – 17:00

Thursday

08:00 – 17:00

Friday

08:00 – 17:00

Saturday

– Closed

Sunday

– Closed