Long-term insurance solutions
Get an online quote
Discounted premiums
In-page navigation
---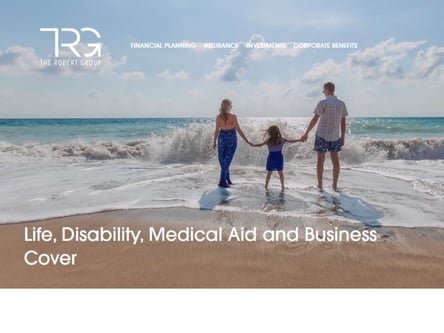 Author The Robert Group. Screenshot of The Robert Group website.


[Accessed February 7, 2023]
About The Robert Group
The Robert Group in South Africa offers affordable HIV life insurance options for clients from all financial backgrounds.
They have over 30 years of experience in the insurance industry and have a long line of happy clients to whom they have delivered a beneficial insurance option.
Investing in your future with reliable insurance
They invest in the lives of their clients not only for the present but for the future. As they don't know what the future holds for their clients financially at the end of the day. So they provide clients with a sense of security by planning for unforeseen situations. Having a plan in place for when that time arrives will save your family a lot of emotional stress.
HIV life insurance that's all about thinking ahead
Being able to survive financially after the parting of a breadwinner in the family is a huge adjustment. At The Robert Group, they think ahead especially for times like these. That is why the HIV life insurance they provide should be your ideal choice.
They offer HIV life insurance cover as well as dreaded illness cover alongside support for clients living with HIV. This will assist you and your family financially when you can no longer support them.
The Robert Group Services
The Robert Group is an individual broker firm in South Africa, with the best intentions for long-term financial stability for their clients.
They offer a wide range of insurance products for every stage of your life, including disability, dreaded disease, death, and funeral cover.
Secure your family's financial future
Obtaining HIV life insurance is a choice you make when you want to secure the finances of your spouse and children in the event that you pass away. An individual broker can offer the best premiums to their clients. This will ensure that you get the best products and insurance options with the most beneficial value-added services.
It is never too late to get the best insurance
With life not giving people a guaranteed timeline, it's never too soon to invest in the life of one's future. By starting today, you will be able to provide a healthy lump sum so that your family can be supported in the event of your sudden death. If you are living with HIV and become ill along the way, they will provide a pay-out for dread disease. This is to support you and your family while you can't.
The Robert Group – HIV Life Insurance
Product

HIV Life Insurance
They Cover You With HIV

With their HIV life insurance if you fall sick or end up with a dread disease and can no longer support yourself, they pay out for any dread diseases to make sure you can cope in this time.

Taking Care Of Your Loved Ones

If you are living with HIV its best to get insured and make sure that your family is taken care of for when you pass away and no longer there to take care.

We Have A Plan For You

For over 30 years they have perfecting our premiums so that it can suite everyone's special needs and they cater to anything that you need insured. They keep their promises and give you the best service.
Benefits of The Robert Group
They've Got Options - They offer you a variety of insurances for your needs. They have life cover, business cover, medical insurance, long term or short term insurance and so so much more. They have it all in one place and there is no other company that will be able to match up to their standards and prices they are truly unbeatable when it comes to their services.
What Happens After You Have retired? - As a business owner do you ever think of how hard your employees work for you, you and your family to live a comfortable life. Do you ever think about them after they retire? Did you make sure they are taken care of like you are taken care of? They offer pension funds that will make sure they live a worry free life when retirement come.
Worked Hard With Blood, Sweat And Tears For What You Have? - They are here and eager to help you protect your wealth. With great advise from experts, strategies, and access to update your protection plan as you grow.
---
The Robert Group understand your needs
The Robert Group provides insurance to clients no matter their status or health situation.
They are well known in the insurance industry, as the brand to sign with, when clients need compassion and empathy, from an insurance provider that cares.
Experience in The HIV life insurance field
They have many years of experience in the financial and insurance sectors. Knowing the industry and their products and what they can offer you allows for you to receive cover that is perfect for you. By offering long-term opportunities that will keep you afloat during the struggles of everyday life expenditures.
Never too early or too late to apply
They will guide you and suggest the right options that will help your family stay supported long term. Let The Robert Group help you keep up with life financially while enjoying your time now with your family. It's never too late to start investing in the future.
They make their own insurance rules
Call today and let them provide the life insurance service you need. They are an independent broker; they make their own rules; they don't rely on the fee structure of any partners or shareholders.
The Robert Group doesn't take orders from any silent partners. That is how they can offer their clients a direct approach to getting the best life cover, at the most affordable premiums.
They are offering HIV Life insurance that works
From their experience, they find that clients who have life cover in place, actually live happier lives. Your family's financial future can be an extremely comforting experience. Make the smart move today and get HIV life insurance.
Specialists in all forms of insurance
At The Robert Group, they specialize in all insurance options including business, long term, life, disability, short term, dreaded disease, and much more. The difference is that they can assist clients who are HIV positive, which is a unique feature in the life insurance industry.
Apply for HIV life insurance cover today
They believe everyone deserves cover to keep their family financially secure in the event of their death. Get HIV life insurance cover today by contacting their consultants on their toll-free telephone number provided. Let them guide you through the online insurance application process.
It's quick and simple, and the terms of their contract are transparent, with no hidden fine print. They will provide you with the life insurance cover you can depend on.
Customer Reviews & Testimonials
"
October 2021
It is difficult finding life insurance that offers the same benefits and policies to people like myself who are HIV positive.
Jamie F
— Durban —
September 2021
Their consultants are so efficient and guided me through the whole application process.
Jabu V
— Durban —
October 2021
They are very straightforward. I appreciate how all their terms were made clear and there are no bad surprises after the contract has been signed.
Mbali M
— Johannesburg —
The Robert Group Contact
Contact Number
E-Mail
Website
Physical Address
5 Nollsworth Cres, La Lucia, Umhlanga, 4051

Durban

KwaZulu-Natal

4051

South Africa
Opening Hours
Monday

08:00 – 16:30

Tuesday

08:00 – 16:30

Wednesday

08:00 – 16:30

Thursday

08:00 – 16:30

Friday

08:00 – 16:30

Saturday

– Closed

Sunday

– Closed