Insurance up to R10m
Quick cash payout
Affordable monthly premiums
In-page navigation
---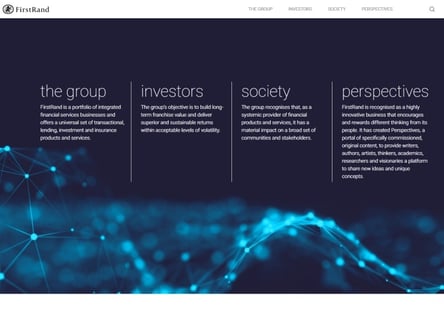 Author FirstRand Group. Screenshot of FirstRand Group website.


[Accessed February 7, 2023]
About FirstRand Group
First Rand Bank is one of the few oldest standing financial institutes in the country.
This makes them well known for their vast experience in financial markets, and their ability to provide a service to their clients is unmatched in terms of their excellent service delivery.
Mortgage insurance for the financial spectrum
With over one hundred and seventy years in the industry, they provide experience from all corners of the financial spectrum, from financial assistance, banking options right to insurance and mortgage cover insurance. There is no service or product they cannot deliver when it comes to your financial wellbeing.
Professional and knowledgeable consultants
They have a team of professionally trained and knowledgeable consultants on-board their team, who all show their passion through their service delivery to the clients they assist, which is of the utmost quality and noticeable excellence.
Through your challenges and tribulations, they make your banking world seem effortless. With processes aligned with their technology, they create a solution that is reliable, consistent, and always on your side.
FirstRand Group Services
At First Rand Bank, they believe their customers fare the core of their firm.
They treat each client as a VIP, ensuring that you receive exceptional service delivery from day one.
An understanding of Mortgage cover
Through every appointment or application, they make sure they understand your needs and formulate a custom solution. They provide home loan insurance solutions to their clients as well as insurance and protection for those mortgages, to ensure that should the need arise; your bond will be covered.
Protect your bond with Home loan insurance
By protecting your bond, you're looking out for yourself from the pressures of having your home taken away, and dealing with an unpaid mortgage. You also look out for family members who depend on you for the roof over their heads.
At First Rand Bank, they go the extra mile to ensure you're financially protected. Whether it's through life insurance or mortgage cover. With every product, they provide you with affordable premiums and the added benefits that go with it.
FirstRand Group – Home Loan Insurance
Product

Home Loan Insurance
Benefits of FirstRand Group
Home Repayments Policy
Insurance For Mortgage
---
Cover your mortgage with insurance you can count on
First Rand Bank is highly recognized in the financial services market of South Africa.
They have over 170 years of experience in sourcing, implementing, and carrying forward their preferred choices of processes and services which make life affordable and easier for their clients.
Their Mortgage insurance history and objectives
As a feature of the FirstRand Group, they offer South African clients the benefits of three banks in the nation. They measure their achievements by the development in their benefits as well as by the commitment they make towards their group's development.
The Acacia tree in their image logo is a portrayal of their history. Their underlying foundations cover the footprint of South Africa, and they have developed because of their dedication to serving the necessities of their customers and groups.
Tailored Mortgage cover insurance
Throughout their services to their clients, they provide the independence that their clients can benefit from getting an insurance product. This allows them the independence of having their tailored cover that meets their specific needs accordingly.
The Stand-alone alternative won't influence your life cover sum when a claim is made.
The benefit of the Stand-alone critical illness cover is that it gives you extensive cover that can payout up to 3 times on related diseases.
The upside of a consolidated cover is that it is more reasonable when it comes to affordability and the cover benefits, and only pays out once.
Life is loaded with vulnerabilities, they know this, and provide solutions for those times when you are vulnerable and suffer the risks in life.
Life cover from R200,000 up to R10 Million
Life cover pays out a single sum in case of your passing. You can pick between either their Life Simplified or Life Customised Life Cover alternatives.
Life Simplified offers you a speedy and simple option for cover up to R1 million, though Life Customised gives life cover over R1 million with more exhaustive cover alternatives and adaptability in choices, for example, Critical Illness and Disability Cover.
Whichever cover option you choose; you get the benefits of
Quick cash pay-outs on mortgage insurance to pay off that home mortgage in the event of death, serious illness, or disability.
They cover your premiums if you are retrenched until you are back on track and able to start paying again.
Customer Reviews & Testimonials
"
September 2021
The life cover on my mortgage had helped when paying off my bond while I was retrenched.
Melissa S
— Sandton —
November 2021
Their online application process is convenient and I didn't have to leave the comfort of my home to apply.
Jabulani V
— Kensington —
November 2021
I had struggled with the online application and their staff had assisted me greatly with completing the application.
Mark B
— Midrand —
FirstRand Group Contact
Contact Number
E-Mail
Website
Physical Address
4 Merchant Place Corner Fredman Drive and Rivonia Road Sandton

Johannesburg

Gauteng

2196

South Africa
---
Postal Address
PO Box 650149 Benmore,, Johannesburg, 2010, South Africa
Opening Hours
Monday

09:00 – 16:00

Tuesday

09:00 – 16:00

Wednesday

09:00 – 16:00

Thursday

09:00 – 16:00

Friday

08:30 – 16:00

Saturday

08:30 – 12:00

Sunday

– Closed