Variety of mortgage covers
Affordable premiums
Quality products and services
In-page navigation
---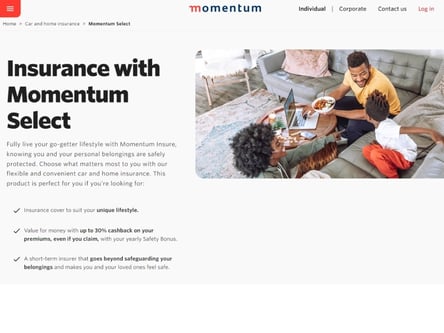 Author Momentum Africa. Screenshot of Momentum Africa website.


[Accessed February 7, 2023]
About Momentum Africa
Momentum Financial Services is an independent financial services provider.
This means they make the rules along with creating the policy guidelines. They also create a solution perfectly in line with your monthly budget. They are understanding of what life can throw at you and how things may get beyond your control.
Makes sure you're always covered
Life has its ups and downs and can mess around with the financial aspect of your life. When you have financial commitments that require you to have a steady earning job, and the ability to manage your budget consistently in line with your payback commitments. You can ultimately end up feeling overwhelmed.
Delivering high-quality Home loan services
What if something went wrong, what if you lost your job, or got seriously ill? These are all factors they take into consideration when it comes to covering their clients with mortgage insurance.
They provide service delivery that is of the highest quality and that of which their clients expect of them. They focus specifically on the risk management of their clients daily, ensuring you never have to suffer the burden of losing what you have worked so hard to obtain.
Momentum Africa Services
Momentum Financial Services assists all clients within the country, with financial means and needs, through home loan cover, based on the value and requirements of their mortgage.
Affordable Mortgage insurance cover for all
Their rates make getting covered affordable for every client, no matter what your earnings are. Having a home can be a tricky situation. You may be paying off a bond over a long-term basis but still, have concerns about what would happen if you lost your job.
What if you became too ill to work and earn money?
What if you lost what you own due to not paying your premiums?
These are all factors they can help with, with their mortgage insurance cover you never have to worry about losing the roof over your head.
A variety of Mortgage insurance cover options
They offer their clients a variety of car, home, and life insurance options that will meet your home mortgage requirements when it comes to covering what means so much to you. They tailor your solution accordingly and allow for easy budgeting. They have the right insurance coverage you need, which you can depend on.
Momentum Africa – Home Loan Insurance
Product

Home Loan Insurance
All-in-one Protection

Momentum offers all in one mortgage insurance which can pay your outstanding bond amount in case of your death or disability.

Add ons

You can add to your cover so that you receive 12 months of bond payments in case of temporary disability or illness or retrenchment

Keep the life cover

If you do not use the life cover before your bond is paid off it will not simply expire. The money can either be ceded to your new home loan or can be paid to your family
Benefits of Momentum Africa
Online quotes make it quick and easy to get covered. If you would like some additional advise from the industry leaders you can simply request a call back.
Life cover - Momentum offers comprehensive life cover for you to add to your portfolio. They also offer disability and critical illness cover.
Car and home insurance but not only comprehensive car and home insurance, to help you out when accidents happen, but also Safety Alert on the Momentum app which allows you to call for assistance when you need it most. Caring for not only your things but also for your family.
Momentum App allows you to view all Momentum products from your phone. You are able to keep track of your Multiply points and you can submit claims via the app.
---
Momentum provides mortgage insurance you can rely on
Momentum offers clients a mortgage protection plan that will keep them from losing their homes when they are unable to pay their monthly premiums.
This cover is offered immediately to their clients when they take out a home loan or mortgage.
Affordable and flexible Mortgage insurance
In the case of your demise, your home loan reimbursements will be cleared. For the most part, a home loan assurance approach is the least expensive type of life cover, especially in the options they offer their clients, they offer highly affordable and flexible mortgage insurance that everyone can afford.
Term Life insurance to protect your Mortgage
Term life insurance implies you protect your life for a predetermined time frame. It is a living affirmation that gives you a settled level of cover for a predefined term. If you pass away before your term has met its end date, your named recipient gets the payment of your insurance payout.
Serious illness cover
Serious Illness cover will pay for your premiums either until you become well again, or if you don't, will cover your mortgage in full after a specified time frame. This will ensure your home is paid in full, with no financial burden on your part.
These days, they know about somebody confronting an existing debilitating ailment. Should you grow such a disease there are numerous results for you and your family, not a minimum of which is the extra monetary weight that the ailment puts on you. It is conceivable to guarantee against this projection and such cover will help you with medicinal costs, loss of income and may be used to create a singular amount for you to spend as you wish.
Contact them today to discover what alternatives are accessible to you.
Additional offerings to their valued clients
Your wage is by a wide margin your most important resource. Have you considered how your wage would be influenced if you were not able to work in your current position. Whether you are a worker or are independently employed, your home loan premiums would suffer greatly should you be out of work through illness or disability.
Did you know that not all businesses are obliged to pay you should you become terminally ill or disabled? Being prepared for such a situation is a reality. They provide life insurance or mortgage cover insurance for situations like these, to ensure your premiums are covered, and in some circumstances, paid in full if you can no longer work due to your disability.
Customer Reviews & Testimonials
"
September 2021
Their additional services like salary protection are what ultimately encouraged me to join them as not many others offer this additional service.
Paul R
— Centurion —
October 2021
My monthly premiums are super affordable and cater to my income and expenses exactly.
Amy G
— Kensington —
October 2021
Their staff at their branch are so well trained I thought I'd be there the entire day but they were so efficient in helping me.
Masego M
— Kagiso —
Momentum Africa Contact
Contact Number
E-Mail
Website
Physical Address
268 West Ave, Die Hoewes, Centurion,

Johannesburg

Gauteng

0157

South Africa