Bond insurance cover
Quick online application
Get instant cover
In-page navigation
---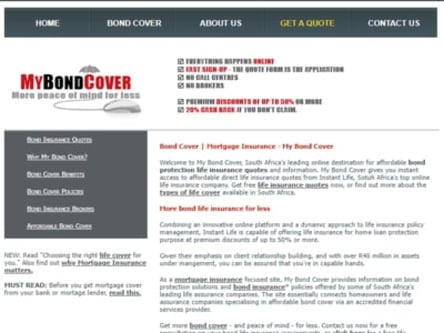 Author My Bond Cover. Screenshot of My Bond Cover website.


[Accessed February 7, 2023]
About My Bond Cover
My Bond Cover gives their clients in South Africa home mortgage cover, to protect them in unmanageable situations.
Situations in life may arise, unexpectedly, which can result in you being unable to pay your mortgage premiums.
Protect your Mortgage insurance
Being unable to pay your premium can be the result of illness, disability, retrenchment, or even death. My Bond Cover specializes in this area of expertise, this is what makes them stand out in the insurance industry.
They have the expertise and the people with the power, the knowledge, and the passion for creating a solution for their client's needs every time. Get covered today, with a firm that truly believes in helping you overcome life's little obstacles.
Combine your Life and Mortgage insurance
What makes their services even more unique, is the fact that they can combine life cover with your home cover, with a lower premium, and double the benefits. You always come out on top with My Bond Cover. Let them cover you today to protect you tomorrow.
My Bond Cover Services
My Bond Cover provides simple and affordable cover for your home loan.
They add value to every stage of the process, including their simple application process. By implementing immediate cover, it ensures they have their home covered no matter what.
In the business of protecting you financially
They're in the business of protecting their clients. Regardless of what life throws at you, they will ensure.
Your family still has a roof over their heads. Everything is paid for. Applications are simple, through their convenient and innovative online platform, clients can get the cover they need or an online insurance quote instantly.
Utilize their Mortgage insurance
They also offer their convenient call centre, with experts on the other side. Allowing you to get a full breakdown and guidance on available policies. They will help you on the road to being financially safe and secure. Get the cover you need, to protect your family and your home long-term.
My Bond Cover – Home Loan Insurance
Product

Home Loan Insurance
Completely online process

With instant life cover you can get a quote and buy your cover all in under 30minutes.

20% cash back

Get up to 20% cash back on your premiums if you don't claim for 10 years
Benefits of My Bond Cover
Fast buying process - Your quote request is your application form. All your information simply gets converted.
Care for your family - Make sure that your family is able to keep the home they are comfortable in even after your death. You can also add cover that will pay your premiums in case of critical illness or disability.
Save up to 50% in premiums when you insure with My Bond Cover and pay no interest.
---
My bond cover is the best alternative when it comes to mortgage cover
My Bond Cover is a tailored insurance cover that covers your premiums when you cannot earn a salary due to illness, or in the event of death, pays off your home loan in full.
Getting cover is simple with My Bond Cover, an excellent South African disaster protection supplier. By agreeing to accept security cover can spare you a large amount of money throughout your home mortgage period.
An affordable all-inclusive Mortgage insurance
When you back your security cover alongside your mortgage, you'll be paying an affordable all-inclusive premium which allows you the benefit of mortgage cover insurance, when you need it. There are many situations and spur-of-the-moment incidents in life that can blow the wind out of your sails.
Ensure your Mortgage insurance is always covered
When you have debts and loans to think about, the financial stress can make whatever situation you are in worse. Should you become seriously ill, or disabled, you may not be able to continue working. How would you afford to pay your regular home mortgage premiums especially, if you have no credit life insurance and medical insurance in place?
My Bond Cover has the right solution for you, by covering your premiums over some time, and will evaluate further payment of either a lump sum or whatever option is needed to ensure you don't lose your home.
Should you pass away
In the event of your death, they will pay your bond in full, allowing your family to carry on living in the home bond-free. The bond cover is extra security that settles the policyholder's outstanding bond obligations in their passing or lasting inability just like funeral insurance covers the cost of someone passing away.
Spare your family heartache and trauma
Without bond cover, the mortgage holders' home will leave their families or closest relatives with no other choice but to sell the property to pay off the bond.
This circumstance is a long way from perfect. An appropriate purchaser may not be found, or you may not get the amount that the home is worth. This can be very unsettling and traumatic. Hence why their bond cover is so beneficial and takes the financial stress and concerns out of the process.
Disaster cover at moderate rates
My Bond Cover gives South African mortgage holders access to reasonable disaster protection at super moderate costs. These bond cover arrangements empower mortgage holders to keep up their month-to-month bond reimbursements in case of ill health or death.
Customer Reviews & Testimonials
"
October 2021
I'm so happy with my monthly premium, with all the benefits I know I'm getting value for money.
Lungiswa L
— Sandton —
October 2021
Their online platform was extremely convenient and simple to use for me.
Allan D
— Centurion —
September 2021
I'm impressed by how quickly they got back to me with a quote based on the details I gave.
Steve R
— Midrand —
My Bond Cover Contact
Contact Number
E-Mail
Website
Physical Address
24 Central Building 3rd Floor Cnr Gwen Ln &, Fredman Dr, Sandton,

Johannesburg

Gauteng

2196

South Africa
---
Postal Address
PO Box 653088, Benmore, 2010, South Africa