Auto insurance cover
Affordable premiums
Get a quote online
In-page navigation
---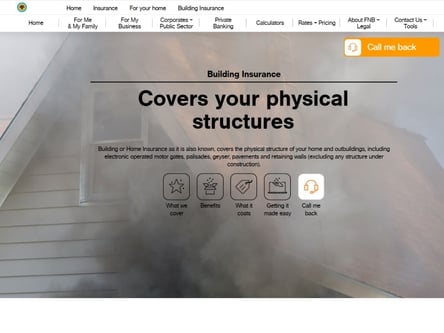 Author FNB. Screenshot of FNB website.


[Accessed February 7, 2023]
About FNB
With FNB Home Insurance in South Africa, homeowners can be reassured that they will receive exceptional cover for all aspects that make up a home in the event of unforeseen circumstances.
Cover within FNB's Home Insurance includes the physical structure of one's home and outbuildings, including electronically operated motor gates, palisades, geyser, pavements, and retaining walls. Furthermore, with FNB's Home Contents Insurance, all personal items inside the house will be covered too.
Home insurance explained
Life is unpredictable and so is nature, which is why home insurance is such a vital component in order to safeguard what one has worked so hard for. With FNB's mortgage insurance in South Africa, the cover is provided for:
Bursting, leaking and overflowing of any water caring apparatus such as pipes, geysers, and toilets.
Any costs arising from damages caused by a failed theft incident or attempt such as a broken window, for example.
Falling objects such as a tree or retaining wall.
Damage caused by fire, explosions, lightning, and hail storms.
Impact-related damage such as a car driving into the home, wall, or pool.
All fixtures and fittings.
Limited subsidence and landslip which includes the downward movement of soil, which can cause great damage to a home.
Personal liability, such as when someone gets injured in the home and wants to take legal action against the homeowner.
Changing of keys and locks after a burglary.
Damages to appliances due to high power supplies following an outage or load shedding, which make home insurance in South Africa a must.
Damages to a landscaped garden after acts of nature.
Increased water bill as a result of a burst pipe, but excludes wear and tear.
FNB Services
With FNB Home Insurance in South Africa, policyholders can enjoy the benefits of having rent and alternative accommodation costs covered, in the event that the owner of the house is unable to live in it while repairs are being carried out.
Along with this, is an injury benefit, which takes care of any unexpected financial burdens and will cover medical expenses for guests, visitors and domestic workers, within limits.
Home contents insurance
As important as the outside of a home, is the contents inside. With FNB's home contents insurance, otherwise known as Household Insurance, individuals can provide cover for unforeseen circumstances that affect the contents of one's home. With FNB's Home Contents Insurance one is covered for or in the event of:
Theft of personal belongings
Any costs arising from damages caused by a failed theft incident or attempt such as a broken window, for example.
Loss of personal belongings as a result of burglary with visible signs of forced entry.
Damage to personal belongings as a result of natural disasters such as fire, lightning, and explosions.
Malicious damage to personal belongings.
Power surges cause damage to electronic appliances.
Accidental damage to home contents.
Cover for the assets of visitors and domestic employees.
Money and personal documents.
Contents of refrigerators and freezers, which can be affected during events such as load shedding, for example.
Accidental damage to mirror and glass.
Alternative accommodation in the event of the homeowner not being able to live in the home, while repairs are being carried out.
Storage cost of content after damage.
Household goods in transit.
Garden furniture, tools, and other equipment that is used outside.
FNB – Home Loan Insurance
Product

Home Loan Insurance
What is Mortgage Insurance

Often also called bond life cover - a bond is one of the biggest personal loans that any individual will ever take out and because of this the lender needs to know that they will be able to be repaid if you should die. This is what Mortgage insurance covers

What is covered

Your entire loan can be paid in the case of your death or permanent disability or up to 12 month of your premiums can be covered in the event of temporary loss of income due to illness or injury
Benefits of FNB
Digital FNB - FNB offers you completely digital solutions with its innovative app and online banking. Most application and transactions can be done from the palm of your hand or the comfort of your home.
Banking - FNB is one of the leading banking institutions in South Africa. This institution is able to offer you options for loans, savings and investments as well as cutting edge foreign exchange solutions as the official partner to Pay Pal.
For Business - FNB has been helping small, medium and big business for years. With their expertise and tailor made business solutions they can help any business grow to its full potential.
---
Get an insurance quote today
When answering the question, "How much does home insurance cost in South Africa?", FNB takes all factors into consideration when determining risk which directly influences one's profile and premium.
To get one step closer to answering this question, one can contact an FNB agent and receive a quote by calling 0860 328 328. Alternatively, one can also select the "Call me back" button, to have an FNB agent directly call back in order to assist with any questions or concerns. The above-mentioned channels can equally be used for those who would like to receive a home contents insurance quote.
Home and Home contents insurance application
To apply for FNB Home Insurance in South Africa, one needs to meet the qualifying criteria which include that the policyholder must own the insurable asset, such as the house/building. Along with this, individuals will need documentation in the form of a South African ID book or ID card, as well as proof of residence, not older than three months, in the policyholder's name.
For those looking to apply for FNB Home Contents Insurance in South Africa, they must meet the qualifying criteria which include that individuals meet the minimum security requirement. Along with this, documentation equal to those applying for home insurance must be provided. From here, one can select the "Call me back" button and have an FNB agent call back directly to walk one through the application process.
Household insurance benefits
As with FNB's Home insurance, policyholders of FNB Home Contents Insurance will be entitled to the benefit of cover being provided for a guest or domestic worker in the event of an injury occurring within the policyholder's house. In this case, the home contents policy will cover the policyholder if they are sued as a result of this injury.
Dynamic life Home insurance
For those looking to cover the financial aspects that secure a household, one can make use of the FNB Dynamic Life Home insurance option, which will provide cover in the event of the policyholder's death, disability, or critical illness. In any of these unforeseen circumstances, the FNB Dynamic Life Home insurance policy will cover the outstanding amount of the policyholder's FNB home loan.
Customer Reviews & Testimonials
"
September 2021
Thanks to this cover when I had renovations done on my house they paid my temporary accommodation cost in total.
Dale B
— Bisho —
December 2020
My gardener got hurt badly at my house and FNB covered the cost of the hospital bill.
Zhaan Y
— Paarl —
March 2021
I own several properties and with FNB I'm paying just one premium for all my properties.
Andrew G
— Alberton —
FNB Contact
Contact Number
E-Mail
Website
Physical Address
3, First Place, Kerk &, Simmonds St, Bank City,

Johannesburg

Gauteng

2001

South Africa
Opening Hours
Monday

09:00 – 15:30

Tuesday

09:00 – 15:30

Wednesday

09:00 – 15:30

Thursday

09:00 – 15:30

Friday

09:00 – 15:30

Saturday

09:00 – 11:00

Sunday

– Closed