Competitive insurance
Flexible policy cover
Fixed insurance rates
In-page navigation
---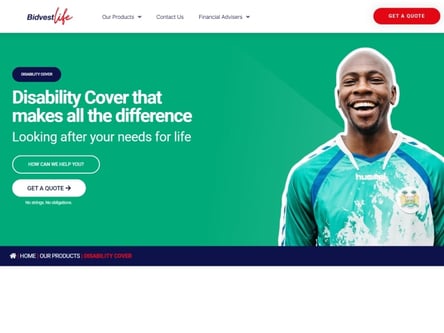 Author FMI Insurance. Screenshot of FMI Insurance website.


[Accessed February 7, 2023]
About FMI Insurance
FMI Insurance Group is a global insurance specialist firm, with an intrinsic knowledge of providing life insurance policies in South Africa.
They operate in all major towns and have accessibility to every client needing term life insurance that offers a comprehensive solution to all their insurance needs.
Unbeatable value on policies
They are an independent brokerage, which allows them to offer clients unbeatable value on their policies, by cutting out the middle man and concentrating on a direct approach with their clients.
They focus on one's needs and are flexible in their policy creations. They guide their clients with decision-making and describe each policy in detail to allow them to completely understand what they are getting.
Long term life insurance for the whole family
No one should suffer financially in the absence of the household breadwinner and with FMI long-term life insurance they ensure that one's policy covers major expenses long term, to ensure that one's family is secure.
They are available for their clients throughout the process and after, keeping members informed at all times on their long-term life insurance policy progress and upcoming advances that they can benefit from.
FMI Insurance Services
FMI Life Insurance Group offers all South Africans the opportunity to invest in their future, as well as the future of their spouse and children should anything happen to them.
Long term care insurance for maximum cover
Life can throw one an unexpected curveball and in these moments it is important to be prepared. FMI offers long-term life insurance options that will take care of everything.
They will cover members with a full cover option that provides life cover, funeral cover, and more. Their policies are flexible allowing members to increase premiums, as well as increase time periods of cover, and more.
Long term life insurance is here to help
The FMI staff are available to assist members whenever they need help and they have the full solution, protecting all that matters to individuals in one cover. They will assist individuals in choosing the right option that suits them and their families.
They will save members time and money with their valuable service options and convenient processes. Get a secure and accredited long-term life insurance service from the professionals at FMI. They know insurance, they know the risks, they know what to offer their clients, and they provide individuals with the solution to their needs every time.
FMI Insurance – Long-term Care Insurance
Product

Long-term Care Insurance
Flexible premiums

FMI gives you the power to upgrade and adjust your insurance portfolio as it suites you and your life style.

Full cover option

FMI gives you a full cover option with their long term care insurance which allows you to get life cover and funeral cover all in one cover option.

Include you partner

You can get the one you love on your long term care cover. Just give them a call and their very helpful staff will set you up and get everything arranged.
Benefits of FMI Insurance
Critical illness - this cover pays you out more than your monthly salary if you become too ill to work. This extra money can help cover expenses. Having a critical illness changes your life drastically. This cover also makes sure that you do not become a burden on your loved ones, you can still provide for yourself financially.
Disability Insurance - Having disability insurance gives you all the benefits you need to live a full life without having to worry about who's going to help and take care of you or where is the income going to come from should you be injured or disabled.
Why is life cover so important? If anything should happen to you your family will no longer have your income to help with paying for monthly expenses. Make sure that you leave a legacy of a fulfilled life with life insurance.
---
FMI takes the hassle out of the search for cover
FMI Life Insurance Group provides long-term life insurance options to South Africans on a daily basis.
With their innovative technology and global presence, they have the capacity and the capabilities to ensure that all South Africans can enjoy their unique insurance service offerings.
Long term life insurance cover from 5 to 30 years
They provide term and credit life cover ranging from between 5 to 30 years of cover. Their long-term life insurance features offer superior value-added services for their clients.
Should one take out a five-year policy, they are able to renew their policy to get them up to their 65-year mark, to enable them to receive the best benefits from their long-term life insurance cover.
Reasons to choose FMI:
Their term life insurance is non-taxable on the payout of a member's death to their spouse or allocated beneficiary.
Their premiums are considerably lower and competitive in the market.
Their death policy cover is flexible, allowing one to renew their initial policy and extend it for a higher payout.
Long term life insurance policy rates are fixed, and can be paid monthly, annually, and are affordable to everyone
Long term life insurance quotes online
Clients can conveniently request an online long-term life insurance quotation from FMI directly by emailing them or contacting them by telephone, for fast approval on one's specific requirements.
All one needs to do is complete the provided questionnaire and get approved in a fast turnaround time. FMI will require a medical examination, which is to determine the risk factors involved and to evaluate an accurate estimation of one's premiums.
Getting life insurance can be highly beneficial when it comes to the family members that are left behind. Financially, one's policy can cover the areas that take up the majority of their income.
Long term life insurance will cover:
Paying off one's mortgage.
Putting aside cash for one's children's college fund.
Paying off credit cards and loans which one has left behind.
Cover the funeral arrangements and costs involved.
Long term life insurance consultants ready to assist
FMI Life Insurance Group provides all the financial assistance to cover members and their families when they no longer can. Speak to one of their qualified and helpful consultants about their transparent and flexible solutions. They have the options and policies to cover all one's needs and protect one's family against the financial stress in their absence.
Customer Reviews & Testimonials
"
June 2021
Great customer service and cover with FMI's long-term life insurance in South Africa.
Bulelwa E.
— Durban —
October 2021
A long-term life insurance policy that provides cover for more than I could ever have expected.
Janet D.
— Durban —
November 2021
Thank you FMI for the best long-term life insurance policy in South Africa with helpful consultants that guided me every step of the way.
Francois W.
— Johannesburg —
FMI Insurance Contact
Contact Number
E-Mail
Website
Physical Address
Ocean Dune, FMI House, 2 Heleza Blvd, Hillhead, Umhlanga,

Durban

KwaZulu-Natal

4320

South Africa
---
Postal Address
Postnet Suite 91, Private Bag X01, Umhlanga Rocks, 4320, South Africa
Opening Hours
Monday

08:00 – 16:30

Tuesday

08:00 – 16:30

Wednesday

08:00 – 16:30

Thursday

08:00 – 16:30

Friday

08:00 – 16:30

Saturday

– Closed

Sunday

– Closed