Health and Accident Group
Free insurance quote
Affordable premiums
Quick application process
In-page navigation
---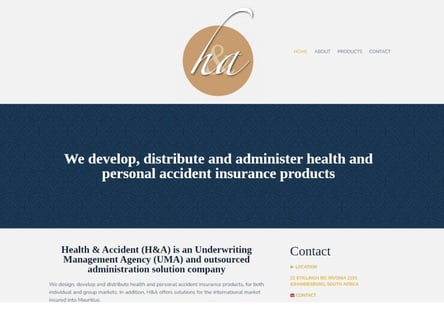 Author Health and Accident Group. Screenshot of Health and Accident Group website.


[Accessed February 7, 2023]
About Health and Accident Group
Health and Accident Group are experienced underwriters in the South African insurance industry.
They have over 22 years of experience in creating the best all-around long-term life insurance policies for their clients.
We take care of what is most overlooked
They look at the reality of what could happen, and how to address these issues in the most beneficial way for their clients. With the harsh reality that people tend to overlook, they take care of those possibilities so their clients can carry on with their lives as they are.
High-quality Long term life insurance
Health and Accident Group developed solutions with medical care and financial provision at the heart of their solutions. They think ahead, and take initiative to ensure that you will have all your bases covered in the event that you should undergo a horrific experience in life.
Comprehensive Term life insurance solutions
They provide a full long-term care cover solution from application to medical treatment coordination, to claiming and paying out in the event of your death. Everything you need from a well-balanced and experienced life cover provider, in one simple solution, and an affordable premium.
Health and Accident Group Services
Health and Accident Group takes a different approach to assist clients in South Africa with their long-term care insurance cover.
Because they look at the medical side of what could happen when you get disabled or critically ill, they cover not only the life term part of your insurance cover but also look at the possibility of your future. Should you become disabled, seriously ill, and unable to work they will be there for you and your family.
Long term life insurance you deserve
They look at the benefits that their clients should redeem in line with getting medical treatment on a long-term basis, as well as what the future holds for them financially.
They believe that by integrating the two areas of insurance cover for life, as well as the medical insurance on your policy, their clients can receive a full and complete term life cover solution.
Get an all-inclusive Term life insurance policy
They are there for their clients throughout their entire journey. With them you can get assistance for you and your family, to cope financially as well as emotionally. Enjoy the fact that everything will be covered. They keep an open line of communication with their clients through every step of the process.
Health and Accident Group – Long-term Care Insurance
Product

Long-term Care Insurance
Quality of life for your family

Long term care insurance allows you to keep up your and your family's quality of life even after you become disabled or critically ill.

Emotional Health

Your policy includes counselling to help you work through your injury or diagnosis.
Benefits of Health and Accident Group
They respond quickly - When you have emergency response cover, you give yourself or your loved one a 50% better chance of surviving when there is an accident or your life is in danger. They have a team ready to stand by to assist in any of the above situations.
Fast payouts - Their claim process is simple and easy. Simply log a claim on the website and upload all the required documents. You will receive an email if they need any further information or to let you know once your claim has been processed and paid out.
---
Get the long term care insurance that offers comprehensive cover
Health and Accident Group provides long-term care insurance options for South Africans looking for a provider that they can count on, long term.
Their easy applications and processes allow every client in the country to make use of this important cover option.
They provide more than just Long-term life insurance cover
They look into the situations which could occur that would leave you without the ability to provide for your family. In the event of your death, your spouse and children would receive a payout to cover your funeral and the costs that were left behind, such as loans, credit cards, and other major debts. But what if you became ill with a sickness that required full-time care, leaving you without the ability to work?
Long-term life insurance and care cover
They cover anyone included in the policy who is permanently disabled or seriously ill and cannot earn a salary. The cover will provide financial support through a percentage of your life cover to carry you through those tough times.
You will receive, comprehensive terms and conditions document which will explain your specific cover conditions when your policy is approved. The great part is that they are flexible with their arrangements, and depending on your age and the intensity of your condition, we will formulate your agreement accordingly.
Importance of Long term life insurance cover
Life is never guaranteed, you may think you are as healthy as ever and don't think of the "what if" scenario. However, an accident can happen in a heartbeat, and being prepared for this event can take care of the financial aspect of your illness or disability.
If your income was providing the security to cover the major costs of your family's lives, you can stress a little less, knowing that your choice to take cover will save you from losing your assets and knowing your debts are being covered.
Long term medical care cover
You may need extra medical cover to provide you with care at facilities that take care of you 24 hours a day, which can be extremely costly. Your spouse may not be able to quit their job permanently to look after you, so staying in a facility where there is medical care could be your only choice.
These are also covered to a degree with your cover. Get an online insurance quote today and find out what it will take to secure your future and that of your family.
Customer Reviews & Testimonials
"
October 2021
I have fallen ill and my cover paid out to help me continue and recover from my illness without losing my home.
Michael. C
— Johannesburg —
October 2021
With our firstborn due I realized I must get life cover for the unthinkable. Got everything I needed and am now covered.
Paulus. K
— Johannesburg —
September 2021
Affordable with good benefits. Nice to know your life is covered and you can go on and don't need to worry about financial troubles.
Olivia. S
— Johannesburg —
Health and Accident Group Contact
Contact Number
E-Mail
Website
Physical Address
22 Stiglingh Rd, Rivonia, Sandton,

Johannesburg

Gauteng

2128

South Africa
---
Postal Address
PO Box 324, Sandton, 2146, South Africa
Opening Hours
Monday

08:00 – 16:30

Tuesday

08:00 – 16:30

Wednesday

08:00 – 16:30

Thursday

08:00 – 16:30

Friday

08:00 – 16:30

Saturday

– Closed

Sunday

– Closed