Payout up to R10 million
Online insurance quotes
Easy claims process
In-page navigation
---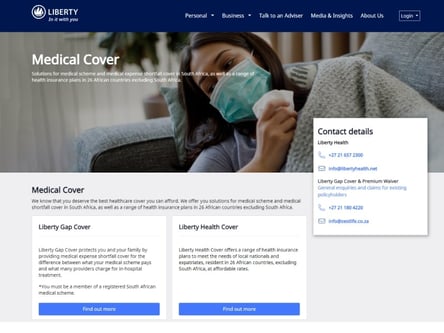 Author FRANK NET. Screenshot of FRANK NET website.


[Accessed February 7, 2023]
About FRANK NET
Frank.net offers an exclusive range of long-term life insurance options for clients in and around South Africa.
Frank.net provides all the online capabilities to their clients when they need professional services from an insurance provider.
Long term life insurance with a difference
Frank.net offers long-term life insurance cover when it comes to death, serious illness, disability, and more. One's family will have the peace of mind that Frank.net has their best interests at heart, with their secure platforms, and easily affordable premiums.
Long term life insurance for the whole family
Members can cover the entire family, and have as many beneficiaries as they please under a single life insurance policy. Frank.net is all about making processes easier for times that are tough.
FRANK NET Services
Frank.net ensures one's life for those times when their family depends on them.
With service offerings ranging within a vast diversity of options, their clients always receive the best outcomes after a traumatic event.
Getting long-term life insurance cover is simple with all their processes working through an online environment. One can get an application completed and in place in minimal time, with no paperwork.
Their services include but are not limited to:
Cover for groups
Cover for individuals
Life insurance
Health insurance
Long term insurance
FRANK NET – Long-term Care Insurance
Product

Long-term Care Insurance
Family matters

When you apply for long term care insurance you are showing your loved ones how much you love them. You will be able to provide for yourself and your family should no longer be able to earn an income.

Just one click away

Frank.net has a completely online quotation, registration and claims process. You can get the cover you need for you and you family from the comfort of your home.
Benefits of FRANK NET
Bundle your insurance - Frank.net can assist you with insurance for your assets as well. You can request a quote for car, home and other insurances all on their online platform.
Easy and fast claims - Their claims process is fast and reliable. Everything you need to know is on your portal. You can fill in all the forms and upload all of your documents. They will process your claim and pay the money directly into your selected bank account.
Add your spouse to your policy - FRANK.NET allows you to get cover for yourself alone or you can customize a premium for you and your family.
---
Frank.net, your online long term insurance provider
Frank.net offers a long-term life insurance policy to assist with all major traumatic times in one's life.
Their life cover options protect members and their families financially in case of the policyholder's death, making sure that the bills are paid for and are covered in order to keep the family afloat.
Long term life insurance with policy enhancements
They also offer policy enhancements that address situations that occur when one endures a major illness, and can no longer obtain an income. One can get an online insurance quote with Frank.net at any time of the day or night. A serious illness can occur at any time, and being prepared for something like this isn't always the case.
The best customer service
Frank.net provides the best customer service, with a team of experienced and qualified insurance experts at the other end of their call centre at any time one needs them.
They understand the industry and continuously keep abreast of new and better health cover, life insurance, and asset products, which they deliver to their clients through an ongoing process of updates and communication.
Insurance policy benefits that take charge
Frank.net's inclusive policy benefits take charge and take over the financial aspect of situations that are out of their hands. Illness can be a drastic and stressful part of life, and clients who are covered for this will be able to receive a portion of their long-term life insurance policy during the time that they aren't able to earn a salary.
Life insurance provides financial support for family
With bills to pay, mortgage, and schooling, one's family depends on a salary to get by each month. Although financial assistance from one's policy won't be able to take away one's illness, members will still have the peace of mind that their family is financially supported.
Should a policyholder pass away due to illness, their family will still receive the balance of the policy, paid out to their beneficiary to cover funeral costs, and to cover the debts left behind on any loans, credit cards, and home loans.
Their insurance policies provide clients with:
A tax-free life insurance payout of a maximum of R10 million to keep one's family financially secure in their absence.
One can have as many beneficiaries as they like and can allocate percentages of their payout accordingly.
All applications and claims are processed online, which means no stressful paperwork and time-consuming appointments. They also don't expect any medical examinations to secure one's policy.
Long term life insurance that protects the future
When one partners with Frank.net and gets the right long-term life insurance, their financial future is protected, and they can sit back and enjoy life as they know it.
Customer Reviews & Testimonials
"
June 2021
Excellent customer service and long-term life insurance consultants available when needed.
Katlego Y.
— Cape Town —
July 2021
Thank you Frank.net for an easy long-term life insurance application process. I am so happy to be covered in the event that I am not around for my family.
Brain E.
— Cape Town —
October 2021
The best long-term life insurance provider in South Africa that offers a range of benefits to cover all needs.
Susan A.
— Cape Town —
FRANK NET Contact
Contact Number
E-Mail
Website
Physical Address
8th Floor, Eleven Adderley, 11 Adderley Street

Cape Town

Western Cape

8001

South Africa
Opening Hours
Monday

08:00 – 17:00

Tuesday

08:00 – 17:00

Wednesday

08:00 – 17:00

Thursday

08:00 – 17:00

Friday

08:00 – 17:00

Saturday

08:00 – 13:00

Sunday

– Closed