Insurance cover for all
Swift claims process
Cashback after 5 claim free years
In-page navigation
---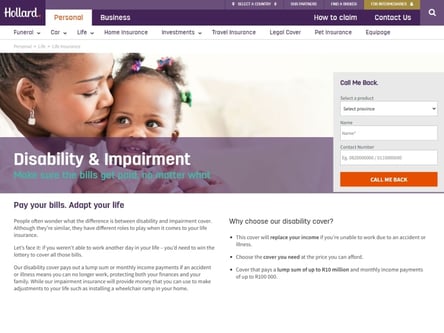 Author Hollard. Screenshot of Hollard website.


[Accessed February 7, 2023]
About Hollard
Hollard Insurance offers a variety of long-term care insurance products in South Africa that cover all aspects of life.
These products include funeral cover, car insurance, life insurance, home insurance, travel insurance and pet insurance.
A range of services
Hollard also offers investment services, as well as legal cover. For those unexpected events when life takes a turn for the worse, Hollard Disability Insurance will provide cover by paying out a lump sum or monthly income payments if an accident or illness results in one no longer being able to work. On the other hand, Hollard's Impairment Insurance will provide money that one can use to make necessary adjustments to life, such as installing a wheelchair ramp in one's home.
Hollard Services
Impairment insurance differs from disability insurance which is directly related to one's ability to earn an income.
It is suited for those who, for example, become partially paralysed and are still able to complete work tasks but need financial assistance in terms of remodelling one's life according to this new condition.
Furthermore, this type of insurance is useful for those who can't get disability insurance due to the fact that they are considered too high risk in terms of their occupation. With Hollard's Impairment Insurance in South Africa, one will receive:
Financial assistance towards adjusting to this new lifestyle, such as installing a wheelchair ramp or buying appliances that are not covered by medical aid.
A lump sum of up to R10 million or monthly income payments of up to R100 000.
Hollard – Long-term Care Insurance
Product

Long-term Care Insurance
Financial assistance if you can't work again

Hollard will assist you with either a lump sum payout or with a monthly income should you become permanently disabled under their disability cover.

Impairment cover

With Hollard's impairment cover you will be paid out a lump sum to make your life better after an accident in the work place.
Benefits of Hollard
Invest and Save - comprehensive investment and savings plans that plan for big spends like university and retirement or that trip around the world
Travel insurance from a company that understands the post Covid-19 world that we live in and all unexpected extra travel costs that this bring with it.
Insure cars, buildings and contents - you deserve to be able to replace your valuables if the unthinkable may happen to your home, car or all those things you have out and about with you, be it your laptop or cellphone. With this comprehensive insurance you can rest assured that it will be covered.
---
Get cover with Hollard today.
Those looking to combine both disability insurance and impairment insurance can select the Disability Plus option from Hollard.
Disability Plus offers cover for both disability and impairment and consists of the following:
Disability Plus members will get paid out a lump sum and monthly payments.
Disability Plus members will receive a tax-free lump sum payout of up to R10 million. After the waiting period has expired, 1% of the lump sum will be paid monthly as an income.
A Disability Plus insurance policy only has one general exclusion, which is that members must not hurt themselves intentionally.
In the case that a Disability Plus member is a smoker who intends to quit within 12 months, they will get 10% off their premiums. Great motivation!
Disability medical insurance South Africa
Disability insurance is suited for providing care for disabled adults who become disabled due to an accident or illness and need to secure their income in order to provide for themselves and their loved ones. With Hollard's Disability Insurance in South Africa, one will receive:
Cover that will replace one's income if they are unable to work due to an accident or illness.
The option to choose the cover one needs at the price one can afford.
Cover that pays a lump sum of up to R10 million and monthly income payments of up to R100 000.
Disability and impairment insurance benefits
Those who choose to sign up with Hollard's Disability and Impairment Insurance in South Africa can enjoy the benefits of Crisis Waiver and Long-Term Care. The Crisis Waiver benefit includes the fact that one will not need to pay the premiums of one's critical illness for up to three months if one is faced with a serious life-changing event. Furthermore, this benefit offers cover for a wide range of life-changing events including divorce, retrenchment or the death of a spouse. And if that is not enough to persuade you, members will also be entitled to a cashback benefit after every 5 claim-free years.
The long-term life insurance benefit offers cover for full-time care with a registered frail care facility, hospice or nursing home or with a registered medical professional. Furthermore, this benefit makes monthly payments of up to R30 000 after one turns 65 and includes a death benefit before and after one turns 65.
Disability insurance claim
To get a disability and impairment insurance claim, one can follow the three-step process which includes:
Policyholders can contact their respective financial advisor or give Hollard a call on 0860 000 011 and inform Hollard regarding what the claim is for.
Policyholders need to find out which standard forms need to be completed, as well as provide a certified copy of their identity document and a bank statement or letter from the bank with a bank stamp confirming their bank account.
Complete and sign the relevant forms and send them to Hollard or one's financial advisor along with any of the other documents that Hollard has asked for, which can be done by email via lifeclaims@hollard.co.za or via fax at 0866590135.
Cheap disability insurance
Those looking to sign up with Hollard Disability and Impairment Insurance that would like to have some questions and concerns attended to, can visit hollard.co.za and select the "Contact Us" option. Within this page, one can select "Send an enquiry" and complete the necessary fields of information, as well as provide one's questions and concerns for a Hollard agent to attend to. Alternatively, one call 0861 000 107 or 0860 00 00 11 if a phone call would provide more clarity. If email is a preferred option, one can email Hollard at lifeclientservice@hollard.co.za.
Customer Reviews & Testimonials
"
April 2021
I had a fatal accident at work and lost movement in my legs so I cant work anymore but thanks o this wonderful premium I still get an income every month.
Randall S
— Pietermaritzburg —
November 2021
I almost lost both my legs then I decided I need to get this cover before I lose everything and end up having nothing to fall back on.
Thulimi K
— Transkei —
February 2020
This is a totally necessary cover and hassle free to get also plus its not exspensive.
Charne D
— Gauteng —
Hollard Contact
Contact Number
E-Mail
Website
Physical Address
22 Oxford Road, Parktown,

Johannesburg

Gauteng

2193

South Africa
---
Postal Address
PO Box 87419 Houghton, , Johannesburg, 2041, South Africa
Opening Hours
Monday

08:00 – 17:00

Tuesday

08:00 – 17:00

Wednesday

08:00 – 17:00

Thursday

08:00 – 17:00

Friday

08:00 – 17:00

Saturday

– Closed

Sunday

– Closed