Affordable travel insurance
Quick online application
Effortless baggage claims
In-page navigation
---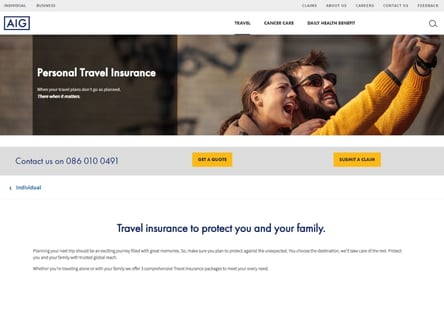 Author AIG Travel Insurance. Screenshot of AIG Travel Insurance website.


[Accessed February 7, 2023]
About AIG Travel Insurance
AIG Insurance has over 90 million clients that say a lot about their capabilities, their service delivery, and their ability to meet the needs of their clients every time.
Global leaders in Travel insurance cover
AIG travel insurance is a global leader in the insurance industry. They use various means to formally and informally collect feedback to measure their performance. AIG travel insurance will work with their clients to define which levels of service they are happy with and where improvement is needed.
AIG Travel insurance keep you happy with their
Response times – phone, email requests
Complaints/compliments process
Feedback from customer survey
High-quality Travel insurance
Consistency in service and key performance areas is achieved through the implementation of highly trained and skilled staff. AIG has established processes in place to resolve issues when they arise and are managed through their management team.
AIG travel insurance pride itself in the travel insurance they provide for their clients. If you have any questions about your cover you can speak to one of their informative and friendly support team consultants for clear and accurate answers.
AIG Travel Insurance Services
AIG's travel cover will ensure that you can enjoy peace of mind on your trip without any unnecessary hassles.
With them, you won't have to wait long for your documentation, make appointments, stand in queues, or pay high prices you can't afford.
AIG insurance makes Travel insurance a breeze.
AIG makes the entire travel insurance process just right for you. With their affordable prices, they cover all unexpected emergencies and take care of your luggage.
Their business travel insurance and leisure travel insurance plans include several features and benefits as well as value-added services, as they believe in giving more than you pay for. Simply get an online travel insurance quote and get covered in an instant.
With AIG, you can get travel insurance for multiple trips if you are younger than 70. You can also get cover for overseas trips when travelling as a group or family if you are younger than 70.
Travel insurance for people over 70
If you are older than 70 you can take international or domestic travel insurance, terms and conditions apply.
AIG Travel Insurance – Travel Insurance
Product

Travel Insurance
3 different options

AIG offers you the choice of 3 different options from comprehensive Platinum cover to the basic Silver cover

Get in touch for a quote

Call 086 010 0491 or email sacallcentre@za.aegisglobal.com to receive a personalised quote
Benefits of AIG Travel Insurance
Cancer Care - if you are between the ages of 18 and 70 you can get up to R500 000 in cancer cover from the first diagnosis.
Business insurances - AIG offers a comprehensive list of business insurances including cyber insurance and your international dealings
24 hour assistance - AIG offers 24 hour assistance for international travel and emergencies at home.
Claims - You can either call or log your claim online at any time of the day.
---
AIG provides top class travel insurance when you need it
AIG Insurance is simple, accessible, and worth your time.
They are the most reliable travel insurance in South Africa, with the highest client satisfaction rate.
Getting Travel insurance is simple
AIG clients simply love working with them, as they deliver fast, and cover you when you need it. With most technology making life easier, through online platforms, AIG combines online accessibility and the personal touch of a specialized consultant team, to deliver exceptional quality service.
You can register and log in to the AIG website, and get an insurance quote online, in the fastest turnaround times, or simply give one of AIG team members a call on their toll-free number. Clients can also email AIG, and they will call you back immediately.
How to make a Travel insurance claim
To claim, you can just access a claim form, and attach whichever documents need to be provided. These documents are specified in your policy contract and are easily understandable, and specific. Download, print, complete, and submit.
Getting hold of AIG in an emergency
AIG will process your claim and pay you out fast. All claim queries can be handled through AIG contact number 1800 017 682, between 08h00 and 18h00 Monday to Friday. AIG has an emergency assistance team on hand 24 hours a day that can assist you with any emergencies that may happen while you are away.
If you need any medical assistance, hospital care, emergency evacuation, or surgery, AIG travel insurance options all include a medical emergency care plan. AIG emergency call number is free to clients and can be reached anytime.
AIG value your feedback
AIG is always improving and developing their products and customer service as they believe in their continued growth and they do this by learning from their client's feedback. Although most of their customer comments are only positive, they too value the negative ones to ensure constant growth.
Customer Reviews & Testimonials
"
September 2021
Reliable, fast, and transparent travel insurance provider that will go the extra mile to ensure you are a happy client.
Maredi. P
— Johannesburg —
October 2021
Got all the cover I needed for my trip and more as their covers have so many nice benefits and optional extras.
Damian. T
— Braamfontein —
May 2021
Great with paying out claims and delivering fast assistance when you need them.
Tina. V
— Braamfontein —
AIG Travel Insurance Contact
Contact Number
E-Mail
Website
Physical Address
Sandown Mews West, 88 Stella Street 1st Floor,

Braamfontein

Gauteng

2196

South Africa
---
Postal Address
PO Box 31983, Braamfontein, 2017, South Africa
Opening Hours
Monday

08:00 – 16:30

Tuesday

08:00 – 16:30

Wednesday

08:00 – 16:30

Thursday

08:00 – 16:30

Friday

08:00 – 16:30

Saturday

– Closed

Sunday

– Closed